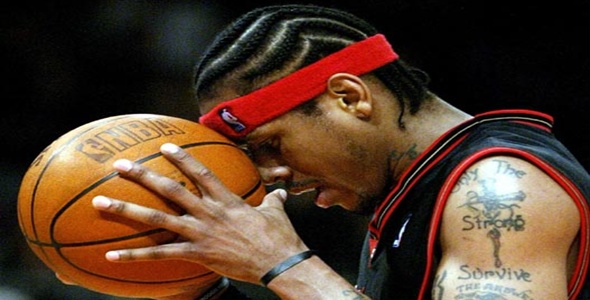 February 22, 2010 – Allen Moll
As if things weren't bad enough in the City of Brotherly Love, with everyone still digging out from almost 3 feet of snow that dropped over the past two weeks, word is that the Philadelphia 76ers are considering cutting ties with fan favorite,  Allen Iverson. While A.I. has played well(14 ppg, 4 ast) in his second go-around with the club, he has missed a significant amount of games due to a number of nagging injuries and most recently, a family illness to his youngest daughter.
Iverson left the team for personal reasons just before the All-Star break and was gone for roughly 2 weeks tending to his ailing 4 year old daughter who has an undisclosed illness. In a surprising move, Allen even skipped out on his starting spot in the All-Star Game and 5 straight games after the break where his teammates won 4 of the 5 games during that stretch. Then he returned for their last 3 games, scoring a total of only 24 points and 9 assists. Now, in news out of Dime Magazine, that Iverson again has left the Sixers to be with his family for an indefinite length of time.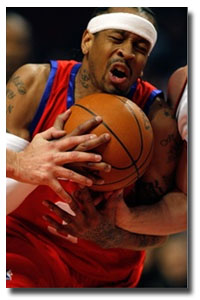 Speculation in Philadelphia has run rampant whenever A.I. misses games or practices, as he has had a history of giving some rather lame excuses for missing team sponsored events during his first stint with the club. On a number of occasions in the past, certain members of the media had seen Iverson out partying way too late and skipping practice, team meetings, or even his own charity events the next day. While on one hand it's almost wrong to doubt Iverson's motives and reasons for leaving, we must also remember that the NBA is a business and runs on profits and losses at the end of the day.
Upon Iverson's return to the Sixers earlier this season, many questioned the team's reasons for bringing back the former league MVP considering his history and slightly diminished skills in his 14th season. After all, the team had already anointed Lou Williams as their starter at the point since Andre Miller is now in Portland and the club just selected their point guard of the future, Jrue Holiday, in June's NBA Draft. Before sending Royal Ivey to the Bucks for Jodie Meeks at the trade deadline, the 76ers had 4 point guards on the roster. Playing Iverson 25-30 minutes per night has generally slowed down the progress of Williams' and Holiday's development. The club obviously brought back Iverson partly because no one else wanted him and to boost attendance and jersey sales.
With the team mired in mediocrity at 21-34 and 5.5 games out of an Eastern Conference playoff spot, the last thing this once proud franchise needs is to part ways with one of their all-time great players on bad terms. After all the fan-base is already upset that management has left the trade deadline pass without making a serious move to improve the club by ridding them of some horrific long term contracts(Elton Brand and Sam Dalembert).
As a lifelong Philadelphia 76ers and Iverson fan, I feel we should all give Allen the benefit of the doubt, especially when it comes to family illnesses. Let's just hope that the last that we see of "The Answer" isn't a 13 point and 3 assist effort in a 30 point blow-out loss to the Bulls.