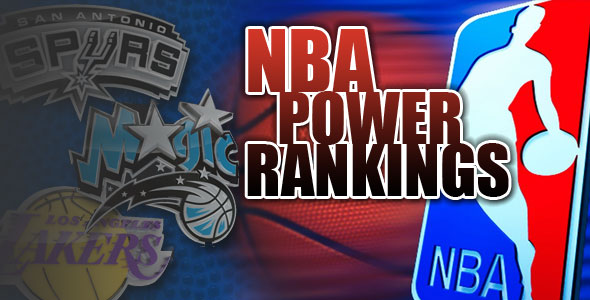 February 25, 2010 – Chip Patterson
NBA Power Rankings
| | |
| --- | --- |
| 1 | |

Los Angeles Lakers

Kobe's back, with a force. In case you couldn't tell by the 32 point performance and ice-cold three pointer with 4.3 seconds left, he hasn't lost a step.  The Lakers were 4-1 without Bryant and a loss to a smoking hot Mavericks squad is no reason to think they should not be right here in the number one spot again.

| | |
| --- | --- |
| 2 | |

Cleveland Cavaliers

A couple of losses should not be disheartening for Cavs fans, but it should remind you that this team is human.  A difficult back-to-back with Boston and Toronto will be the end of a rigorous test run with Jamison.  But the question remains, where does Big Z fit in this new lineup?

| | |
| --- | --- |
| 3 | |

Dallas Mavericks

Strange karma afoot getting rid of Josh Howard less than a week before he goes down for the season with a torn ACL.  Haywood looks less grumpy than I imagined he would be in the big D and Caron Butler looks absolutely rejuvenated.  Cuban wanted to make this team a Western contender in 2010, and they are looking awfully tough to beat in a 7 game series.

| | |
| --- | --- |
| 4 | |

Orlando Magic

The Orlando Magic not only look comfortable with their lineup these days, they are looking like they are starting to have fun again.  If Carter can continue to deliver as the go-to guy down the stretch, then the Magic may be able to ride those old knees right back to the Eastern Conference finals.

| | |
| --- | --- |
| 5 | |

Utah Jazz

I haven't heard as much uproar about a trade since Pau Gasol than I did about the Jazz shipping out Ronnie Brewer.  In what was blatantly a financial move, the Jazz got rid of what many people considered (your writer included) to be one of the "X-factors" that could make the difference in a series. (ex: Leon Powe in the 2008 NBA Finals)

| | |
| --- | --- |
| 6 | |

Phoenix Suns

Well Steve Kerr just looks just as smooth as he did in 1998 these days.  Not only did he decide to keep the Suns in tact for the rest of 2010, but he has Stoudamire pleased enough to be talking extension?  Not that I would suggest it with his age, but still very different than him telling his friends he had played his last game in Phoenix.

| | |
| --- | --- |
| 7 | |

Denver Nuggets

Carmelo Anthony claims that the Nuggets are playing with a chip on their shoulder that will be there for the rest of the season.  My hope is that this squad will be able to keep that focus and keep from bonehead mistakes like the ones that littered Friday's game against the Wizards.

| | |
| --- | --- |
| 8 | |

Boston Celtics

It is difficult to figure out whether or not Nate Robinson will be Eddie House yet.  That is mostly because the things that made House so good was his energy and quick scoring in the Playoffs.  Robinson, who has never been in the playoffs, will  have his chance to prove that in April.  So chill out Boston fans, give him some time.

| | |
| --- | --- |
| 9 | |

Oklahoma City Thunder

Back to back losses seem kind of expected at this point for OKC.  It was hard to think that a team this young could play this well without tripping at some point.  What hasn't stopped though is Durant's 25+ streak.  After the Phoenix game, Jared Dudley said that Durant was the hardest player to guard in the NBA behind Kobe.  With that size and skill set, I believe it.

| | |
| --- | --- |
| 10 | |

Atlanta Hawks

You can bet the birds are happy to be home after an exhausting road trip that included a meltdown against Golden State and an inspired win against Utah in back to back nights.  As we grow closer to April, it will likely be a battle between Atlanta and Boston for 3 and 4.  I would suggest to avoid the Raptors in a 4-5 first round series.  Strongly suggest.

| | |
| --- | --- |
| 11 | |

Toronto Raptors

Yeah, that suggestion above?  That's because the Raptors have been giving the Eastern Conference fits recently.  They score in bunches and are 21-8 at home.  They will get a nice test on Friday when the Cavs come to town.  It will be a chance to play against the East elite and see where they really stand.

| | |
| --- | --- |
| 12 | |

Portland Trailblazers

After spending the better part of the last month out with a hamstring injury, and even rumors that it could be a potential season-ending injury, it has been great to see Brandon Roy put up 20+ in his last three games.  Even more importantly, he has played 30+ minutes in all of those games including 38 against Toronto.

| | |
| --- | --- |
| 13 | |

San Antonio Spurs

I have trouble putting the blame on any one person in the San Antonio locker room, but instead it really looks as though the entire team is just lazy.  It is not even really a health issue anymore, one of the dynasties of the last decade is falling from grace, and possibly out of the playoffs for the first time since 1997.

| | |
| --- | --- |
| 14 | |

Milwaukee Bucks

Milwaukee's recent hot streak has pulled them out of the Eastern Conference basement and into a 9-team playoff picture.  It will be the Eastern Conference musical chairs, with Charlotte, Milwaukee, Miami, and to a lesser extent Chicago all fighting for three spots.

| | |
| --- | --- |
| 15 | |

Chicago Bulls

Clearing house of pretty much everything they got to try and make room for a superstar to put beside D-Rose…I like it.  A lot.  Perhaps an attempt to bring in a Chicago native from the Heat to play the two-guard next to Rose?  Man, that's a scary (and possible) thought.

| | |
| --- | --- |
| 16 | |

Miami Heat

They sat on their hands right up until and through the trade deadline, and now it might cost them the playoffs.  Wade is only capable of so much and their inability to bring in a super star may be enough to have him packing his bags at the end of the season.  Prediction: if they miss the playoffs – he's gone.

| | |
| --- | --- |
| 17 | |

New Orleans Hornets

If New Orleans fans are willing to take their Super Bowl and accept this as a rebuilding year, they would enjoy the games much more.  Darren Collison and hometown favorite Marcus Thornton have been getting some great experience and with a little more help inside, I like their (2011) playoff chances.

| | |
| --- | --- |
| 18 | |

Memphis Grizzlies

Losing 7 of your last 10 games is not a fast-track to get to the playoffs.  While I spent weeks boasting this team's ability to score in bunches and dominate the glass, they have certainly morphed back into the inconsistent Grizzlies team we expected at the beginning of the season.

| | |
| --- | --- |
| 19 | |

Houston Rockets

Last Thursday everyone praised Daryl Morey for being the smartest guy in the room for the moves he made to get rid of McGrady and pull in the kind of talent that can turn the Rockets into a playoff team in 2010, and Western contender in 2011.  His moves required foresight, and foresight is always dangerous to trust in the Association.

| | |
| --- | --- |
| 20 | |

Charlotte Bobcats

The Bobcats are much better as a sneaky team in the East.  When people start paying attention is usually when the Bobcats choke away their playoff chances.  That usually happens in March.  So, um, will you guys just check out other teams so they can sneak into a 6 seed?  That'd be great. Thanks.

| | |
| --- | --- |
| 21 | |

Philadelphia 76ers

Jrue Holiday and Lou Williams make a fantastic and fun to watch backcourt.  Iverson's daughter's illness is no business of ours and no reason to make judgements about the Sixers.  Having said that, they have won 7 of their last 11 games, so whatever lineup they have been using in that stretch is working.

| | |
| --- | --- |
| 22 | |

Los Angeles Clippers

They lose Marcus Camby to trade and Baron Davis to injury, then win three straight?  Steve Blake seems to really be enjoying himself running the offense, and why wouldn't you?  Minus Kaman, it's a super athletic starting five with low expectations.  Sounds fun to me.

| | |
| --- | --- |
| 23 | |

Detroit Pistons

Now decently healthy, the Pistons are occasionally throwing together some really impressive performances.  Saturday against San Antonio was one of those, outscoring the Spurs 16-8 in overtime and getting 21 from Ben Gordon.  The 21 points was nice because at Gordon's current scoring average he is earning $8,352.82 per point this season.  To put that in perspective, Durant at his average earns $1,963.04 per point.  I know it's his rookie deal, but still.  You get the point.

| | |
| --- | --- |
| 24 | |

Washington Wizards

After dealing away the remainder of their starting five, their new addition goes down with a torn ACL.  We should change the phrase from "Clippers Luck" to "Wizards Luck."

| | |
| --- | --- |
| 25 | |

Indiana Pacers

"Oh Granger's gone?  Yeah, change the channel, I can't watch this team without him,"  says my buddy who is a Duke fan and has every reason to watch the Blue Devil-filled roster.

| | |
| --- | --- |
| 26 | |

New York Knicks

If you had two games as the over/under in the office pool for Tracy McGrady's length without injury, congratulations.  I actually picked the starting lineup introductions of game one, but that's just because I'm an optimist.

| | |
| --- | --- |
| 27 | |

Golden State Warriors

I like Al Thornton a lot, but the clean up power forward does not always do the best job creating his own shot. Thankfully, there will be Randy Foye.

| | |
| --- | --- |
| 28 | |

Minnesota Timberwolves

Hey look! Darko sighting! #FreeKevinLoveandJohnnyFlynn

| | |
| --- | --- |
| 29 | |

Sacramento Kings

Just what I feared.  So many people blamed the hectic backcourt for the Kings' failures, but in reality the issue lies deeper.  Their five game losing streak is a fast track to a better draft pick, so that's the bright side.

| | |
| --- | --- |
| 30 | |

New Jersey Nets

Alright boys, you have Washington at home on Sunday.  Calling them crippled right now is an understatement, so let's go kick 'em when they are down.  It really is the only chance you have to win next week.
Chip Patterson, graduate of University of North Carolina – Chapel Hill, writes for TheHoopDoctors.com and serves as Basketball Editor for BusterSports.com.