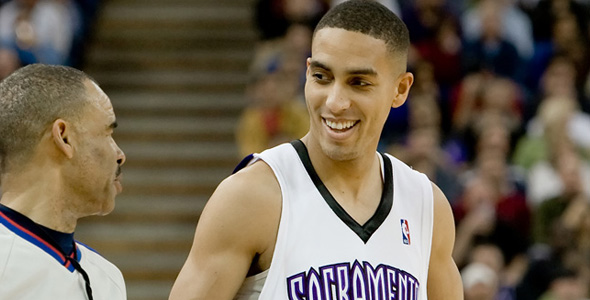 January 27, 2010 – Allen Moll
Allen Moll is an avid NBA and College Basketball fan who watches and studies games religiously and coaches youth basketball in his native Lehigh Valley region of Pennsylvania. Allen is a regular columnist for thehoopdoctors.com, Bleacherreport.com, UpperDeckblog.com, and his own site, Hoops Haven.
Before Kevin Martin of the Sacramento Kings went down with a hand injury early this season, he was the league's leading scorer at 30.6 ppg and rookie Tyreke Evans was just another rookie trying to find his place in the National Basketball Association.
How things have changed. In Martin's absence, Evans has exploded upon the NBA landscape and emerged not only as the Kings go-to-guy but quite possibly their franchise player that leads them back to the NBA post-season sometime in the very near future.
So the obvious question is, can Evans and Martin coexist in the Sacramento backcourt or should the Kings trade Martin?
Rumor has it, from reading Sacramento's Cowbell Kingdom, many Kings fans feel that Martin, upon his return from injury, is more of a problem than a solution to fix the Kings losing ways.
Although the Kings are 0-6 since Martin's return with a winable match-up with Golden State up next, the Kings were 15-21 and in 13th place out West without him. True, in those 6 games he has only scored 79 points and only 4 steals, while the Kings are only averaging 94 ppg in that span. On the positive side, he has made 20 of 22 free throws and has had 10 assists to only 2 turnovers in his last 2 games.
Let's look at some of the other reasons for the Kings horrific play as of late. Spencer Hawes, who notched a 30 point game against the Lakers, is averaging only 9.9 ppg in the past 10 games. Jason Thompson is shooting 38 % and has seen his offensive production dip to only 10 ppg and 8 rebounds and is only getting to the charity stripe 3 times per game.
The problem with the Kings has been the ineffectiveness at times of their frontcourt and the team's reliance on their outside shooting instead of playing basketball the fundamental way, from the inside out.
The best case scenerio is to keep Martin alongside Evans, forming one of the most potent young offensive backcourts in the Western Conference. But is their enough shots to go around and does Martin's game mesh with Evan's ability to get to the rim?
Give it time Sacramento, it will take a little longer than a week or two for Martin to once again be more aggressive and find his niche in deferring to Evans, who is obviously their player for the future. Martin will surely not make waves stepping aside since he never has been seen as any team's first option.
Watch what you wish for. Surely a number of other NBA squads would be more than happy to take Kevin Martin off the Kings hands, but who or what do you get back in return?
Before coming to the conclusion that Martin is more of part of the problem, than a solution, the Kings have many other holes to fill. After all it is a rarity to have two, more than capable 20+ ppg a night scorers, starting in the same backcourt.
If Martin were to be traded, Kings fans would surely miss this('06 Playoffs vs San Antonio):