January 14, 2010 – Allen Moll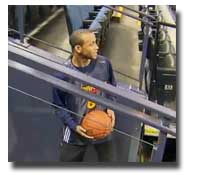 Allen Moll is an avid NBA and College Basketball fan who watches and studies games religiously and coaches youth basketball in his native Lehigh Valley region of Pennsylvania. Allen is a regular columnist for thehoopdoctors.com, Bleacherreport.com, UpperDeckblog.com, and his own site, Hoops Haven.
Golden State Warriors enigmatic point guard sensation, Monta Ellis, has been languishing getting more shots in the Don Nelson designed Warrior offense since Stephen Jackson was dealt to the Charlotte Bobcats some time ago. He has been putting up All-Star caliber numbers like 32 ppg, 7 assists, and 3 steals over the past month.
At age 24, Ellis is one of the league's fastest rising young stars and has earned a number of accolades including the NBA's Most Improved Player('07) and became only 1 of 8 players in league history to shoot more than 60% from the field for a single month(Feb '08).
Although he is averaging an impressive 26.1 ppg this season, which ranks 5th in the league, he still remains one of the prime candidates to be moved by the February trade deadline.
Because he is one of the better shooters in the league at his position, he sometimes is more than capable of hitting some high degree of difficulty shots and is one of the few players in the league that you would want to have the ball in their hands with the game on the line.
He obviously has too much extra time before and after practice as evidence of this video where he pulls off an unbelievable trick shot where he makes a shot from the ramp to the Warriors locker room, with his back to the basket.
Check out the video: