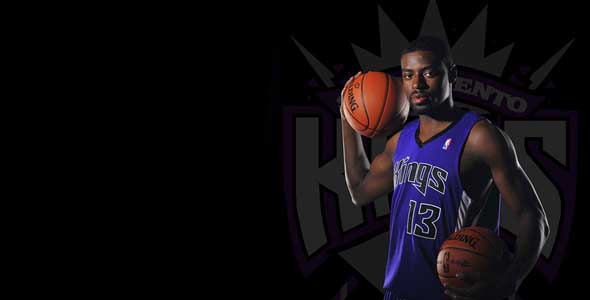 January 9, 2009 – Matt Anaya
Matt graduated from Southern Illinois University at Carbondale in May of 2007 majoring in TV Production. Matt is currently a writer at StaticMultimedia.com, TheBleacherReport.com, NationalSportsNation.com, SportsMixed.com, FanFever.com, Filmcatcher.com, 2 Much Swag, and TheHoopDoctors.com. Matt will provide you with insightful wit and an eager eye for sports.
Month by month we go over the best candidates for the 2010 Rookie of the Year race and this month is a little bit different than the previous. A change at the top was necessary and inevitable the way Tyreke Evans has been balling and a few newcomers were welcomed to the list.
(Previous Ranks)

1. Tyreke Evans – (2)
Tyreke Evans has been putting up not only Rookie of the Year numbers but also All Star numbers as well. Evans will likely not make the Western Conference All Star team but he is one of only three players to average 20 PPG, 5 RPG, and 5 APG and the other two are named LeBron and Dwyane.

2. Brandon Jennings – (1)
Admittedly, the 55-point game was a blessing and a curse and Jennings also said recently he is a better passer than shooter. Not exactly excuses for his recent struggles but defenses have started game planning around the flashy PG from SoCal but that has not stopped him from dropping past 2nd in the ROY Race. Once thought of as a shoo-in for the ROY, Jennings needs to pick up his play as he is only averaging 11 PPG this month and there are plenty of players that are champing at the bit to take his spot.

3. Omri Casspi – (6)
Wow, Omri Casspi has figured this NBA thing out. The next Andrei Kirilenko, but only better, Casspi has erupted for four straight games over 20 points, including a double-double against DAL. The native from Israel is averaging 23 PPG, 8 RPG, and nearly 3 APG this month and it looks like Casspi is going to be a stud in the NBA for a very long time. He also shoots 47% from long range and is 2nd among rookies for 3 pointers made.

4. Ty Lawson – (10)
Ty Lawson has picked up the slack in Chauncey Billups' absence but has also sustained his own injury that will sideline him a week. When Billups went down with an injury, Lawson took over the DEN offense to the tune of 22 PPG and nearly 9 APG this month. Lawson is also shooting 44% from 3-point range, astonishing numbers for a kid that could not shoot at all last season.

5. Stephen Curry – (7)
Stephen Curry has been as steady as any player this season and is having one of his best months of the season so far. Currently averaging 17 PPG this month, Curry also checks in at 8th in the NBA in SPG (1.9), and comes in at third amongst rookies with 4.4 APG. Curry will most likely finish in the top five in ROY.

6. Jonny Flynn – (3)
Like Stephen Curry, Jonny Flynn has been very consistent this season. Currently third in ROY PPG at 14.2, and 4th in rookies APG at 4 APG, Flynn has been one of the few bright spots for a horrible Timberwolves team although he is also 2nd in rookie turnovers per game. Flynn is a natural scoring PG but will need to pick up the APG and decrease the TOPG if he wants the Wolves to keep him over Ricky Rubio.

7. DeJuan Blair – (8)
In a similar spot as last time I do not see DeJuan Blair ascending or descending the rest of the season unless James Harden comes on strong. Blair is 2nd in rookies in RPG (5.8) but he is getting 8 minutes less than Taj Gibson who is ahead of him in. Blair is averaging 6 PPG and 6 RPG this month, also his season averages, and Blair seems to have found a niche on the Spurs veteran team.

8. James Harden (NR)
James Harden is playing as good as Mike Bibby is this year but Bibby is having the worst year of his career and Harden is only a rookie. Much was expected from the 3rd pick overall but Harden is a total team player and tends to differ to his more experienced teammates. December was Harden's best month, averaging 10 PPG and he is currently 6th amongst rookies in PPG. Harden is also 10th amongst rookies in APG and has a nice all around game but his numbers are held in check by his MPG, which also ranks 10th.

9. Taj Gibson (NR)
Taj Gibson leads all rookies in RPG and double-doubles, is currently 3rd in BPG, 7th in MPG, 9th in SPG, and 10th in PPG and is now starting for the Chicago Bulls. Not much was expected out of Gibson this season but when Tyrus Thomas got injured Gibson held down the starting PF spot and has refused to let it go. Gibson will likely finish in the top 10 in ROY and has exceeded expectations.

10. Sam Young (NR)
Not much was expected from the 2nd round pick but Sam Young has already exceeded our expectations. Twice this month, Young has erupted for over 20 points and is one of the reasons why the Grizzlies are battling for a playoff spot.
Honroable Mention
DeMar DeRozan – DeRozan started slow and has gotten a little bit better but it is still tough to say where he will end up in this season's ROY race.
Wesley Matthews – Matthews gets inconsistent minutes but always seems to perform in the allotted minutes. He already has a 15-point game this month.
Wayne Ellington – Ellington recently scored double digits in three of his last four games.
Tyler Hansbrough – Before getting injured recently, Tyler Hansbrough was producing for the lowly Pacers and is averaging 9 PPG and 5 RPG in only 19 MPG.
Eric Maynor – Maynor was traded late last month and is averaging 6 PPG, 4 RPG, and 3 APG for his new Thunder club.
Dante Cunningham – With the rash of injuries to the POR frontcourt Cunningham has emerged as the Blazers version of DeJuan Blair, averaging 6 PPG and 6 RPG this month.
Hasheem Thabeet – Finally, Hasheem Thabeet has shown life in his game recently and although he is only averaging nearly 5 PPG and 4 RPG, he is having his best month by far.
Serge Ibaka – The Congo native is averaging 7 PPG, 6 RPG, and nearly 2 BPG this month and is starting to assert himself as a viable option off the Thunder bench.
Jeff Pendergraph – Also helped by the rash of POR frontcourt injuries, Jeff Pendergraph is getting a lot more run than he ever expected and is averaging nearly 5 PPG and 5 RPG. POR is getting a lot more production from their 2nd round picks than they ever imagined.
A.J. Price – Price is averaging 8 PPG, 3 RPG, and 3 APG this month.
Rodrigue Beaubois – Roddy is averaging 8 PPG, 4 RPG, and 2 APG this month.
John Brockman – Brockman is averaging 3 PPG and 4 RPG in only 13 MPG this month.
Jonas Jerebko – The Swedish rookie averaged 10 PPG and 6 RPG last month but has seen his minutes dwindle with Tayshaun Prince, Charlie Villanueva, and Ben Gordon returning from injury.
Chase Budinger – Chase recently returned from injury and is looking to improve 9 point, 8 rebound performance last game.
Marcus Thornton – Thornton has considerably slowed down since being in the top five last time the ROY ranks came out.
Terrence Williams – Williams started out smoking hot but has seen his minutes decrease every month and is now only seeing 5 MPG. Williams is still tied for the rookie lead for double-doubles.
Darren Collison – When Chris Pual came back Collison turned into a pumpkin and has become irrelevant, averaging under 10 MPG this month.
Blake Griffin – We still do not know what exact date BG will come back, but when he does make his first appearance of the season we will let you know.