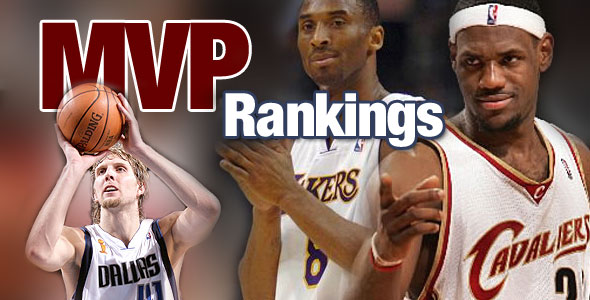 January 20, 2010 – Allen Moll
Allen Moll is an avid NBA and College Basketball fan who watches and studies games religiously and coaches youth basketball in his native Lehigh Valley region of Pennsylvania. Allen is a regular columnist for thehoopdoctors.com, Bleacherreport.com, UpperDeckblog.com, and his own site, Hoops Haven.
In our MVP rankings last month, Dirk Nowitzki was on a tear and held down our top spot followed closely by former 2 time winner, Steve Nash, with Kobe, Melo, and D Wade making up the Top 5. One notable exception from this list was last season's winner, Lebron James, who although had good stats, his squad was struggling to find themselves and were in the middle of the pack in the Eastern Conference. How things can change in a month!.
 With a few of the top teams in the league floundering through the middle part of the season, our rankings have seen a shake-up mainly due to injuries and inconsistencies on the court. Where does your favorite player rank?
1) Lebron James, Cleveland

29.6 ppg, 7.1 rebs, 7.7 ast, 1.5 stl, 1 blk, 51%FG
Lebron has led the Cavs resurgence back to becoming one of the elite teams in the East. He is undoubtedly the most important player on one of the league's best teams. He is 1 of only 3 players to average 20+ pts, 5 rebs, and 5 ast. James has been tearing it up in January, averaging more than 33 ppg and shooting over 55% from the field.
Previous – 6
2) Kobe Bryant, LA Lakers

28.8 ppg, 5.3 rebs, 4.5 ast, 1.9 stl, 47%FG
After an impressive December(32 ppg), Kobe would have been my choice as the MVP, but after an injury riddled January, his numbers have dipped slightly and is averaging a paltry 23 ppg, 3 reb, and 4 asissts this month. Despite Kobe's statistical dip the Lakers sit comfortably atop the Western Conference.
Previous – 3
3) Dirk Nowitzki, Dallas

25.3 ppg, 8.2 rebs, 2.5 ast, 1 stl, 1.2 blk, 40% 3 PT
After a lackluster December(22 ppg) because of injuries, Dirk has led the Mavs to the 2nd best record in the West, while averaging his usual 27 ppg in January. Could the former MVP be in line for another award ?
Previous – 1
4) Kevin Durant, OKC Thunder

29.1 ppg, 7.2 rebs, 2.9 ast, 1.4 stl, 1 blk
The "Durantula" has the Thunder 4 games above .500 and tied for the 8th playoff spot out West. He puts the ball in the basket as easily as any player in the league and currently ranks 3rd in scoring. He has increased his ppg every month this season and is having a tremendous January(32 ppg, 54% from the field). He has a streak of 14 straight games with 25+ points.
Previous – 7
5) Carmelo Anthony, Denver

29.8 ppg, 6.3 rebs, 3.3 ast, 1.2 stl
Melo is once again leading the NBA in scoring after losing the top spot to Kobe in December. After missing 5 games this month, he has tallied 24 and 27 points and is trying to right the ship in Denver. Melo remains Denver's most important player if they are to be a contender out West.
Previous – 4
6) Brandon Roy, Portland

23.4 ppg, 4.6 rebs, 5.1 ast, 1 stl
Despite a strained hamstring, B-Roy has been on fire since his 41 pt outburst against Denver on Christmas, averaging 29 ppg in that span. Even before all of the injuries in Portland, Roy remains the Blazers' most valuable player if they are to contend.  Amazingly he has the Blazers in the #5 spot out West.
Previous – NR
7) Steve Nash, Phoenix

18.7 ppg, 3 rebs, 11.1 ast, 54% FG, 42% 3 PT
Nash continues to show that age is just a number as he ranks 2nd in the NBA in assists and is among the league leaders in FG and 3 PT percentage. He slips a bit on our rankings because his Suns have dissapointed lately, playing only .500 ball, while slipping to the #6 spot out West.
Previous – 2
8 ) Chris Bosh, Toronto

23.9 ppg, 11.1 rebs, 2 ast, 1.1 blk, 52 %FG
The Raptors have surged(7-3 in their last 10 gms) primarily because of the play of Bosh, who ranks 4th in the league in rebounding. He has the Raptors in 2nd place in the Atlantic division and #6 in the Eastern Conference after a slow start to the season.
Previous – 10
9) Tim Duncan, San Antonio

19.9 ppg, 10.3 rebs, 3.1 ast, 1.9 blk, 55 %FG
After a slow start to the season, Duncan is back to being one of the game's best PF and has led the resurgent Spurs back among the elite teams out West. He is among league leaders in rebounds, blocks, and FG %, while the Spurs are # 4 in the conference.
Previous – NR
10) Tyreke Evans, Sacramento

20.4 ppg, 5 rebs, 5 ast, 1.5 stl
The league's top rookie has been phenominal even though his young teammates have struggled to win games. He has taken over the reigns as the Kings leading scorer when Kevin Martin went down. Along with James and D Wade, he is 1 of only 3 players in the league to average 20 ppg, 5 rebs, and 5 ast. In an impressive stat, he has scored in double figures in all but 2 games this season.
Previous – NR
Next 5
Chris Paul, NOH – 19.6 ppg, 4.5 rebs, 11.3 ast(leads league), 2.4 stl, 42 % 3PT
Dwyane Wade, Miami – 27.1 ppg, 5 rebs, 6.3 ast, 1.9 stl
Dwight Howard, Orlando – 16.8 ppg, 13.1 rebs(leads league), 2.5 blks(leads league), 60% FG
Joe Johnson, Atlanta – 21.2 ppg, 5 rebs, 4.8 ast, 1.1 stl
Rajon Rondo, Boston – 14 ppg, 4 rebs, 9.7 ast(3rd in league), 2.5 stl(leads league), 53 %FG