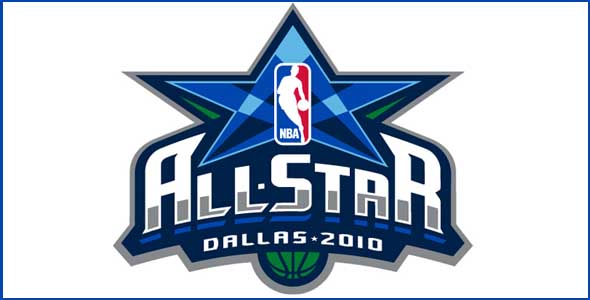 November 11, 2009 – Chip Patterson
Chip Patterson, recent graduate of University of North Carolina – Chapel Hill, writes for TheHoopDoctors.com and BusterSports.com. A lifelong student of the game, he has passionately followed the NBA and College Basketball since C-Webb was calling "Timeout!".
The All Star Ballot was released today, and thus begins the 68 days of interactive fan voting to determine the starters for the All Star Game; which will be held in Jerryworld on February 12. Ever since the fan vote was introduced it has been a controversial issue. While it gives the fans a sense of ownership over the game, it has led to some undeserved All Star starter credentials in the last few years. (See: Allen Iverson, 2009)
The way the ballot is assembled draws criticism as well. The season is exactly two weeks old, and we are already giving fans the options for All Star consideration. Additionally, every team must be represented three times – meaning you could be one of the best forwards in the conference statistically, but still play second fiddle to your team's Number 1 draft pick who has yet to play a minute. (cough, Kaman, cough)
That's not to say the system is completely flawed. Melo, LeBron, Kobe, and Dwight all deserve to be All Star Starters and will receive the necessary fan votes.  This is just some friendly encouragement to take note of a few players that might not catch as much of the popular vote as they deserve.
Eastern Conference Guards
Favorites: Gilbert Arenas, Dwyane Wade
Sleeper: While Hibachi's return has shown that he still can be a prolific scorer (24.4 ppg, 41.9% 3pt), Washington's abysmal start has hindered his ability to shine this year. If Blake Griffin can be on this list as a Western Conference Forward it is absurd that Brandon Jennings is not eligible. But if I have to choose someone that is on the ballot, I'd take a much closer look at Joe Johnson or Rajon Rando.
Eastern Conference Forwards
Favorites: LeBron James, Chris Bosh, Paul Pierce, Kevin Garnett, Danny Granger, Andre Iguodala
Sleeper: None. The only crime at this position on the ballot is the presence of Elton Brand. He must be begging to get traded, because playing poorly off injury for a new coach is no way to get positive attention.   From everything that I have heard, it seems that Eddie Jordan hates the guy, and prefers a more athletic lineup that Big Ol' Brand can't keep up with.
Eastern Conference Center: Dwight Howard
(Yeah, it's going to take injury to keep Superman from getting this. If that does happen, I'll take O'Neal for 50. And while I'm at it, I'd like to bet the farm on NOT J. O'Neal,/Chandler/Perkins)

Western Conference Guards
Favorites: Chris Paul, Kobe Bryant
Sleepers: So um, Iverson is on this ballot. That's awkward. I pray he doesn't catch a pity vote because that would be monumentally awkward. Steve Nash deserves to take Chris Paul's position, but I think that CP3's popularity and improved shooting numbers will overshadow Nash's MVP-esque play so far this season.
Western Conference Forwards

Favorites: Carmelo Anthony, Kevin Durant
Sleepers: God I hope not. My two favorite players in the NBA are two of the most hyped players – and I eat it up. Again, only two weeks into the season – I'll chill out. Dirk Nowitzki, Carlos Boozer, and Tim Duncan all carry the prior All Star stigma and could easily take KD's spot. But I'm determined Durant will get it, so I'll write it. Side note, I wonder if the ballot has ever had two players at the same conference and position not play the first month of the season? (Blake Griffin and Kevin Love)
Western Conference Center
Favorite: Amar'e Stoudamire
Sleeper: Al Jefferson has got to feel a little stiffed on this ballot. Maybe I'm in too many fantasy leagues, but I have considered Stoudamire more of a power forward and Frye as the starting center in that Suns lineup. Other than that, the Western Conference Center position is filled with lots of solid, role players that will be competing to collect coaches votes over the next several weeks to try and find themselves among those playing on Sunday in Dallas.  Marc Gasol is awesome, but no way he collects votes from the American public.
Full All Star Ballots (VOTE HERE)
Eastern Conference
Guards
Ray Allen, Celtics
Gilbert Arenas, Wizards
Mike Bibby, Hawks
Jose Calderon, Raptors
Vince Carter, Magic
Jamal Crawford, Hawks
Chris Duhon, Knicks
Raymond Felton, Bobcats
T.J. Ford, Pacers
Ben Gordon, Pistons
Richard Hamilton, Pistons
Devin Harris, Nets
Kirk Hinrich, Bulls
Joe Johnson, Hawks
Courtney Lee, Nets
Jameer Nelson, Magic
Michael Redd, Bucks
Nate Robinson, Knicks
Rajon Rondo, Celtics
Derrick Rose, Bulls
John Salmons, Bulls
Rodney Stucky, Pistons
Dwyane Wade, Heat
Mo Williams, Cavs
Forwards
Michael Beasley, Heat
Chris Bosh, Raptors
Elton Brand, Sixers
Caron Butler, Wizards
Luol Deng, Bulls
Boris Diaw, Bobcats
Kevin Garnett, Celtics
Danny Granger, Pacers
Al Harrington, Knicks
Udonis Haslem, Heat
Andre Iguodala, Sixers
LeBron James, Cavs
Antawn Jamison, Wizards
David Lee, Knicks
Rashard Lewis, Magic
Troy Murphy, Pacers
Paul Pierce, Celtics
Tayshaun Prince, Pistons
Josh Smith, Hawks
Hedo Turkoglu, Raptors
Anderson Varejao, Cavs
Charlie Villanueva, Pistons
Gerald Wallace, Bobcats
Hakim Warrick, Bucks
Centers
Andrea Bargnani, Raptors
Andrew Bogut, Bucks
Tyson Chandler, Bobcats
Samuel Dalembert, Sixers
Al Horford, Hawks
Dwight Howard, Magic
Brook Lopez, Nets
Brad Miller, Bulls
Jermaine O'Neal, Heat
Shaquille O'Neal, Cavs
Kendrick Perkins, Celtics
Rasheed Wallace, Celtics
Western
Western Conference
Guards
Leandro Barbosa, Suns
Chauncey Billups, Nuggets
Aaron Brooks, Rockets
Kobe Bryant, Lakers
Baron Davis, Clippers
Monta Ellis, Warriors
Manu Ginobili, Spurs
Josh Howard, Mavericks
Allen Iverson, Grizzlies
Stephen Jackson, Warriors
Jason Kidd, Mavericks
Kevin Martin, Kings
O.J. Mayo, Grizzlies
Tracy McGrady, Rockets
Andre Miller, Blazers
Steve Nash, Suns
Tony Parker, Spurs
Chris Paul, Hornets
Jason Richardson, Suns
Brandon Roy, Blazers
Ramon Sessions, Wolves
Jason Terry, Mavericks
Russell Westbrook, Thunder
Deron Williams, Jazz
Forwards
LaMarcus Aldridge, Blazers
Carmelo Anthony, Nuggets
Trevor Ariza, Rockets
Ron Artest, Lakers
Carlos Boozer, Jazz
Tim Duncan, Spurs
Kevin Durant, Thunder
Pau Gasol, Lakers
Rudy Gay, Grizzlies
Jeff Green, Thunder
Blake Griffin, Clippers
Grant Hill, Suns
Richard Jefferson, Spurs
Kevin Love, Wolves
Shawn Marion, Mavericks
Kenyon Martin, Nuggets
Paul Millsap, Jazz
Dirk Nowitzki, Mavericks
Lamar Odom, Lakers
Anthony Randolph, Warriors
Luis Scola, Rockets
Jason Thompson, Kings
Al Thornton, Clippers
David West, Hornets
Centers
Andris Biedrins, Warriors
Andrew Bynum, Lakers
Marcus Camby, Clippers
Marc Gasol, Grizzlies
Spencer Hawes, Kings
Al Jefferson, Wolves
Antonio McDyess, Spurs
Nene, Nuggets
Greg Oden, Blazers
Emeka Okafor, Hornets
Mehmet Okur, Jazz
Amar'e Stoudemire, Suns