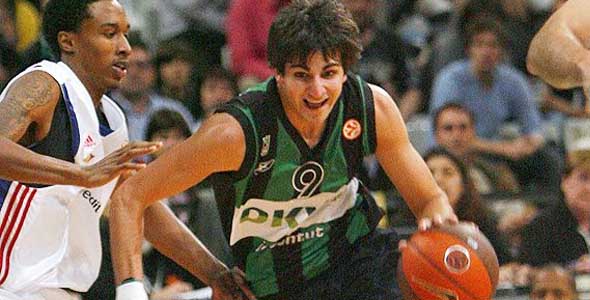 November 13, 2009 – Michael Pina
Michael Pina has a BA in English with a concentration in Journalism from the University of Delaware. He is currently living in his hometown of Boston. Mike is also the creator of the sports site Mike and Jeremy Like Sports.

I'm currently midway through Bill Simmons' The Book of Basketball and so far it's one of the more engrossing 700-plus page publications I've ever thrown myself into.
Without giving too much away, one particular section in Simmons' book focuses on the greatest "what-if" moments in NBA history. For example, what if the Lakers never traded Vlade Divac to Charlotte for Kobe Bryant before the 1996 draft? Obviously a move Lakers brass wish they had back, but hey that's life.
This segment got me thinking about a more recent trade that could have seriously shaken up the Eastern Conference for years to come. When Washington was awarded the number five pick in the 2009 draft, many theorized that due to the lack of talent, they would shop it for some immediate impact players. The Wizards obliged, sending the number five pick along with Etan Thomas, Oleksiy Pecherov and Darius Songaila to Minnesota for Randy Foye and Mike Miller.
The logic here being that with $111 million dollar man Gilbert Arenas, starting center Brendan Haywood and two-time all-star Caron Butler all coming back 100% healthy, a draft pick was the last thing they needed to regain their relevance in an increasingly fluid Eastern Conference.
While that reasoning isn't all that convoluted, general manager Ernie Grunfeld's decision to play for the here and now might not have been the best road to go down with Spanish phenom Ricky Rubio waiting patiently in the green room. I'm all for staying competitive (which Washington would still be without Mike Miller and Randy Foye) but in analyzing this deal, the main positive they have going for them is Miller's nine million dollar contract coming off their books after the 2009-10 season.
Rumors had them a pinch away from acquiring Suns all-star center Amare Stoudemire, but Phoenix wanted Caron Butler and that was too high a price. That deal would have made a lot more sense if you want to say Washington's seriously pushing towards a championship, but Randy Foye and Mike Miller aren't Amare Stoudemire.
Of course, Grunfeld couldn't have possibly known that the highly touted Rubio would still be left on the board, but the big question remains whether or not the deal would have gone down had he been forewarned that Sacramento was high on Tyreke Evans and that Memphis had enough faith in Mike Conley not to take a point guard.
Did Grunfeld seriously believe Washington could compete with the likes of Boston or Cleveland after trading three of his front line players for two guards and adding a 34-year-old Fabricio Oberto? Coupling that with the fact that Andray Blatche, a player who they figured could emerge this season as a viable big man option, is in absolutely terrible shape (His coach had this to say about him after Sunday's loss against Phoenix
"He was dead tired. He can't even run up and down the court. He had fourt straight mental mistakes. Andray can't play the major minutes." Yikes) and you've got yourself a trade that Wizards fans will be second guessing for years and years to come.
Worst case scenario he stays in Spain for the next year (which is what he's doing right now) and begins his NBA career in the 2011 season as Washington's back-up point guard. Still not old enough to buy buckets of Rose Champagne at the 18th Street Lounge, Rubio could gain vital experience on a relatively competitive basketball team led by smart, veteran players. Or I guess the worst case scenario would be him failing miserably, but that's not too probable.
Best case scenario, D.C. intrigues him. The Wizards convince Rubio that when he's on the court, the pressure won't be lofty. As a first and even second year player with Butler, Arenas and Antawn Jamison all under contract this season and next, Rubio could sit and wait much like a rookie quarterback armed with a headset and clipboard.
Having Rubio run the break and find a trailing Butler or Arenas for an open three. Penetrating under the rim ala Steve Nash and single handedly adding three to five points per game for Haywood and Jamison. Rubio could have a serious impact surrounded by that kind of talent.
If only Washington could have held onto that first round pick then rebuilt their team with Rubio running the break and Gilbert shifting over to his more natural two spot, then we'd have something special. Of course, nobody knows how this thing will play out over the next 10 years, but it sure makes you wonder. What if?