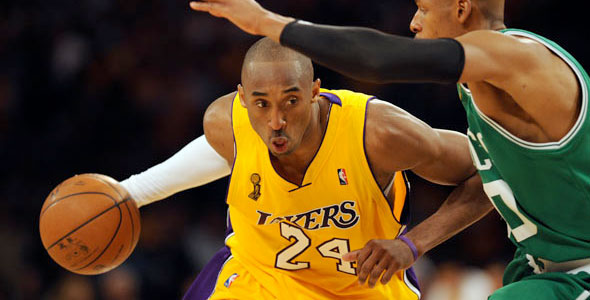 November 6, 2009 – Allen Moll
Allen Moll is an avid NBA and College Basketball fan who watches and studies games religiously and coaches youth basketball in his native Lehigh Valley region of Pennsylvania. Allen is a regular columnist for thehoopdoctors.com, Bleacherreport.com, UpperDeckblog.com, and his own blog, Hoops Haven .
We here at Hoopdoctors are big fans of Kobe Bryant's game. He is the total package, elite scorer, supreme defender, and proven winner. The NBA's current overall best player in the game. Although he has nothing left to prove, his drive and desire to succeed is among the league's best. In this new multi-part series we will take a look back at some hidden gems caught on video showcasing some of the "Black Mamba's" biggest and best moments in his HS and NBA career.
Part Seven – 60 Point Scoring Games
Few players in the history of the game have the offensive skill set to score 60 or more points in a game. In the modern era, Kobe and Jordan have proven to be the most lethal offensive weapons the NBA has seen since Wilt Chamberlain and Elgin Baylor in the early days of the league. Although Jordan has had more high scoring games in terms of sheer numbers, Kobe has one up on "His Airness" with his 81 point game in 2006, which ranks 2nd All Time behind Wilt's 100 points in 1962. Even though he has won only one scoring title, he has averaged 20+ ppg in 10 of his 13 seasons and has the 9th highest single season scoring average in history when he hit for a 35.4 ppg clip in '05-'06. He has 5 scoring games of 60 points or more, including a 65 point game against Portland, and a 62 point game against Dallas, in which he only played the first three quarters, and a 61 point game against the Knicks, which set the record as the highest scoring game in Madison Square Garden history. Here is some footage of Kobe's highest scoring games:
Watch all 81 of Kobe' points in his 81 point game:
Kobe scores 65 points vs Portland in 2007:
Kobe sets MSG record with 61 points:
Watch Kobe become only the 2nd player to ever score 50+ points four games in a row: