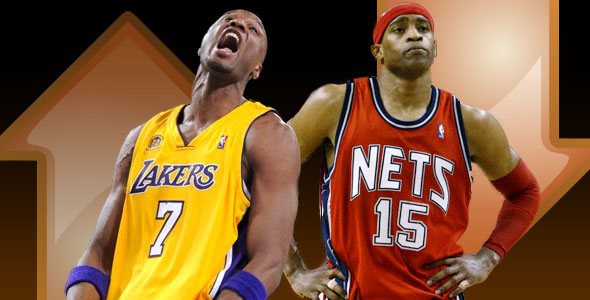 November 2, 2009 – Rob Fung
Robert Fung is an avid basketball fan, a 10+ year fantasy NBA veteran, and the Basketball Team Lead on Rotokingdom.net. Chicago born and raised, he grew up with the Michael Jordan era and continues to root for the Bulls.
The team that you draft is almost never the team that you finish the season with, as long as you are an active manager. You will add/drop players, because a more valuable player may fall on the wire or may break out due to injuries or flat-out beating an incumbent. You may also make trades. You can improve your team by making even value trades, or you could improve your team even more by trading players at max value and taking on players that increase in value.
Use the trading block to post players of yours that you want to trade and send feelers with notes to other managers. The point of the feeler is to open the lines of communication, so send something that would be a little bit of a reach and work from there. The point of the trading game is to get the most you can and give up the least that the other manager will accept. With that being said, here are some ideas for players to sell high and buy low.
Sell High
Lamar Odom –

Through 2 games, he's averaged 13-10-6-steal-2 blocks-trey on 46% FG shooting, rounding up the boards/blocks. Fantastic all-around play with only deficiencies in FT% and TOs. One of the main reasons why he's doing so well is because he's played 39 mpg while Pau Gasol is sitting on the bench in a suit. Once Pau returns, LO goes to the bench and LO's stats will drop. We're talking 10-6-3-steal-block (rounding up pts/assists) off the bench last year, without Artest in the lineup. Gasol is questionable for Tues/Wed, but should return within the next week or two, so your window is limited.
Andray Blatche –

Blatche's put up 21-6-steal-block on 72/78 shooting. Not bad for somebody that was likely undrafted in most leagues. He is only 51% owned in Yahoo leagues so he's relatively quiet, but it's hard to miss those numbers. He's getting heavy minutes (low 30s) off the bench while Antawn Jamison is out through most of November. Once his FG% comes back down to earth, his career avg of 47% at 13 FGA/gm gives him about 12 ppg (maybe 14 with FTs). With average boards/steals/blocks, his value will drop. Then, once Jamison is healthy, Blatche's minutes will drop by at least 33% and he'll only be worth a roster spot in deep leagues.
Aaron Brooks –

HOU has been a big surprise this year, and Brooks is a major contributor to their success. He'll be the focal point of the offense, but can't keep this pace up, even with 39 mpg. He was respectable as a starter in 35 games last year, posting 13-4-2-steal-2 treys, but his 22-8-3-steal-2 treys and 49% FG shooting is just too good to believe. He has a career average of 41% FG shooting, with 42% in NCAA play. He also never averaged more than 4.6 apg in the NBA or NCAA. He'll be a good PG3, but he's playing like a great PG1 right now.
Jermaine O'Neal –

JON was a 2nd rounder in his prime, with lines of 20-10-2 blocks, but years of injuries have dropped him off the radar. He worked out with Tim Grover this past summer, so it's possible that he pushes through the year at his current pace of 22-12, but, if you can get somebody to take him for full value now, ship him off and let the other team deal with the risk. At his very best, he'll put up 22-12 with 2 blocks, but he's shooting 20% above his career FG% already and who knows how low he can fall.
Lesser Sell Highs –
Josh Smith, Danilo Gallinari, Channing Frye, Trevor Ariza, Marc Gasol, Chris Kaman, Grant Hill
Buy Low
Vince Carter –

Carter's playing a career low in mpg (20 mpg) and it shows in his stats (career lows in FGA, boards, steals, and points). The first game of the season was a blowout (up 29 going into the 4th) and the second game of the season he sprained his ankle. He's an explosive all-star who is replacing a non-all-star that shot 3 more FGA/gm (Turkoglu, 13 FGA/gm). It's hard to imagine Vinsanity not getting an increase across the board throughout the season. You may not be able to buy VC at his current numbers, but he should be at a discounted rate, and even more if you can convince the current manager that the change in scenery is no good for VC.
Michael Redd –

Redd is recovering from off-season surgery, but MIL needs a scorer, Redd has put up solid scoring since his 3rd year, and Redd's current FG% is 10 below his career average. Also, Redd is taking at least 4 FGA and 2 FTA less than normal and playing at least 5 mpg less than normal. Outside of his 2.5 spg and 1.5 3pg, his numbers look very plain. Shop for him and wait for his return to status as MIL's #1.
Jason Kidd –

The boards, dimes, and steals are there, but the (few) points and treys are not. Points are usually not the reason you like Kidd, but a measly 3 ppg can still get you a discount. He's still taking a good number of 3s, but just not connecting yet. Kidd, a 34% career trey shooter, has never had a season where he has not come close to averaging at least one 3pg. Once he bumps that stat up, he'll be the player the other manager wanted on draft day. Until then, he's Brevin Knight (a fairly valuable bench player, but no better than that) with some rebounds.
Derrick Rose –

Rose has played against two of the best defenses and two of the best point guards in the league. In addition, BOS blew CHI out of the building the last game, so Rose got less minutes. He took more FGA tonight, but had abysmal FG%. The whole team has shot poorly as a matter of fact, so that's a good reason for the assists to be lacking. The Bulls will get better, and so will Rose. The team is just trying to figure out how to play with Deng healthy and Gordon gone. Rose is only a sophomore, so some managers might be scared that last year was a bit of a fluke. Don't be one of them.
More Risky Buy Lows (mostly due to injuries or new and unpredictable situations) –
Elton Brand, Al Jefferson, Caron Butler, Andre Miller, Amare Stoudemire, Stephen Jackson