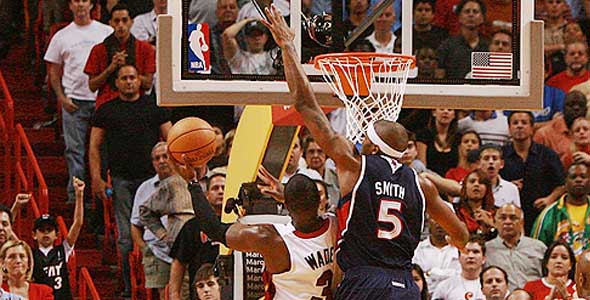 November 4, 2009 – Allen Moll
Allen Moll is an avid NBA and College Basketball fan who watches and studies games religiously and coaches youth basketball in his native Lehigh Valley region of Pennsylvania. Allen is a regular columnist for thehoopdoctors.com, Bleacherreport.com, UpperDeckblog.com, and his own blog, Hoops Haven .
We all knew that Josh Smith could dunk with the best in the NBA, being a former Slam Dunk Champion. I think because of his perceived arrogant demeanor, headbands, and trademark scowl, that his superior ability to block shots as a weak side help defender often gets overlooked. He reminded us in grand fashion recently as he swatted Gilbert Arenas to become the fastest of anyone in NBA history to reach 900 blocks. After which, he ran the length of the court for another of his now signature one handed slams.
Smith, at age 23, set the record by eclipsing the milestone faster than the previous record holder, Shaquille O'Neal, who reached the mark at age 24, when with the Orlando Magic. That's select company for Smith, who although talented, is sometimes overlooked as one of the game's brightest young stars. He has steadily increased his production in his 6 seasons with the Hawks, since being selected as the #17 pick in the '04 NBA Draft. Smith went straight to the NBA after starring at the prestigious Oak Hill Academy HS and on the AAU Summer circuit alongside current NBA superstar Dwight Howard, as they both played on the Atlanta Celtics team.
Smith has averaged 2.4 blocks per game for his young career, with a high of 2.9 per game in the '06-'07 season. In the early going this season, he has stepped up his offensive game, by averaging 19 points and 5 rebounds to go along with his also impressive 5 assists. He has proven that he has been one of the better passing big men in the league by averaging almost 3 assists for his career as well. At 6'9 and 240 pounds, Smith is not the prototypical big man since he also can stretch the defense by draining the occasional three, as evidence of his shooting 30% from behind the arc last season. He also ranks among the NBA's best in overall FG% this season by hitting on more than 71% from the field.
Atlanta appears to have made the right decision to match the Memphis Grizzlies offer sheet to keep Smith in Atlanta when he tested the free agent waters back in the '07 offseason. The up and coming Sixers squad also courted Smith heavily that Summer before settling on Elton Brand to help lead them towards the future. Wouldn't Smith look good now alongside Iguodala, Young, Williams, and Speights in Philadelphia?
Check out a great career mix of Josh Smith: