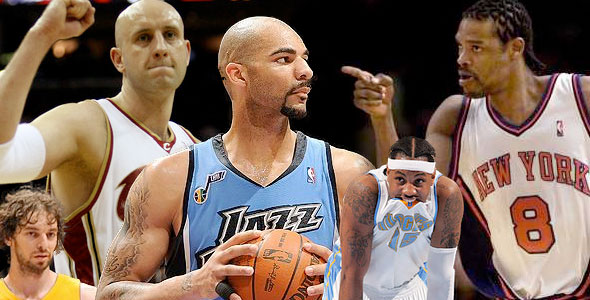 October 13, 2009 – Matt Anaya
The Warriors suspended Stephen Jackson for two games after reportedly cursing at Head Coach Don Nelson during last week's preseason game. Jack's off-season animosity towards the Warriors franchise has not simmered and has continued into the preseason. He has 4 years and about $35 million left on his current deal with Golden State and rumors of a potential deal involving the Cavs and Zydrunas Ilgauskas are all but dead. There are plenty of teams that would like to have Jackson, a player who is capable of making big plays in the 4th quarter.
It looks like Jordan Farmar will become a restricted free agent next off-season, as the Lakers will most likely not offer an extension by the October 31 deadline. Farmar, entering his fourth year in the NBA, will get some interest from a number of teams as a backup PG and it is safe to say he not be breaking the bank next off-season. He has lost minutes to the emerging Shannon Brown in an already crowed Laker backcourt and it looks like Los Angeles will see how much Farmar costs before they make a decision on his future with the team.
The Bobcats are likely holding off on determining the future of Alexis Ajinca until the Oct 31 deadline. Ajinca has not done much in his NBA career but will likely see his third year picked up by the Bobcats. The 21 year old French big man had a big night Saturday night scoring 15 points, grabbing seven rebounds, blocking two shots and according to Head Coach Larry Brown was the only big man "to step up and give us some honest minutes." I expect the Cats to delay giving the athletic big man the extension and will use it to motivate the 2008 first round pick.
The Cavs will not decide on picking up J.J. Hickson's option next season until the Oct 31 deadline but that does not mean they do not like the talented big man. Brian Windhorst of the Cleveland Plain Dealer says the Cavs like former first round pick from NC State a lot, they just want to protect themselves. The Warriors nearly cost themselves millions as they were expected to extend Brandon Wright but he suffered a season ending injury, jeopardizing his future with the Warriors. I expect Hickson to receive an extension very soon and I also think Brandon Wright will be extended.
Derrick Rose has missed two preseason games due to a sore right Achilles and ankle but Bulls announcer Chuck Swirsky told me on Twitter, the plan is for Rose to be ready by opening night Oct. 29 and there is no need to rush things at this point. "It's going to take awhile, but I'm being patient with it and just hoping and praying I can do something to make it better. It's a tendon that runs behind the bone in my ankle. There's fluid in my ankle, so I'm just waiting for that to leave," Rose said in an interview with the Arlington Heights Daily Herald. The reigning Rookie of the Year should be all systems go in two weeks and ask yourself, "when is this guy gonna average 20ppg, 10apg, 5rpg?"
Nick Young started at SG for the Washington Wizards in their preseason opener. It is a very crowded backcourt in DC and minutes will be sparse between Mike Miller, Randy Foye, Javaris Crittenton, DeShawn Stevenson, and Young. See, told you it was crowded and I have no idea how the minutes will be dispersed and according to the Washington Post, Head Coach Flip Saunders has also said he would like to alternate the SG position throughout the preseason. The only thing I can say is Javaris Crittenton looks like the only odd man out.
Julian Wright started over Peja Stojakovic for the New Orleans Hornets in the preseason home opener but the third year player showed he still has a lot to learn. According to John Reid of The Times Picayune, "at no point in Saturday's game at the New Orleans Arena did Wright appear in rhythm with his shot or in sync with the offense." The KU product made one of 11 shots for two points and did not play after midway through the third quarter. "Fortunately it's the preseason, and I got to get into a habit of stepping into my shots, " Wright said. "I know I can hit those (mid-range shots). When the ball comes, I just got to let it go."
The Pistons have won three NBA titles in their franchise's history because they played the best defense in the world. These days, with Rodney Stuckey on the roster and after signing Ben Gordon and Charlie Villanueva, defense has been sacrificed for talent. "From a defensive standpoint, we're getting better," Head Coach John Kuester said in an interview with The Detroit News. "We have a ways to go, no question, but I'm really pleased with the energy and effort our big people have given us. In time, we can be a real good defensive team." I do not think the Pistons will make the playoffs this season and it will be because of their ineptitude on defense.
Matt Anaya