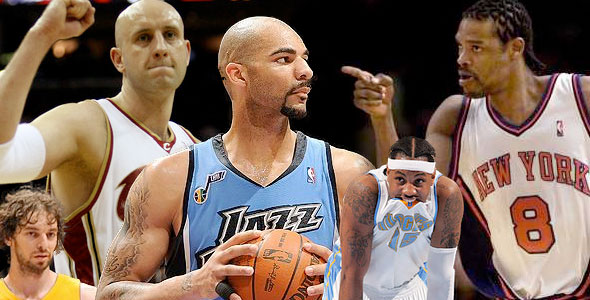 October 15, 2009 – Matt Anaya
The Stephen Jackson saga continued Tuesday as Jack said in a phone interview, "I'm just going to do my job. I don't want to be fake. I'm just going to go and play basketball and handle my business."
In last week's preseason game vs. the Lakers, Jackson got into serious foul trouble in short minutes and exchanged words with Kobe Bryant, the replacement refs, and reportedly Head Coach Don Nelson.
Jack was upset the coaching staff did not stick up for him when he accumulated five fouls in the first quarter. He was suspended for two games for conduct detrimental to the team and requested to have his captain status revoked.
The veteran guard said in an interview with the San Francisco Chronicle, "I don't want these young guys to try to follow me. I can't be a role model to guys who make the same amount of money as me. We're all in the NBA. I don't want to be a role model."
Jackson also said he thought the captaincy was "overrated" and, "you don't do anything but go out before the game and talk to the refs. I don't want to do that, anyway."
Head Coach Don Nelson was supposed to meet with the unhappy guard before Tuesday's practice and it looks like Jackson will be a Warrior for the time being. "If something happens, then it happens," Jackson said. "But I'm just going to play, just do what I do."
Jack remains one of my favorite players in the NBA.
On Wednesday the Warriors exercised the fourth-year contract option on Brandon Wright and third-year option on Anthony Randolph.
The Spurs will likely wait to decide whether to pick up Ian Mahinmi's 2010 option or let him become an unrestricted free agent. Mahinmi is a soon to be 23 year old French big man and a 2005 first round pick that has seen little playing time but has progressed albeit slowly.
DeJuan Blair told the San Antonio Express News, "The training staff is doing an excellent job of keeping my knees in shape and strengthened. I just need to keep (being) me, and not worry about my knees. They're going to be as healthy as possible."
Second year player Joe Alexander has yet to practice or play in a preseason game this year due to a lingering hamstring injury. The Bucks used (wasted) a lottery pick on Alexander and they have until the end of the month to extend his rookie deal.
Brandon Roy is not ready to commit to Team USA and the 2012 Olympics. "It's hard for me to commit early to it because I want to make sure my body is healthy enough to go through it. I've had a number of injuries throughout my early career. My biggest focus is being 100 percent going into my regular season," Roy told NBA.com. Team USA will be stacked with or without Brandon Roy but he a top ten player in the NBA.
Julian Wright played well Tuesday night, hitting 5-of-7 shots for 10 points. He was in a miserable slump earlier this preseason and should be inconsistent all season.
Trevor Ariza took a hard fall Monday night and missed Tuesday's practice with a sore back. He is not expected to miss any more time and is hoping to play against Toronto on Thursday and Friday against the Pacers.
Charlie Villanueva has not played a minute this preseason due to a sore hamstring, but is finally scheduled to make his debut on Saturday against the Grizzlies.
Hedo Turkoglu will make his preseason debut Wednesday night and will join the starting lineup. Head Coach Jay Triano said Turkoglu does not deserve to be starting because of his lack of practice time but the coach needs to see how Turkoglu plays with the starters.
Hakim Warrick is a fantasy sleeper. He finished with 25 points on Tuesday night's game against the Bulls and will battle Luc Richard Mbah a Moute and Ersan Ilyasova all season long for minutes, but Hak is the best player out of the group.
Brandon Jennings continued his strong preseason finishing with 10 points, five boards, and 12 dimes against the Bulls. It baffles me Jonny Flynn was drafted higher than Jennings.
Chris Mannix of Sports Illustrated told me on Twitter there is no way the current Grizzlies roster will work. Mannix also told me Eddie Jordan believes Lou Williams can run the point but Mannix has doubts, as do I.
Flip Murray (Charlotte) will be out a while with a shin injury.
Delonte West returned to practice Tuesday for the first time in a week.
The Mavs are trying to buy out forward Shawne Williams.
Former KU PG Aaron Miles was waived by the Hawks.
Matt Anaya