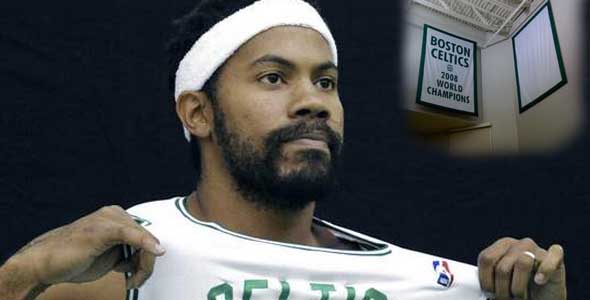 October 1, 2009 – Allen Moll
Allen Moll is an avid NBA and College Basketball fan who watches and studies games religiously and coaches youth basketball in his native Lehigh Valley region of Pennsylvania. Allen is a regular columnist for the Hoopdoctors, Bleacherreport.com, UpperDeckblog.com, and his own blog, Hoops Haven .
The Celtics are so confident about the '09-'10 season that when you look up into the rafters, you will see 17 banners representing the team's 17 NBA titles. But during Boston's media day recently, everyone in attendance noticed a blank 18th banner hanging next to their '08 Championship banner. Apparently this Celtic's squad is a very confident bunch that hope to be adding some letters and numbers to that banner reading "2010 NBA Champions." When head coach Doc Rivers was asked about the blank banner, he replied,"It was Red Auerbach's idea", referring to the now deceased Boston coaching legend.
Everything appears good in Boston as the team opens training camp. The team received great news that the "Big Ticket," Kevin Garnett has been cleared to practice without any restrictions. A healthy Garnett, I feel is the key to a successful season for the green and white. Even if he doesn't put up MVP caliber numbers anymore, his leadership and defensive presence is his best asset while on the floor. If Garnett was healthy enough to play in last season's playoff series against the Magic, they surely would have had a better opportunity to advance and make it an interesting Finals series against their dreaded rival, the Lakers.
The addition of Rasheed Wallace is arguably the biggest offseason move of any, this Summer. Although the Celtics already had possibly the most potent lineup in the league, adding Wallace's versatility on offense and smothering post presence on defense fits perfectly in with the passionate play of Garnett, Pierce, and Ray Allen. Many people felt that the 35 year old's (Wallace) skills have taken a step back in recent seasons in Detroit. He finished right at his annual Detroit averages of 12 ppg and 7.4 rebounds in the regular season but his playoff numbers dipped to 6.5 ppg and 6.3 rebounds in a 4 game first round loss. I speculate that the his lower playoff number were related to his unhappiness with the Detroit roster and management decisions rather than a sudden loss of ability. Coach Rivers biggest concern will be keeping Wallace and Garnett's emotional outbursts in check since both are annually among the league leaders in technical fouls. I read an amazing stat-line that Wallace has more than 296 tech's and 24 ejections in his career, tops among active players.
Point guard Rajon Rondo has been stellar and often overlooked among all the other star players in Beantown. The 3 year pro has steadily increased his production in each of his three seasons averaging career highs in virtually every category last season with 11.9 ppg, 8.2 assists, 5.2 rebs, and 1.9 steals. With Boston's added firepower, he is poised to be the next great point guard in the East, average over 10 assists per game, and a mainstay on the Eastern All Star squad for the next 10 years. It seems hard to imagine, but the sky is the limit since Rondo is still only 23 years old. Hopefully his contract issues won't have a negative impact on his play since he is due for a long term deal, which GM Danny Ainge has yet to offer him. The two have clashed at times, with Ainge claiming that Rondo has sometimes been late or skips practices. Some good advice for Rondo is to just play his game and the money will come.
Boston learned from last season and resigned Glen "Big Baby" Davis to back-up Garnett if he has another unforseen injury. The Celtics were smart to bring back the 23 year old power forward since he proved invaluable in Garnett's absence, especially in the '09 postseason, where he averaged 15.8 ppg and almost 6 rebounds. Additionally, the move really looks good now with forward Leon Powe's defection to Cleveland. Although it is tough for Davis to find minutes with Garnett and Wallace playing most of the minutes in the frontcourt but with a little more seasoning, Davis could be a very serviceable big man, either for Boston or another team, in 2 years when his current deal is up and Wallace and Garnett will be 37 and 35 years of age. Don't forget, Davis was a beast at LSU in college.
The addition of Marquis Daniels, a 6'6 swingman entering his 7th season from Auburn, could prove to be a valuable commodity considering the ages of Allen and Pierce. Daniels averaged 13.6 ppg and 4.6 rebounds in place of the injured Mike Dunleavy last season for the Pacers. Daniels was once a key piece to the Dallas Mavericks up-tempo attack from '03-'06, before they changed their style of play.
Also, don't sleep on Boston's second round pick(#58 overall), Lester Hudson who finished 2nd in the nation last season behind only Steph Curry, by averaging 27.5 ppg at Tennessee-Martin. The 6'3 guard definitely knows how to score since he was the Ohio Valley Conference Player of the Year in both his junior and senior seasons. Although he is a point guard, he plays like a Eddie House clone but with a little better handle.
It appears everything is great in Boston and everyone is ready to play. It's amazing how all of the seemingly big egos somehow can coexist on this roster. Rasheed Wallace, who already owns an championship ring from the '04 Pistons, explains the team's cohesion when he was asked about changing the former Big 3(Garnett, Pierce, and Allen) to the Big 4(with Wallace), he responded,"Absolutely not. I feel like the fourth on the Big 12 or 13, All of our guys want to win!"
Here is some footage from Wendy Nix at ESPN reporting on Garnett's rehabbed knee: