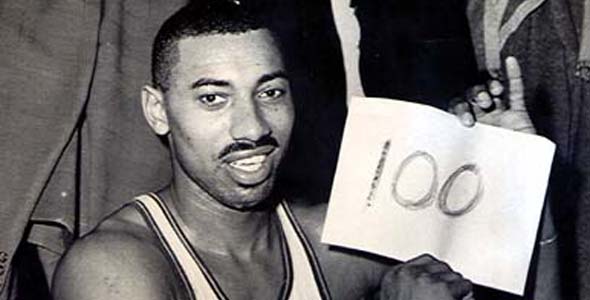 September 8, 2009 – Allen Moll
Allen Moll is an avid NBA and College Basketball fan who watches and studies games religiously and coaches youth basketball in his native Lehigh Valley region of Pennsylvania. Allen is a regular columnist for thehoopdoctors.com, Bleacherreport.com, Fanhuddle.com as a NY Knicks and Wizards correspondent, and his own blog, Hoops Haven.
We all know that "The Big Dipper", Wilt Chamberlain, is one of the greatest and most dominant NBA players in the history of the sport. He was so much better than his contemporaries that the league was forced to change many of the game's rules like widening the lane, and instituting offensive goaltending and changing out of bounds passing rules, since he would leap from out of bounds to deposit the ball in the basket, without a step.
In my opinion, he is in the discussion with Jordan, Kareem, and "The Big O" Oscar Robertson, as the Greatest of All-Time. With all due respect to MJ, Chamberlain was the most dominating offensive force to ever play the game. When Kobe Bryant scored 81 points in a game in '06, he instantly became one of the rare, few players to come within reach of one of Wilt's 72 NBA records, like scoring 100 points in a game. Let's take a closer look at some of his astronomical career numbers and astounding scoring and rebounding records that will probably never be broken:
Most Rebounds in a Single Game – 55
In addition to scoring, Wilt along with Bill Russell were the two most dominating rebounders in league history. He pulled down a record 55 boards against Russell's Celtics during his 2nd NBA season in 1960. The closest in the modern era was Charles Oakley with 35 in 1988. Wilt also holds the rookie single game record with 45 rebounds.
Highest FG% in a season – .727%
Wilt became the only player to shoot over 70% for a season in his final year with the Lakers in '72-'73. He holds 3 of the top 5 single season best shooting percentage years of all time. The closest that any current players have come, which are more than 100 percentage points behind, are Andris Biedrins(.626% in '07-'08), Tyson Chandler(.623% in '07-'08), and Shaquille O'Neal(.608% in '08-'09).
Highest Scoring Average in a Single Season – 50.36 PPG
Wilt is the only player to AVERAGE more than 40 or 50 points in a single season, further strengthening the argument that he was the league's best offensive player, ever. He holds the top 4, and 5 of the 6 best single season scoring average seasons in history. The legendary MJ's best single season was 37.0 ppg in '86-'87. Of active players, Kobe Bryant averaged 35.4 ppg in '05-'06 but isn't likely to approach those numbers with such a great supporting cast in LA.
Highest Rebounding Average for a Single Season – 27.2 Reb/Game
Wilt and Bill Russell had 17 of the top 18 best single season rebounds per game averages in history. Wilt averaged an amazing 27.2 in the '60-'61 season. Dennis Rodman grabbed 18.26 per game in '92-'93, which as the best in the modern era, ranks as only the 34th best in history. Dwight Howard, who is regarded as the best current rebounder has a single season high of 14.16 per game in '07-'08.
Highest Scoring Average as a Rookie – 37.6 PPG
In today's NBA standards, it is considered good for a rookie to average 20 ppg in their rookie season. As a rookie in 1959, Wilt averaged 37.6 points and 27.0 rebounds(also a rookie record). He also holds the record for most points and rebounds by a rookie in their first game with 43 points and 28 rebounds.
Most Points in a Single Season – 4029 Points
Michael Jordan is the only other player in history to score more than 3,000 points in a season with 3041 points in '86-'87, which ranks 3rd all time. Chamberlain holds 4 of the top 5 total points seasons in history. Kobe's 2832 points in '05-'06 is the best single season among active players, but is more than 1,100 points behind Wilt's '61-'62 season.
Only Player in History to have a Double – Triple Double
Wilt showed his versatility by scoring 22 points, grabbing 25 rebounds, and dropping 21 assists in a game in 1968. The only player to come remotely close in terms of volume of triple doubles is Oscar Robertson who tallied 41 triple doubles in '61-'62.