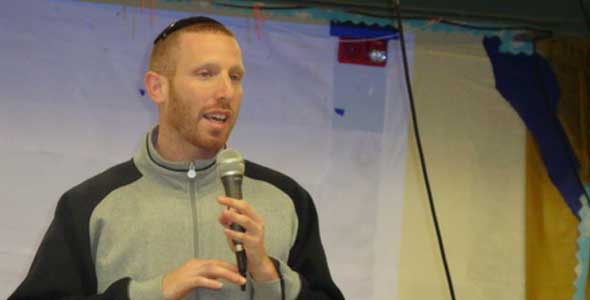 September 29, 2009 – Allen Moll
Allen Moll is an avid NBA and College Basketball fan who watches and studies games religiously and coaches youth basketball in his native Lehigh Valley region of Pennsylvania. Allen is a regular columnist for the Hoopdoctors, Bleacherreport.com, UpperDeckblog.com, and his own blog, Hoops Haven .
Former basketball prodigy, and former #1 HS player in the country, Tamir Goodman, whom everyone came to know as the "Jewish Jordan", has been forced into retirement from professional basketball at the age of 27 years old, because of nagging knee injuries. He has played for the last 7 years overseas, lastly for the Haifa Heat, in the Israeli Pro League.
It was almost 10 years ago in 1999, that Tamir, was lighting up the basketball courts at Talmudical Academy, a tiny Jewish day school in Baltimore,Maryland. He was a tall(6'3), but skinny(159lbs) white kid who was shooting the lights out at an unbelievable 35ppg clip in his junior season. He set off a media and recruiting frenzy to find out more about the basketball phenom. He even was featured in Sports Illustrated and on 60 Minutes while in High School.
Many elite level NCAA Division 1 schools had interest but Gary Williams at Maryland had the inside track to signing Goodman to a scholarship. Because of religious beliefs, he refused to play on the Sabbath from sundown Friday, to sundown Saturday. These restrictions immediately clashed with Williams disciplinarian style of coaching and caused a rift between the two. After failing to come to a compromise at a meeting between Goodman and Williams, the prized recruit announced that he would attend the smaller, Towson University, along the northern edge of the Baltimore beltway, which agreed to reschedule games to cater to Goodman's restrictions.
Goodman never lived up to the hype and struggled through injuries between his junior and senior seasons of high school. Speculation was that his propensity towards injury actually had swayed Maryland away from the once prized recruit. His career at Towson was both filled with disappointment and scandal. He averaged only 6 points and 4 assists in 23 games as a freshman. After a coaching change at the school, his playing time was reduced and Goodman was at odds with the new regime. In late 2001, Goodman filed a police complaint against a member of the coaching staff, alleging that they threatened hitting him with a chair and kicked a stool into him. He later dropped the charges and left the school, ending his collegiate career after only one full season.
He then went overseas and played professionally with Maccabi Tel Aviv in the Israeli Pro League before sustaining an ACL injury to his knee. Over the next few seasons and 3 other teams, including the Maryland Nighthawks, a professional team back in the states, he suffered through a staph infection, and serious injuries to both hands until he decided he had endured enough pain and called it quits recently, in a televised announcement.
Thus, with no regrets, the basketball career of the once promising "Jewish Jordan" ends. In retirement he is the father of 3 young children and serves as director of Haifa Hoops for Kids, which is a program affiliated with his last pro team in Israel, that provides free tickets to poor and special needs children.
Watch some video footage on Tamir Goodman's life before retirement: