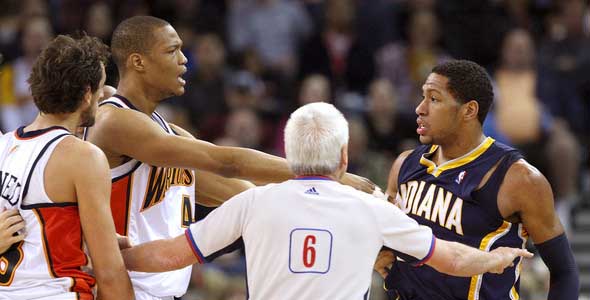 September 29, 2009 – Michael Pina
Michael Pina has a BA in English with a concentration in Journalism from the University of Delaware. He is currently living in his hometown of Boston. Mike is also the creator of the sports site Mike and Jeremy Like Sports.
Surprise champions in the NBA are a lot like victory parades in the city of Philadelphia, few and far between.
Going back 10, 20, 30 years, there hasn't been a single team that came out of absolutely nowhere to surprise everyone, make a run at the title and win a ring. That's not to say Cinderella stories don't exist in the NBA, but those are more likely to be on an individual level instead of a team's.
Heading into the 2009-10 season, barring a series of devastating injuries or the plague, the NBA champion will materialize from one of the following five cities: Boston, Cleveland, Los Angeles, San Antonio or Orlando. Sure there are a few teams out there with an outside shot, like Denver, Houston and maybe even New Orleans, but for the most part the leading teams have staked their claim.
For casual fans this takes a little excitement out of the regular season while at the same time increasing interest once May rolls around.
The Eastern Conference this year could be a little more interesting than people think, with some teams that have traditionally been down, bouncing back in a strong way and having moderately successful seasons.
Here's a team that should go further this year than last, but still fall short of going to the Finals. The Indiana Pacers.
It's harder to get any worse with a 36-46 record, but Indiana was a team nobody talked about last year and yet around the league they competed with the best, beating the Magic, Celtics and Lakers.
Last year they finished fifth in the league in scoring, averaging 105.1 points per game. Unfortunately they let up 106 per contest so that explains the poor record, but they're a young, up-tempo team that should show stark improvement in 2010.
Two positive additions to this year's team are rookie Tyler Hansbrough and newly signed Dahntay Jones from Denver. The latter being a player who will fit perfectly into the Pacers up and down system while taking on a nightly role of guarding the opponents top scorer.
Throughout his collegiate career, most who watched Tyler Hansbrough play agreed he was a great amateur who would have trouble adjusting at the next level. This could be the truth, or he could come in with his hard work ethic and in-game intensity and be a positive influence.
The Pacers have a few ingredients to be a very dangerous team both next season and a few years down the road. They have a designated franchise player in Danny Granger who continues to improve from year to year at a greater rate than nearly everyone in the league. Committed to improving himself on the defensive end, while still remaining a 30-point a night threat gives Indiana a very useful puzzle piece.
Along with Granger, Indiana has stable point guard T.J. Ford, inside, outside threat Troy Murphy and second year player Brandon Rush.
While there's a greater chance Zombieland will take home Best Picture than the Pacers taking home the Larry O'Brien trophy, Indiana should surprise a lot of people both this season and years to come.