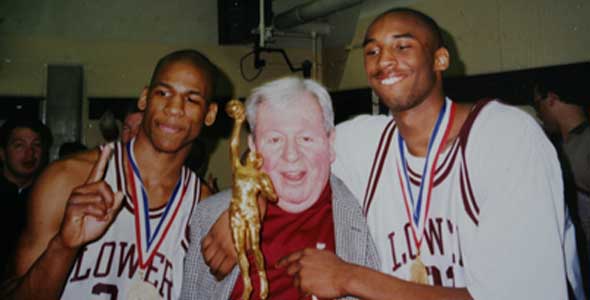 September 28, 2009 – Allen Moll
Allen Moll is an avid NBA and College Basketball fan who watches and studies games religiously and coaches youth basketball in his native Lehigh Valley region of Pennsylvania. Allen is a regular columnist for the Hoopdoctors, Bleacherreport.com, UpperDeckblog.com, and his own blog, Hoops Haven .
We here at Hoopdoctors are big fans of Kobe Bryant's game. He is the total package: elite scorer, supreme defender, and proven winner. The NBA's current overall best player in the game. Although he has nothing left to prove, his drive and desire to succeed is still among the league's best. In this new, multi-part player series we call "Player Rewind" we will take a look back at some hidden gems caught on video showcasing some of the "Black Mama's" biggest and best moments in his HS and NBA career.
Part One – High School Years
Residents of Philadelphia knew Kobe was going to be great since he became Southeastern Pennsylvania's all-time leading scorer in 1996, with 2,883 points, even besting the legendary Wilt Chamberlain's outstanding career at Overbrook HS, during his time at Lower Merion HS, located in the northeastern suburbs of Philly metro area. His senior year numbers that were purely phenominal, averaging 30.8 ppg, 12 rebs, 6.5 ast, 4 stls, and 3.8 blocks, earned him the Naismith and Gatorade HS Player of the Year awards. To prep for the NBA, Bryant regularly practiced with the 76ers and even played one on one with then superstar Jerry Stackhouse. After watching these videos, it's amazing how some people questioned his decision to go pro.
Check out some throwback videos of Kobe at Lower Merion HS: