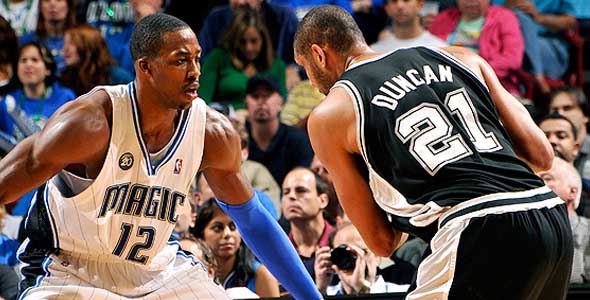 September 30, 2009 – Matt Anaya
Matt graduated from Southern Illinois University at Carbondale in May of 2007 majoring in TV Production. Matt is currently a writer at StaticMultimedia.com, TheBleacherReport.com, NationalSportsNation.com, SportsMixed.com, FanFever.com, Filmcatcher.com, 2 Much Swag, and TheHoopDoctors.com. Matt will provide you with insightful wit and an eager eye for sports.
Eastern Conference
Atlantic Division
Boston 58 24
Toronto 50 32
Philadelphia 41 41
New Jersey 34 48
New York 30 52
After last season's dismal performance the Atlantic Division drastically improves because Toronto dramatically improved this off-season. Boston is easily the best team in the Atlantic division and Philly will likely see a similar season as last. The Sixers lost their floor leader and are depending on a SG to play PG. I do not think the Nets will be as bad as everyone thinks and they have a nice future with Devin Harris, Brook Lopez, and lots of salary cap space. The Knicks will be in the John Wall sweepstakes come June.
Central
Cleveland 60 22
Chicago 49 33
Indiana 41 41
Detroit 39 43
Milwaukee Bucks 25 57
Cleveland will likely run away with this division and it might be over by the New Year. Chicago and Indiana will improve making the Central division respectable but I have the Pacers missing the playoffs by a game. Detroit signed two talented offensive players but neither Ben Gordon nor Charlie Villanueva can play defense and that spells trouble. The Bucks will have a great chance to win next season's lottery.
Southeast
Orlando Magic 61 21
Atlanta 50 32
Washington 44 38
Charlotte 42 40
Miami 41 41
The Southeast division will be much improved from a year ago, as the Washington Wizards are again a playoff team and the Atlanta Hawks are one of the best teams in the conference. I also expect the Charlotte Bobcats to be a playoff team this season and that leaves the Miami Heat in last place with a .500 record. That would make them the best last place team in the NBA and the proposition of Dwyane Wade leaving Miami for Chicago even greater.
Western Conference
Northwest
Portland 55 27
Utah 51 31
Denver 50 32
OKC 32 50
Minnesota 30 52
The Northwest division race will be my favorite to watch all season long. I think Portland is the best team in the division but Utah and Denver will be in contention all season long. I would really like putting OKC in the playoffs but I cannot do it this season (hopefully next). There are a lot of fun exciting players and teams in this this division which makes it one of the best to watch.
Pacific
Lakers 63 19
Clippers 43 39
Phoenix 41 41
Golden State 30 52
Sacramento 27 57
The Lakers should win this division by at least 20 games but that does not mean it is an exciting division. The Clippers should make Los Angeles a professional hoops haven as they have a good chance to make the post season this year (gulp). Phoenix is back to their run and fun style but their defense is miserable along with Golden State and Sacramento. Sacramento has a very good nucleus to build around and they should add another stud rookie after this season.
Southwest
San Antonio 64 18
Dallas 55 27
New Orleans 48 34
Memphis 30 52
Houston 28 54
As long as San Antonio can stay healthy they have a great chance to return to the top of the NBA and will be on top of this division from day one. Dallas reloaded this off-season by adding Shawn Marion, Drew Gooden, and Tim Thomas and they are a contender for the first time since their 2006 Finals appearance. New Orleans will sneak in the playoffs this season but they would be near the top of the lottery if not for Chris Paul. Memphis is talented but I do not see that roster meshing well and Houston's season ended when Yao went down.
Playoffs
1. San Antonio Spurs
2. Los Angeles Lakers
3. Portland Trailblazers
4. Dallas Mavericks
5. Utah Jazz
6. Denver Nuggets
7. New Orleans Hornets
8. Los Angeles Clippers
1. Orlando Magic
2. Cleveland Cavaliers
3. Boston Celtics
4. Atlanta Hawks
5. Toronto Raptors
6. Chicago Bulls
7. Washington Wizards
8. Charlotte Bobcats
Spurs over Clippers
Lakers over New Orleans
Portland over Denver
Utah over Dallas
Magic over Bobcats
Cavs over Wizards
Bulls over Celtics
Raptors over Hawks
Spurs over Utah
Lakers over Portland
Magic over Raptors
Cavs over Bulls
Spurs over Lakers
Magic over Cavs
Spurs over Magic
MVP – LeBron James
ROY – Blake Griffin
DPOY – Dwight Howard