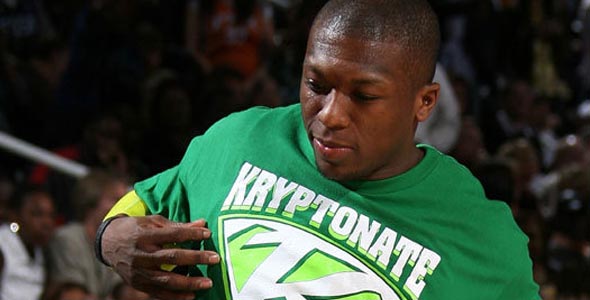 August 20, 2009 – Allen Moll
Allen Moll is an avid NBA and College Basketball fan who watches and studies games religiously and coaches youth basketball in his native Lehigh Valley region of Pennsylvania. Allen is a regular columnist for thehoopdoctors.com, Bleacherreport.com, Fanhuddle.com as a NY Knicks and Wizards correspondent, and his own blog, Hoops Haven.
Nate Robinson, also known as "Krypto-Nate", just doesn't get it. The NY Knicks pint sized free agent claimed to have no idea why he was pulled over recently in the Bronx. The two time slam dunk champion doesn't seem to be taking his NBA career, or his freedom, very seriously.
Robinson and NY Knicks rookie, Terrance Williams, were recently pulled over by the Bronx police. Although Robinson was driving with a suspended license and has been arrested numerous times previous for similar offenses, he claimed to have no knowledge of why he was pulled over. Nate immediately made a twitter post that,"They pulled me over cuz my windows were 2 dark, but my windows were down, lol." Followed by another posting of,"I am still pulled over, it's been 35 mins, they have me sit in my truck like I don't have sh*t 2 do, lol." He was taken into custody for driving with a suspended license a mear 30 seconds after this last post,…….lol. That Nate is a funny guy,…..not very bright or mature though.
Whether Nate's comments, on why he was pulled over and why they went down the dark road of racism, was his true feelings or an attempt at comedy,……………they are just ignorant. Maybe a 5'6 person, who looks 13 years old, while driving a large sport utility vehicle, and doesn't even have a license, just looks suspicious. How about that for theories, Nate!
Nate has had his license suspended an amazing 4 times since '08 for various traffic offenses including, speeding, not wearing seat belts, talking on a cell phone while driving, failing to pay fines, or respond to summons. Robinson has had a horrible record behind the wheel since he has committed an additional 5 other various offenses since '06.
One has to speculate that these recent developments will impact the Knicks willingness to resign the talented swingman, who have medium interest so far. He has received higher offers to play in Europe during the free agency period.
Robinson has been a fan favorite since bursting onto the national scene after winning two dunk titles by going old school in the first, dunking over '86 champ Spudd Webb, and donning bright green shoes and using a green ball to symbolize kryptonite to Dwight Howard as Superman, to win the second. Robinson has actually been one of the dissapointing Knicks' best players, averaging 17.2 points last season and 12.2 ppg for his career. His inability to guard taller backcourt players and control his emotions on the court have the Knicks questioning resigning Robinson. Nate, who has a 43 inch vertical leap, is annually among the league leaders in technical fouls.
Nate has recently deleted his immature twitter posts, no doubt amid pressure from the Knicks and his agent. All of this could have been avoided. Why not hire a driver? He definitely has enough money. I guess we will see how "Krypto – Nate" works behind bars.
Here is some footage of Krypto Nate in the '09 Dunk Contest: