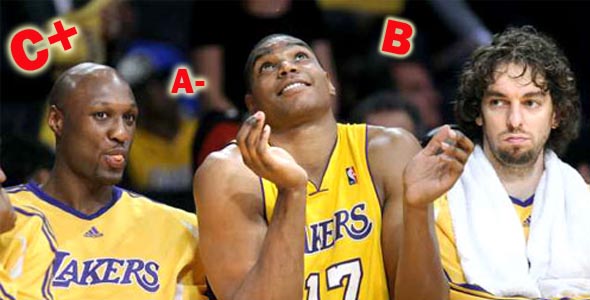 August 21, 2009 – Matt Anaya
Matt graduated from Southern Illinois University at Carbondale in May of 2007 majoring in TV Production. Matt is currently a writer at StaticMultimedia.com, TheBleacherReport.com, NationalSportsNation.com, SportsMixed.com, FanFever.com, Filmcatcher.com, 2 Much Swag, and TheHoopDoctors.com. Matt will provide you with insightful wit and an eager eye for sports.
Last week I posted Grading the NBA: Backcourt Edition and many of you commented on the lack of specificity in the grading system, and the difficulty in differentiating between the many teams with a Grade A. This week in grading the NBA frontcourts I also included for you a number scheme to help better distinguish between the team grades. Let me know your thoughts again.
Los Angeles Lakers
C – Andrew Bynum, DJ Mbenga
PF – Pau Gasol, Josh Powell
F – Lamar Odom, Ron Artest, Luke Walton
The Lakers have the best frontcourt in the NBA as it features versatility, youth, experience, and talent. Kobe Bryant is the main reason why the Lakers are the defending champs but their frontcourt is also a major reason why.
Grade A+ (10)
Denver Nuggets
C – Nene, Chris Andersen
PF – Kenyon Martin, Malik Allen
F – Carmelo Anthony, Renaldo Balkman
As I pointed out the Nuggets backcourt is not their strength. The reason why the Nuggets had the best chance to beat LA last season was because their frontcourt matches up better than any other NBA team.
The Nuggets frontcourt is massive, talented, skilled, and the reason why they are one of the best teams in the NBA.
Grade A (9.8)
Washington Wizards
C – Brendan Haywood, JaVale McGee
PF – Antawn Jamison, Andray Blatche, Fabricio Oberto
F – Caron Butler, Mike Miller, Dominic McGuire
A nice combination of youth, experience, and depth will help the Wizards become the surprise team in the NBA next season. They should improve their win total by 25-30 games but this team gave up 103 ppg last season and they will need to improve that number before they are considered a legitimate contender.
Grade A (9.7)
Boston Celtics
PF – Kevin Garnett, Rasheed Wallace, Glen Davis, Shelden Williams
C – Kendrick Perkins
F – Paul Pierce, Bill Walker
The Celtics already had a good frontcourt before Rasheed Wallace signed and he will add to Boston's frontcourt depth but he may also retard Kendrick Perkins' growth. If this was five years ago I would say the Celtics are the best team in the NBA but their stars are aging, including Wallace, and Rasheed is coming off a playoffs where he averaged a paltry 6 ppg and 6 rpg. The 24 year old Perkins averaged 12 ppg, 11 rpg, and nearly 3 bpg in last season's playoffs and might be better than Wallace.
Grade A (9.6)
Toronto Raptors
C – Andrea Bargnani, Rasho Nesterovic, Patrick O'Bryant
PF – Chris Bosh, Reggie Evans, Amir Johnson
F – Hedo Turkoglu, Antoine Wright
The Raptors had a very successful off season and now boast a one of the most skilled frontcourts in the NBA. Although they lack toughness within the starting lineup they added Reggie Evans, Rasho Nesterovic, and Amir Johnson to help their depth and toughness. Bosh, Bargnani, and Turkoglu are making over $30 million combined this season and the Raptors expect to contend in the Atlantic Division in 2010.
Grade A (9.5)
Philadelphia 76ers
C – Samuel Dalembert, Jason Smith, Primoz Brezec
PF – Elton Brand, Marreese Speights
F – Andre Iguodala, Thaddeus Young, Jason Kapono
The Sixers problems lie within their depleted backcourt and not their very strong frontcourt. Sam Dalembert averaged a double double two seasons ago and according to GM Ed Stefanski Dalembert has looked impressive in off season workouts. Elton Brand struggled in his first season as a Sixer but will look to comeback completely healthy from last season's shoulder surgery. Andre Iguodala is a Team USA hopeful and the future of the Sixers franchise. Jason Smith, Marreese Speights, and Thaddeus Young all have bright futures in the NBA.
Grade A (9.4)
San Antonio Spurs
C – Tim Duncan, Theo Ratliff
PF – Antonio McDyess, Marcus Haislip, DeJuan Blair, Ian Mahinmi
F – Richard Jefferson, Matt Bonner
Although Tim Duncan has not averaged the 20 and 10 benchmark since 2007 he still remains a premiere NBA player. Last season, at the age of 32, TD averaged 19 ppg, 10 rpg, 3 apg, but for the first time in his career Duncan did not average 2 blocks per game. He is getting up there in age and career minutes, but TD's game is played below the rim and more importantly between the ears.
The Richard Jefferson acquisition was key since the Spurs were lacking athleticism and depended on Michael Finley and the oft injured Manu Ginobili. In order to contend San Antonio needed another scorer and that is what Jefferson does (22 ppg two seasons ago) among other things (career 5 rpg and 3 apg).
The Spurs added depth to their frontcourt this off season and stole projected lottery pick DeJuan Blair in the second round of the draft.
Grade A- (9.3)
Orlando Magic
C – Dwight Howard, Marcin Gortat
PF – Brandon Bass
F – Rashard Lewis, Ryan Anderson, Matt Barnes
The Magic were busy this off season as they resigned Center Marcin Gortat, traded for Ryan Anderson and signed free agents Brandon Bass and Matt Barnes. All four players should play significant minutes and be in the rotation all season long as the Magic look to repeat as Eastern Conference Champions.
Grade A (9.2)
Cleveland Cavaliers
C – Shaquille O'Neal, Zydrunas Ilgauskas
PF – Anderson Varejao, J.J. Hickson, Darnell Jackson, Leon Powe, Rob Kurz
F – LeBron James, Jamario Moon
The Cavs have an aging yet effective frontcourt and this is the team that is supposed to convince LeBron to stay in Cleveland. Although Shaq is in the latter part of his career he will average close to last season's totals of 18 ppg and 8 rpg. Zydrunas Ilgauskas (12 ppg and 7 rpg) should see a decrease in minutes and stats but he will provide quality backup minutes for O'Neal and PF Anderson Varejao does the things Shaq and Z do not do (taking charges and defending). Former first round pick PF J.J. Hickson will provide depth along with PF Leon Powe and Jamario Moon is a nice backup for the King.
Grade A (9.1)
Los Angeles Clippers
C – Chris Kaman, Marcus Camby, DeAndre Jordan
PF – Blake Griffin, Craig Smith, Mark Madsen
F – Al Thornton, Rasual Butler
One of the reasons why I like the Clippers so much this year is due to their strong frontcourt. Chris Kaman has battled injuries his entire career but he will look to find his 2008 form when he averaged 16 ppg, 13 rpg, and 3 bpg. Three years ago Marcus Camby was the NBA's Defensive Player of the Year but has struggled recently staying healthy and before last season's average of 2 bpg, The Camby Man averaged over 3 bpg the last four seasons. If he can stay healthy, Camby will be another reason why I think the Clippers will make the playoffs this season.
Youngsters Blake Griffin and Al Thornton are both fantastic players and along with Guard Eric Gordon and Center DeAndre Jordan, they are the future of the Clippers.
Grade A- (9.15)
Utah Jazz
C – Mehmet Okur, Kosta Koufos, Kyrylo Fesenko, Goran Suton
PF – Carlos Boozer, Paul Millsap
F – Andrei Kirilenko, Matt Harpring
Who knows how long Carlos Boozer will remain in Utah but until he leaves, the Jazz boast a very solid frontcourt. When Boozer leaves town it should be a smooth transition as Paul Millsap is ready to start and consistently contribute. Andrei Kirilenko is making way too much money (two years at $16 million per) but he can still defend at a high level and he is grooming Ronnie Brewer into the next Kobe Killer, if there is such a thing.
Second year player Kosta Koufos should see an increase in minutes next season and plays very similar to Mehmet Okur.
Grade A (9.1)
Dallas Mavericks
C – Erick Dampier
PF – Dirk Nowitzki, Drew Gooden, Kris Humphries, Nathan Jawai
F – Shawn Marion, Josh Howard, Tim Thomas, Shawne Williams
After 11 years Dirk Nowitzki is still a premiere NBA player (25 ppg and 8 rpg last season) and is coming off one of his best scoring seasons since 2006. Shawn Marion was part of a sign and trade with Toronto and he and the Mavs are a near perfect fit since The Matrix thrives in the open court. 2007 All Star Josh Howard struggled with injuries last season and will look to regain his All Star form this season and the Mavs have star power and depth which means they have a quality frontcourt.
Grade A- (9.05)
Charlotte Bobcats
C – Tyson Chandler, DeSagana Diop, Alexis Ajinca
PF – Boris Diaw, Nazr Mohammed
F – Gerald Wallace, Vladimir Radmanovic, Derrick Brown
This off season the 'Cats exchanged big men with the Hornets and acquired Tyson Chandler. Chandler will help defensively but Charlotte wanted to get rid of the five years and $50 million they still owed Emeka Okafor. Their frontcourt took a small hit with the Okafor trade but Chandler is a quality big man looking for redemption after last year's injury plagued season.
Gerald Wallace and Chandler are Charlotte's frontcourt studs and if Boris Diaw can build on last seasons 15 ppg, 6 rpg, and 5 apg the Bobcats will battle for a post season spot.
Grade A- (9.0)
Atlanta Hawks
C – Zaza Pachulia, Randolph Morris
PF – Al Horford, Joe Smith
F – Josh Smith, Marvin Williams
Atlanta's strength lies within their backcourt but I believe they are a top ten team in the NBA due to their team balance. Al Horford will exceed his career averages of 10 ppg and 9 rpg this season and should become a force on the inside like Atlanta expected him to when they selected him 3rd overall in 2007. Josh Smith is another Team USA hopeful and is an athletic freak but his numbers were down last season due to a couple injuries. Marvin Williams is another talented big man in Atlanta and he recently signed a lucrative long term deal to stay with the Hawks for another five years. He was having a good season last year (14 ppg and a career high 6 rpg) before injuries sidelined him.
Grade A- (9.0)
Indiana Pacers
C – Roy Hibbert, Jeff Foster
PF – Troy Murphy, Tyler Hansbrough, Solomon Jones, Josh McRoberts
F – Danny Granger, Mike Dunleavy, Brandon Rush
Just like their backcourt, I love the Pacers frontcourt because of their depth and 2009 All Star Danny Granger. Two seasons ago Mike Dunleavy started all 82 games and averaged 19 ppg, 5 rpg, and 3.5 apg but is coming off major knee surgery which sidelined him most of last season. If Indiana can get a healthy Dunleavy and match him with Granger, second year stud Brandon Rush, and Troy Murphy (14 ppg and 11 rpg), the Pacers will likely battle for a playoff spot.
Grade B+ (8.9)
Minnesota Timberwolves
C – Al Jefferson, Mark Blount, Ryan Hollins, Oleksiy Pecherov
PF – Kevin Love, Darius Songaila, Brian Cardinal
F – Corey Brewer, Ryan Gomes
The Wolves have the brightest frontcourt in the NBA with Al Jefferson and Kevin Love. Both should average double doubles as early as next season but they are a high flyer away from being an outstanding frontcourt this season.
I wanted them to draft an athletic Small Forward since their team has nary an athlete, but they did the right thing drafting Ricky Rubio. They will likely trade Jonny Flynn when Rubio crosses the border and they should go after a Small Forward with athleticism.
Grade B+ (8.85)
Chicago Bulls
C – Brad Miller, Aaron Gray, Jerome James
PF – Joakim Noah, Taj Gibson
F – Luol Deng, Tyrus Thomas, John Salmons, James Johnson
The Bulls have been rebuilding since 1999 and are still considered a young emerging team but Chicago's win total should increase with full seasons from Brad Miller and John Salmons. Miller and Joakim Noah seem to compliment each other well and the talented but much maligned Luol Deng needs to step up as he once was the cornerstone of this NBA franchise. Tyrus Thomas is in a contract year and if he finds some consistency an NBA team will lock him up with a lucrative long term deal. The Bulls are still missing and hunting for that scoring big man and look for the Bulls to be in trade talks for Carlos Boozer, Amar'e Stoudemire, and David West.
Grade B+ (8.8)
New Orleans Hornets
C – Emeka Okafor, Hilton Armstrong
PF – David West, Ike Diogu
F – Peja Stojakovic, James Posey, Julian Wright, Morris Peterson
Last season the Hornets frontcourt was hampered by Tyson Chandler's injuries but they traded him for Emeka Okafor, who is a better player. Okafor, known for being injury prone early in his career, has not missed a game in two years and has averaged a double double for his career.
David West is one of the best Power Forwards in the NBA, and although he has made back to back All Star games, I feel he is under appreciated. He has terrific numbers at 21 ppg and 8 rpg and is only getting better.
James Posey is an over-paid specialist, and both Posey and Peja Stojakovic are going to get minutes over Julian Wright who should start to see at least 20 mpg this season.
Grade B (8.5)
Portland Trailblazers
C – Greg Oden, Joel Przybilla
PF – LaMarcus Aldridge, Dante Cunningham, Jeff Pendergraph
F – Travis Outlaw, Nicolas Batum
This is the year Blazers fans have been waiting for since Shaq slammed their hopes away in that miraculous comeback (sorry Portland). The frontcourt's growth took a hit when Greg Oden went down with microfracture knee surgery but that does not mean LaMarcus Aldridge was not vastly improving in the mean time. Aldridge will be the next Blazer to be locked up long term and might be ready to average 20 ppg and 10 rpg next season.
Greg Oden needs to stay out of foul trouble and stay on the court if the Blazers want to contend this season. I think this will be another season where Oden struggles and learns but the Blazers will contend for a Western Conference crown in 2011.
Grade B (8.2)
New Jersey Nets
C – Brook Lopez
PF – Yi Jianlian, Josh Boone, Tony Battie, Eduardo Najera, Sean Williams
F – Terrence Williams, Chris Douglas-Roberts, Trenton Hassell, Jarvis Hayes
New Jersey's frontcourt is immensely talented but still very young. Their frontcourt starts with Team USA hopeful and second year pro Brook Lopez, who put up great rookie numbers last season (13 ppg and 8 rpg). The Nets drafted F Terrence Williams with the 11th overall pick in the 2009 draft and their frontcourt also includes third year pro, 21 year old Yi Jianlian. Jianlian's NBA career has started inconsistently and his age is disputed but I still have high expectations for the athletic 7 footer. Between those three players, the oldest is the rookie Williams and Josh Boone needs to stay healthy and get more than 16 mpg.
Grade C (7.7)
New York Knicks
C – Eddy Curry, Darko Milicic
PF – David Lee, Jordan Hill, Al Harrington, Jared Jeffries
F – Wilson Chandler, Danilo Gallinari
As bad as the Knicks' backcourt is they make up for it with their somewhat talented frontcourt. Eddy Curry will see more action (3 games played at 4 mpg), rookie Jordan Hill is a nice prospect, Wilson Chandler will look to improve after last season's breakout (14 ppg, 5 rpg, 2 apg), and Darko Milicic may surprise this season.
Knicks President Donny Walsh said, "The fact that he's a skilled, fairly athletic, long big man who can run the floor and can dribble the ball, shoot the ball, pass the ball, he might fit into this system better."
New York is still trying to sign Mr. Double Double David Lee (16 ppg and 11 rpg) and the Knicks are in deep trouble if they do not sign their best player. New York does not have a first round pick (thanks Isiah) but since the Knicks have good frontcourt prospects (Jordan Hill, Danilo Gallinari, Wilson Chandler, and hopefully Lee) they grade out fairly well for an awful team.
Grade C (7.5)
Miami Heat
C – Jermaine O'Neal, Jamaal Magloire
PF – Udonis Haslem, Joel Anthony
F – Mike Beasley, Dorell Wright, Jerome James, Yakhouba Diawara
After seven long years, $126 million, and three consecutive dreadful seasons, Jermaine O'Neal's outrageous contract finally comes to an end this season. Last year O'Neal averaged 13 ppg his lowest since 2001, and 5 rpg his lowest since 2000. Although Jermaine O'Neal's days of 20 and 10 are over he still remains a defensive presence at 2 bpg.
Mike Beasley really came on strong in April last season (20 ppg and 8 rpg) which is a great sign for Miami. If he can establish himself as D-Wade's sidekick, Wade may think about staying in Miami but other than Beasley and Udonis Haslem (10 ppg and 8 rpg) the Heat do not have a good frontcourt. The lackluster talent level in Miami remains a big reason why Wade is thinking about leaving after next season.
Grade C (7.2)
Golden State Warriors
C – Andris Biedrins
PF – Ronny Turiaf, Brandan Wright
F – Stephen Jackson, Anthony Randolph, Corey Maggette, Deavean George
Andris Biedrins burst on the scene in 2007 and was rewarded with a $60 million contract in 2008. The 23 year old is the only natural Center on the Warriors and his minutes and production (11 ppg, 11 rpg, 2 apg, 1.5 bpg) will increase next season.
Anthony Randolph is everyone's favorite sleeper this season but you must remember Don Nelson is in control of playing time and if your name is not Stephen Jackson or Andris Biedrins, playing time is not guaranteed.
Grade C (7.15)
Memphis Grizzlies
C – Marc Gasol, Hasheem Thabeet, Hamed Haddadi, Steven Hunter
PF – Zach Randolph, Darrell Arthur, DeMarre Carroll
F – Rudy Gay, Sam Young
Very quietly Marc Gasol had a strong rookie campaign averaging 12 ppg, 7 rpg, 2 apg, 1 spg, and 1 bpg. Then in a genius move the Girzzlies drafted another Center who will cut into Gasol's minutes. Rookie Hasheem Thabeet is an enforcer on defense but his offense will not be a factor for five years.
The Grizzlies are led by their cornerstone and potential Team USA member Rudy Gay. Although his numbers dipped last year, the high flying Forward from UCONN will be looking for a max contract next off season and look for Gay to have a monster year this year as the young Grizzlies start to mature.
Grade C (7.1)
Detroit Pistons
C – Chris Wilcox, Ben Wallace, Kwame Brown
PF – Charlie Villanueva, Jason Maxiell, DaJuan Summers
F – Tayshaun Prince, Austin Daye
Offensively Detroit has a deep and somewhat talented frontcourt but nobody can protect the rim as every team needs. Ben Wallace will be counted on as the team's main interior defender but he has not averaged over 2 bpg since 2007. Chris Wilcox should return to the days of 13 ppg and 7 rpg and free agent acquisition Charlie Villanueva will try his hardest to lead the team in scoring but without a true Center and a lack of defensive presence the Pistons have a mediocre frontcourt.
Grade C- (7.0)
Phoenix Suns
C – Amar'e Stoudemire, Channing Frye
PF – Robin Lopez, Louis Amundson, Jared Dudley ,Taylor Griffin
F – Grant Hill, Earl Clark, Sasha Pavlovic
The Suns will likely trade Amar'e Stoudemire this season as they do not want to lose him to free agency. They should get a king's ransom for one of the elite players in the NBA and this should be a monster season for STAT as Shaq is gone and Amar'e is in total control of the paint.
Other than Stoudemire the Suns frontcourt is bad although rookie Earl Clark should step in right away and produce. Second year player Robin Lopez lacks skill but will see an increase in minutes and Grant Hill has become a role player at this stage of his career.
Grade D+ (6.9)
Sacramento Kings
C – Spencer Hawes
PF – Jason Thompson, Kenny Thomas, Sean May, Jon Brockman
F – Andres Nocioni, Omri Casspi, Donte Greene
Spencer Hawes and Jason Thompson are fantastic big man prospects. Hawes is more of a back to the basket type player and Thompson is a very athletic big man. The two of them are a fantastic combo to build around but other than those two the frontcourt lacks luster.
Andres Nocioni is a role player at best, 21 year old rookie Omri Casspi did not start on his Israeli last season, and Donte Greene is not ready to produce consistently.
Grade D (6.8)
Milwaukee Bucks
C – Andrew Bogut, Francisco Elson, Dan Gadzuric
PF – Kurt Thomas, Hakim Warrick, Luc Mbah a Moute, Ersan Ilyasova
F – Joe Alexander, Walter Sharpe
The Bucks are bad and although Andrew Bogut is a stud he has struggled to stay on the court due to injuries. When healthy the 7 foot Aussie can produce as he averaged a double double last season and is the cornerstone of this franchise. He can score, pass, and rebound but other than Bogut, Milwaukee does not have much else. Joe Alexander struggled in his rookie season but only received 12 mpg but with Richard Jefferson gone, Joe X's numbers will benefit from an increase in minutes. Alexander might be a sleeper.
Grade D (6.5)
Houston Rockets
C – Yao Ming, David Andersen
PF – Carl Landry, Luis Scola, Chuck Hayes, Brian Cook, Joey Dorsey
F – Trevor Ariza, Shane Battier, Chase Budinger, Brent Barry
Understatement of the year: Houston's frontcourt will not be the same without Yao Ming.
Without Yao the Rockets have no chance to do anything this season and his Yao's reign of dominance might be over due to his consistent health problems. His best season was in 2007 when he averaged 25 ppg and 9 rpg, and his scoring numbers have decreased the past two seasons. Yao is expected to miss the entire season and the Houston frontcourt is a near joke without him.
Look for Carl Landry to have a breakout season (15 ppg and 8 rpg is not out of the question) and I have only heard good things about Aussie import David Andersen. Everyone's favorite role player Trevor Ariza will also have a very nice season and should see a lot of time as the focal point on offense when Tracy McGrady goes down with his perpetual injury.
Grade D (6.3)
Oklahoma City Thunder
C – Nenad Krstic, Etan Thomas, B.J. Mullens
PF – Nick Collison, Serge Ibaka, D.J. White
F – Jeff Green, Thabo Sefolosha
The Thunder's strength does not lie within their frontcourt but their amazingly talented backcourt. Nobody stands out in the Thunder's frontcourt other than Jeff Green (17 ppg, 7 rpg, 2 apg, 1 spg) who looks like another potential All Star in OKC.
Former first round picks Serge Ibaka and B.J. Mullens have potential but neither can legally drink alcohol and it will be awhile before they produce on a consistent basis.
Grade D- (6.1)