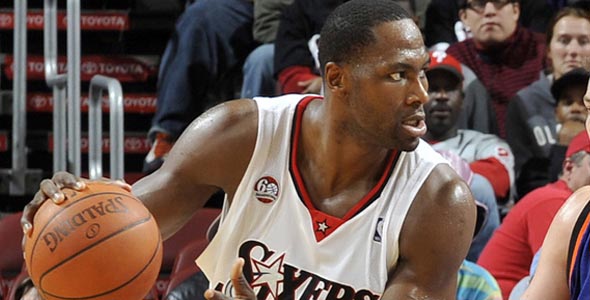 August 12, 2009 – Allen Moll
Allen Moll is an avid NBA and College Basketball fan who watches and studies games religiously and coaches youth basketball in his native Lehigh Valley region of Pennsylvania. Allen is a regular columnist for TheHoopDoctors.com, Bleacherreport.com, Fanhuddle.com as a NY Knicks correspondent, hoopsworld4.wordpress.com, and Helium.com.
Which Elton Brand will we see in '2009-10'? For the Philadelphia 76ers sake, it better be the dominant low post threat and rugged offensive rebounder that they acquired in the '08 offseason. Before the change in conference, Brand held his own against the best big men in the Western Conference like Tim Duncan, Amare Stoudemire, and even Chris Webber. But that was before painful Achilles and shoulder injuries have limited the talented 6'9 power forward to only 37 games since the conclusion of the '06-'07 season.
Brand has admitted in recent interviews that the last two seasons have been both the best and worst times in his life. After rigorously rehabbing his torn Achilles and playing in only one playoff series in his career, redemption came in the form of free agency. When the Sixers signed the two time All-Star to a 5 year, $82 million dollar free agent contract last Summer, Elton was happy to escape the LA Clippers and finally be able to play for a playoff team and possibly win a title. Brand found it tough to fit in to the young Sixers uptempo style of play and averaged only 13.8 points and 8.8 rebounds in only 29 games before landing awkwardly and suffering a dislocated shoulder in December, essentially ending his season.
Success had always come easy and for the first time in his basketball life, Elton experienced failure. From an early age, Elton Brand excelled at basketball. Back in his hometown of Peekskill, NY, Brand played HS varsity hoops at age 13 and averaged an unbelievable 40 points and 20 rebounds. It was a no brainer to be named a McDonalds All-American and earn a scholarship to prestigious Duke University. After being named Naismith College Player of the Year in his Sophomore year, Brand declared for the NBA draft and was selected #1 overall by the Chicago Bulls in 1999.
Chicago was struggling to replace in stature the now retired MJ from the dismantled dynasty teams of the 90's. In his rookie season, Brand didn't dissapoint by averaging 20.1 points and 10 rebounds and earning a share of 2000 Rookie of the Year with Steve Francis. Unfortunately, big stats didn't translate into big wins for Chicago, and Brand was dealt to the land where NBA careers come to die, the LA Clippers, for essentially the 2nd pick in the draft, which was Tyson Chandler. To his credit, he excelled on many bad teams and led the league in offensive rebounds on two occasions. His best season was in '05-'06 when he averaged 24.7 pts, 10 reb, and 2.5 blks and played for USA Basketball. Then came the achillies injury and change of scenery.
Brand seems to have strong character and I believe him when he says he wants to earn every cent of his $82 million. After all, he accepted a lower offer to play for a team like Philadelphia with it's rich basketball history who has a chance to compete rather than accept a monster payday to play for NBA cellar dwellar Clippers. Some of the rabid Philly fans have wispered(okay…..shouted) that the team was better without him since Sixers finished the regular season strong, after Brands injury, to make the playoffs for the second straight year.
There is no doubt that Brand has the talent to be a top 5 power forward as evidence by his career averages of 20 pts, 10.1 rebs, and 2.1 blocks. He is 1 of only 6 active players to average 20 and 10 along with Shaq, Kevin Garnett, and Tim Duncan, which is very select company. The one thing missing from Brand's resume is an NBA title.
Philadelphia's new coach Eddie Jordan, has a history of getting the most out of his frontcourt players by previously playing a beneficial role in the careers of Chris Webber, Caron Butler, and Antawn Jamison. Jordan has stated that if healthy, Brand will return to All-Star form under his Princeton style offense. I see a perfect fit since a truly good offensive player does well in any system. Jordan has been tutoring the now 100% healthy Brand over the Summer to give him a head start on the nuances of the new offensive scheme. Brand may play some at the center position if the disgruntled and underachieving Sam Dalembert cannot keep out of foul trouble this season.
The fanatical Sixer fans know that Brand is the best low post threat since "Sir Charles" left Philly for Phoenix in '93. The question is, can he live up to the hype and stay injury free? He needs to since he is under contract through 2014. Will Elton Brand return to form and remind us of Charles Barkley, or dissapoint, and leave a bad taste in our mouths like Matt Geiger and C-Webb?
Here is some career footage of EB42: