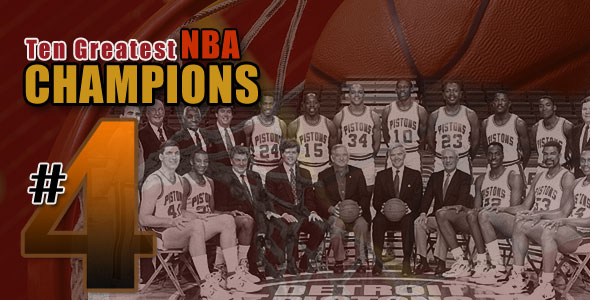 August 21, 2009 – Allen Moll
Allen Moll is an avid NBA and College Basketball fan who watches and studies games religiously and coaches youth basketball in his native Lehigh Valley region of Pennsylvania. Allen is a regular columnist for thehoopdoctors.com, Bleacherreport.com, Fanhuddle.com as a NY Knicks and Wizards correspondent, and hoopsworld4.wordpress.com.
With this season's NBA Finals behind us, I decided to take a look back and rank the greatest NBA Championship teams in the modern era(post 1980). This will be a ten part series with a new entry each week. Which teams had the most dominating seasons and playoff runs in the last 30 years? How would they stack up against each other? Which teams had the most Hall of Fame players or coaches? The rankings were limited to two teams per franchise in the top ten. Let the debate begin.
#4 – 1989 Detroit Pistons
Starting Lineup: Isiah Thomas, Joe Dumars, Mark Aguirre, Rick Mahorn, Bill Laimbeer
Impact Bench Players: Vinnie Johnson, Dennis Rodman, James Edwards, John Salley
Regular Season Record: 63 – 19         Playoff Record: 15 – 2          Finals: Beat Lakers 4 – 0
Individual Awards: Thomas – All-Star          Dumars – Finals MVP, NBA All Defensive 1st Team    Rodman – NBA All Defensive 1st Team
The '88-'89 Pistons set out to avenge a 7 game loss to the repeating NBA Champion LA Lakers in the '88 Finals, and prove they were the NBA's best team. Detroit used their rough and intimidating defense, for which they earned the nickname "Bad Boys", to play good but not great basketball, but struggled offensively, early in the season. It wasn't until management traded Adrian Dantley, an 18 ppg scorer, to acquire Mark Aguirre, a former friend of Isiah Thomas, to run a more uptempo full court attack. The move was a perfect fit, with Aguirre averaging 15.5 points and 4 assists over the final 36 games along with Isiah leading the team in scoring at 18.2 and assists at 8.3, earning Detroit's only All-Star Game representative. The Pistons finished the regular season with a sparkling 63-19 record which was best in the NBA. They finished with the #16th ranked offense at 106 points per game and a #2 defense, allowing a surprisingly high 100.6 points.
The "Bad Boys" steamrolled through the early early rounds of the Eastern Conference by sweeping Boston(3-0) and Milwaukee(4-0). They ran into an up and coming Chicago Bulls team led by 3 time, regular season scoring champion, Michael Jordan who averaged 32.5ppg. The Bulls were good, but not good enough to get past the defending Eastern champion Pistons, who executed a set of defensive principles devised by their Hall of Fame coach Chuck Daly, called the Jordan Rules, to shut down the game's best player. Detroit bested the Bulls by the rough and sometimes considered dirty play of their frontcourt led by Laimbeer(10.1ppg), Rodman(10rebs/gm), and Mahorn(5 rebs in only 21 mins played) who intimidated the Bulls frontcourt of Pippen and Grant. Detroit beat Chicago 4-2, for a return trip to the Finals, which turned out to be their only 2 losses of the postseason.
Coming into the Finals, the Western Conference champions, led by regular season MVP Magic Johnson, were so confident they would win that they were already printing up "three-peat" t-shirts. They also wanted to send their captain, Kareem Abdul-Jabbar into retirement, which he announced prior to the season, with a 7th NBA title. The Lakers got a dose of reality when Byron Scott injured his hamstring before Game 1, and were without his services for the first two games. He was missed defensively as the Detroit guards, Thomas, Dumars, and "The Microwave"Vinnie Johnson scored a combined 63 points and won Game 1, 107-97. Things got worse for LA in Game 2, when Magic injured his hamstring in the third quarter, and an unknown star who was emerging, Joe Dumars scored 33 points, leading Detroit to a 108-105 win. A resilient Magic tried valiantly to return for Game 3 but played only 5 minutes. Without their leader, the NBA's All-Time leading scorer, Jabbar, reminded us of his younger days by scoring 24pts and pulling down 13 rebs. The effort wasn't enough to offset 19 rebounds by Dennis Rodman and another 31 points and a heroic late game block with 13 seconds left by Dumars as the Pistons won 113-110. Detroit survived LA's James Worthy's 40 points as Detroit won Game 4, 105-97, giving Motown it's first of consecutive NBA titles with Joe Dumars emerging from Isiah Thomas' shadow to win Finals MVP.
The Pistons used and impressive 15-2 playoff run, one of the All-Time best, to win the franchise's first NBA title. Over a 4 year span from '88 through '91, the Pistons were arguably the league's best team by winning back to back titles in '89 and '90, and making it to the eastern Finals in '88 and '91. We will always remember the image of Isiah Thomas crying into a towel next to Chuck Daly when it was apparent Detroit would win before shooting two late free throws in Game 4 of their sweep of the Lakers.
Here's some Game 4 footage of Kareem's last game and the Pistons celebrating their first title: