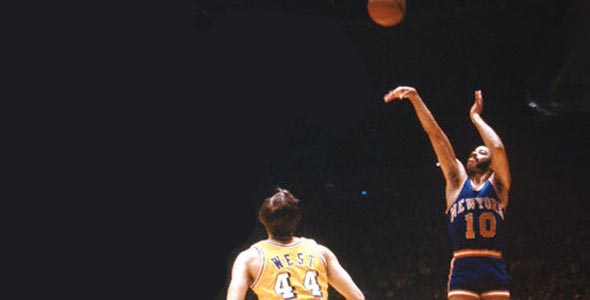 August 20, 2009 – R.S. De France
R.S. De France is a College and University instructor of English Composition. He has a B.A. in English and an M.A. in Rhetoric, Composition, and Writing. One of his life-long pursuits has been writing and covering anything related to sports, specifically the NBA. Recently, De France, his wife, and another colleague started an internationally read magazine at Shwibly.com.
In honor of the 40th anniversary of the Woodstock Festival, August 1969, here's a count down of the 10 best NBA players during the 1969-1970 season. The '69-'70 season reflected the concept of change that Woodstock would come to represent. This season saw the loss of the NBA's all-time champion Bill Russell, and this was around the time that major ABA stars were leaving for the NBA, further shifting the landscape of the NBA.
10. Connie Hawkins, "The Hawk," "Long Tall Sallie"
24.6 ppg 10.4 rpg 4.8 apg 45% FG 77.9% FT
Two seasons removed from leading the ABA in scoring, leading his team to the best record, and winning the ABA Championship; Hawkins joined the NBA already a seasoned pro and a streetball legend in New York. In his first NBA season, he was among the leaders in scoring and led the Phoenix Suns against the Los Angeles Lakers in the playoffs, eventually bowing out in game 7.
9. Wes Unseld
16.2 ppg 16.7 rpg 3.5 apg 51% FG 63% FT
In only his second season, Unseld was the number two rebounder in the NBA, averaging only a fraction less than the leader who took in 16.9 rpg. When the Baltimore Bullets drafted him, the franchise had an immediate turnaround.
8. Earl Monroe, "The Pearl," "Black Magic," "Black Jesus"
23.4 ppg 3.1 rpg 4.9 apg 44% FG 83% FT
Monroe and Wes Unseld teamed up to lead their Bullets to the Western Division Title and one of the best regular season records that season.
7. Lenny Wilkins
17.8 ppg 5 rpg 9.1 apg 42% FG 78% FT
A Hall of Fame point guard and coach, Wilkins led the NBA in assists, and his Supersonics won more games than the formerly formidable Boston Celtics.
6. Willis Reed
21.7 ppg 13.9 rpg 2 apg 50% FG 75% FT
Reed was the NBA's MVP and All-Star MVP in the '68-'70 season. Reed led the New York Knicks to the NBA Finals when they faced off against the Los Angeles Lakers. Had it not been for his injury in game 5, he would probably have been higher on the list. Still, Reed played an instrumental role in inspiring his Knicks by playing the first few minutes of game 7. His rebounding, power, size, and defense helped make the 1969-1970 Knicks one of the best teams in NBA history.
5. Elvin Hayes, "the Big E"
27.5 ppg 16.9 rpg 2 apg 45% FG 68% FT
A dominating force, Hayes was among the top scorers and the NBA's leading rebounder that season, which made him the first player, whose name was not Wilt Chamberlain or Bill Russell, to win that award since 1957.
4. Elgin Baylor
24 ppg 10.4 rpg 5.4 apg 48% FG 77% FT
A huge piece of these Los Angeles Lakers, Baylor revolutionized the game with his high-flying moves. His position in basketball history makes him a predecessor to Julius Erving, Michael Jordan, and Kobe Bryant.
3. Lew Alcindor or Kareem Abdul Jabbar
28.8 ppg 14.5 rpg 4.1 apg 51.8% FG 65% FT
With his "Sky Hook," Alcindor, as he was known at the time, changed the way the center position was played. His patented "Sky Hook" allowed him enough room between him and the defender that he was virtually unstoppable. Instead of dominating through force and power like Wilt, Alcindor commanded his opponents through skill.
2. Jerry West, "Mr. Clutch," "The Logo"
31.2 ppg 4.6 rpg 7.5 apg 49% FG 82% FT
West overcame an injured Wilt Chamberlain that season to lead the Lakers to the NBA Finals. One of the smoothest and most clutch shooters of all-time, West led the league in scoring and led the Lakers in assists. West and Baylor led the Lakers to the championship, but they were overwhelmed by a hungry Knick team in game 7.
1. Walt Frazier, "Clyde"
20.9 6 rpg 8.2 apg 51% FG 74% FT
This was a big upset and it was not without long deliberation. Sure, looking at the numbers side-by-side, West was superior during that season, but Frazier got something that year that West did not—an NBA championship. Always in the shadow of Willis Reed and the team-first mentality of those Knicks, Frazier made his mark in the NBA Finals. He took over the team, and changed the Lakers whole approach to defending that Knick team. In game 7 Frazier changed the outcome of these NBA Finals by taking over the game, and producing one of the greatest Finals performances in NBA history with 36 points, 19 assists, and 5 steals.
Should'a, Would'a, Could'a
Why didn't your favorite player make this list? There were many close calls, so this could easily have been a top 20, instead of top 10. However, there are a few great names that had no business near this list. Oscar Robertson, although one of the greatest point guards of all-time, had already seen his best years. The Big "O" had a big burnout, as far as his standards went. Also, Wilt Chamberlain was a key element to the Lakers' run to the NBA Finals and averaged over 20 rebounds a game, but he only played 12 games that season.
Honorary Mention
John Havlicek
Rick Barry
Billy Cunningham
Honorary Mention: Who's Got the Spirit of 1969?
Phil Jackson
Bill Walton
Luke Walton
Lamar Odom
Carmelo Anthony