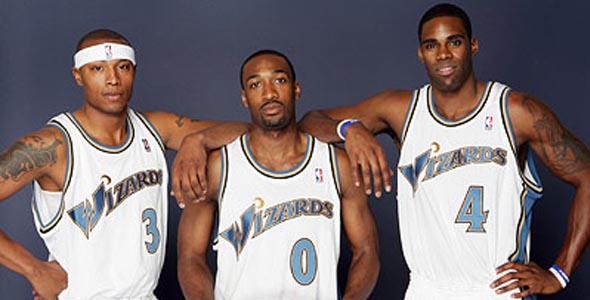 July 20, 2009 – Allen Moll
Allen Moll is an avid NBA and College Basketball fan who watches and studies games religiously and coaches youth basketball in his native Lehigh Valley region of Pennsylvania.
When the Washington Wizards traded out of the #5 pick in this season's draft, it left many people scratching their heads wondering why a last place team that finished a dismal 19-63, would do such a thing. There were more puzzling reactions once Minnesota used that lottery pick on European superstar Ricky Rubio. I am going to attempt to talk all Washington Wizard fans off of the ledge by breaking down why it was actually a good move to trade the pick, and how the Wizards can make the playoffs next season.
First of all, and most importantly, Gilbert Arenas, aka Agent 0, must be healthy. The Wizards have been hit by the injury bug harder than any team over the last few years. A close second may be Houston with the reccuring T-Mac and Yao Ming injuries. When healthy, Arenas, a 3 time all-star, is as talented and dead eye shooter as you can find in the entire NBA as evidence by his career scoring average of almost 23 ppg. In his last three full seasons from 05′-07′, he established himself as one of the game's elite players averaging 28-30 points, more than 5 assists, while shooting more than 42% on 3's. The problem is he has played only 15 games in two seasons. Amazingly, reports have him making a full recovery, hoping to be ready by training camp.
A healthy Arenas, along with Antawn Jamison, and Caron Butler forms one of the most imposing offensive trios in the league. Jamison, an 11 year pro out of North Carolina, has a 20 ppg career scoring average to go along with 8 rebounds per game. He had arguably his best season in 08′-09′ at 22.2 points and 8.9 rebounds while playing in all 82 games. Caron Butler, a 7 year pro has apparently found his home playing for his 3rd team in Washington after establishing career highs in points averaging 20.8 and also has 1 All-Star game appearance. The question on Butler also is health, since he has never played a full season in the NBA.
The Wizards chose to try and win now when they traded the #5 pick and three players to Minnesota for Randy Foye and Mike Miller, a former Rookie and 6th Man of the Year. Why wait for a rookie to possibly develop when you can acquire two proven NBA veterans. Foye, coming from Big East power Villanova in college, has been a double figure scorer each of his 3 years in the league topping out at 16.3 points while averaging 4.3 assists in 09′. Many feel he hasn't reached his full potential yet. Mike Miller, known as one of the leagues best 3 point shooters, is actually one of it's most underrated all around players averaging 14 points, 5 rebounds, and 3 assists while shooting over 40% on 3's for his career. Their roster also includes ever improving Nick Young(10.9 ppg), NBA bad boy but talented DeShawn Stevenson, Brendan Haywood, and Andre Blatche(10 points, 5 rebs), who is performing well in the NBA Vegas Summer League, to come off the bench.
Trading Rubio may be a blessing in disguise since Minnesota is now having a hard time working out the details of his buyout from his European team. Some rumors even have him returning to Spain for another season with Jonny Flynn getting early reps at point guard. Financially, the Wizards are also in decent shape next season, with under achieving Mike James' $9 million dollar contract due to expire at season's end, allowing Washington to possibly acquire a better than average role player for 2010.
Hopefully, Washington Wizard fans can now take a deep breath and have some hope going into next season. Some rumors have the Wizards not quite a finished project just yet as they may add another player or resign free agent Juan Dixon before free agency is done. With an injury free Agent 0, along with a strong supporting cast. and a little luck, the Wizards may just surprise everyone and contend for an Eastern Conference crown.