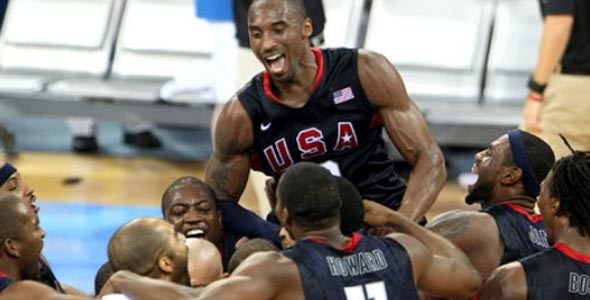 July 30, 2009 – Matt Anaya
Matt graduated from Southern Illinois University at Carbondale in May of 2007 majoring in TV Production. Matt is currently a writer at StaticMultimedia.com, TheBleacherReport.com, NationalSportsNation.com, SportsMixed.com, FanFever.com, Filmcatcher.com, 2 Much Swag, and TheHoopDoctors.com. Matt will provide you with insightful wit and an eager eye for sports.
As we all know the Redeem Team was an absolute blast to watch during the Olympics, even if it was at 3:00 am during the workweek. That team was loaded with superstars that loved to play together, and the next Olympic team (nickname TBD) will again be dominant but a little bit different.
Jerry Colangelo, the Managing Director of USA Basketball is again intent on winning the gold medal in London at the 2012 Olympic games and according to the New York Times, he has verbal commitments from the games brightest stars. Lebron James, Kobe Bryant, Dwyane Wade, Carmelo Anthony, Deron Williams, Chris Paul, Dwight Howard, and Chris Bosh have all given their verbal commitments for the 2012 games.
That means eight of the 12 Team USA roster spots are filled and according to Pete Thamel of the New York Times, Kevin Durant has established himself as the country's next big star and has almost guaranteed himself a spot on the 2010 World Championship squad.
With only three roster spots remaining and a bevy of young talent to pick from, Colangelo and USA Head Coach Mike Krzyzewski have a difficult job ahead of them.
The roster includes two point guards (Paul, Williams), two shooting guards (Bryant, Wade), two small forwards (James, Durant), a power forward (Bosh) and a center (Howard).
The international game does not cater to the low post philosophy of the NBA, as it is more about versatility at all positions. Team USA did a nice job of acknowledging that last year, as Carmelo and LeBron both played the PF position and Bosh played the center position at times.
The starting lineup should go something like this: Paul, Bryant, Wade, James, and Howard.
My picks for the remaining three spots on the 2012 Team USA Men's Basketball team are: Derrick Rose, Brandon Roy, and Amar'e Stoudemire.
A third PG is necessary, Roy can play multiple positions, and Amar'e is an extremely versatile big man due to his athleticism. (Stoudemire turned down the offer last year to rest his million-dollar knee).
The Roster should look something like this:
PG – Paul, Williams, Rose
SG – Byrant, Roy
SF – Wade, Durant
PF – James, Bosh, Melo
C – Howard, Stoudemire,
Although a verbal commit, it is hard for me to expect an aging Kobe Bryant to play in 2012. He will only be 33 but he has played an inordinate amount of NBA minutes compared to a typical 33-year-old NBA player.
Jason Kidd played at 35 years old last year but he was in college for two years, which substantially limited his career minutes.
Remember, we are talking about Kobe Bryant and I refuse to doubt him, but if he was smart he would do what Kevin Garnett, Shaq, and Tim Duncan did in the latter part of their careers and save their legs for the NBA season.
Players hoping Kobe de-commits include: Devin Harris, Danny Granger, Al Jefferson, Brook Lopez, and Josh Smith.