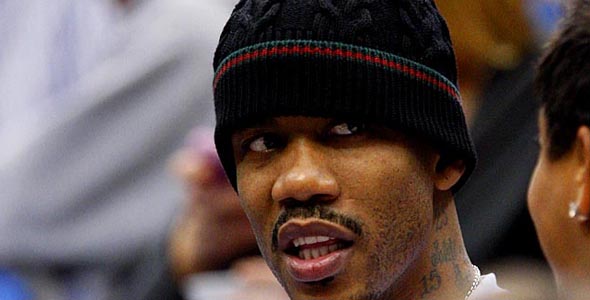 July 1, 2009 – Ryan Desmarais
Ryan Desmarais is a senior at the University of New Hampshire at Manchester, where he will receive his BA in English in December 2009. He currently resides in Manchester, NH.
When Stephon Marbury signed with the Boston Celtics in late February after a long, bitter divorce with the New York Knicks, the perception of many who followed the NBA was that Boston would be a pit stop for the two-time All-Star before he went out onto the open market to make the big money that would inevitably be waiting for him. The stretch run of the NBA season on a team trying to defend its record 17th championship would be a glorified training camp and preseason for Marbury, allowing him to fine tune his game from a one-year absence due to injury and well-documented drama. If everything went smoothly, it would be a win-win for both Marbury and the Celtics. Marbury would find his game and show the rest of the league that he was still an upper-echelon point guard deserving of a big contract. The Celtics would add a new, explosive weapon to their bench, the back-up point guard that they had been craving since acquiring the Big 3. They would then go their separate ways, both getting exactly what they wanted.
And then Stephon Marbury stepped onto the parquet floor at the TD Banknorth Garden.
The world watched as a man who, at one time, had arguably the best handles in the Association, got pick pocketed twice in the backcourt by former D-Leaguer Will Bynum. We saw him throw up brick after brick, mixing in an airball or two from time to time, as his shooting percentage plummeted to a woeful 34%. His decision-making abilities seemed to be subpar at best, giving up open layups in an attempt to dish the ball out to players on the perimeter who were being blanketed. We watched as Marbury's bench time doubled up his time on the court. The street-balling, smooth-dribbling Coney Island superstar had become a shell of his former self.
And while the experiment didn't really hurt the Celtics in their quest of repeating as champions, it definitely didn't help them. Rajon Rondo ranked in the top 10 in minutes per game in both the regular season and the playoffs and Paul Pierce took over many of the point guard responsibilities when Rondo needed a well-deserved break. The C's relegated Marbury to primarily 1st-half-only status by the time the playoffs came around due to his overall ineffectiveness.
But those who think that Marbury's days as a game-changing point guard are done could easily be mistaken. Marbury displayed his speed on a regular basis while in Boston. The 32-year-old consistently showed that he can still get to the hoop when he really wants to. The reason why he didn't finish as much as he should have may have been to disprove rumors that he was a selfish player. He showed flashes of the old Starbury here and there, most memorably in Game 5 of the Eastern Conference Semis against Orlando where he scored 12 points in the 4th quarter, including nine consecutive while the starters were on the bench, to keep the Celtics floating long enough to come back and win the game late.
He also showed that he has the ability to be a good teammate, something that was called into question during his time in New York and going all the way back to his days in Minnesota. The cameras would frequently catch Marbury in the ear of Rondo during timeouts, sharing his wealth of point guard wisdom with the youngster. Nobody ever caught Marbury sulking on the bench when his performance wasn't up to par. He would be the first one hopping off of his place on the bench, waving a towel and screaming words of encouragement to his teammates.
Now an unrestricted free agent, it's safe to say that Marbury won't be getting the multi-year contract with the big money that he wanted and it's even entirely possible that he could return to Boston next year. While Marbury could easily receive some team's mid-level exception, it might be the best he could get on the open market right now. It's difficult to see him ever becoming "Starbury" on a consistent basis ever again, but with a full training camp under his belt and another one-year contract that forces him to prove his worth once again, Marbury could become the steal of this free agent class.