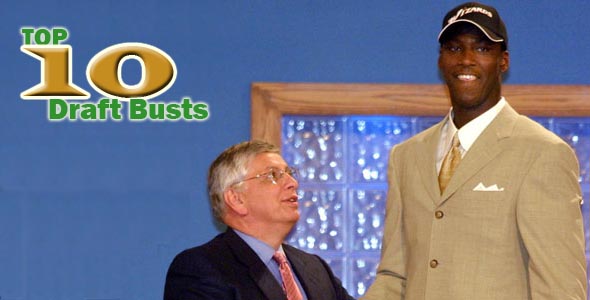 July 25, 2009 – Allen Moll
Allen Moll is an avid NBA and College Basketball fan who watches and studies games religiously and coaches youth basketball in his native Lehigh Valley region of Pennsylvania.
One way NBA teams try to fill voids in their lineups is the NBA draft. NBA General Managers have a difficult task in deciding whether to draft based on their team's needs or to select the proverbial "best player available." Although there is no right or wrong answer, many teams over the history of the NBA draft have made preposterous blunders by passing over future stars or just selecting disappointing players. Sometimes a great collegiate player's skill set just doesn't translate to the bigger, quicker, and much more talented NBA game. Here is a list of the Top 10 Biggest NBA draft Busts throughout history:
#10 – Shawn Bradley – #2 pick in 1993 by Philadelphia – The Sixers chose to draft the 7'6 Bradley on potential after playing only one season at BYU in college and leading the nation in blocks. He had career averages of 8 points and 6 rebounds per game over 13 NBA seasons on 4 teams. Although he ranks 11th all-time in blocks, he was more known for being posterized by some of the game's best dunkers. The Sixers passed on drafting Anfernee Hardaway, Jamal Mashburn, and Allan Houston
#9 – Danny Ferry – #2 pick in 1989 by LA Clippers – The former NCAA Player of the Year at Duke refused to play for the Clips(who wouldn't!) and played a season in Italy until they traded his rights to Cleveland. Ferry played 13 NBA seasons, only averaging double figures twice, winning an NBA title with the Spurs in 2003. He became Cleveland's General Manager in 2005. Career averages of 7 points and 2.8 rebounds. Cleveland passed on drafting Sean Elliot, Glen Rice, and Tim Hardaway.
#8 – Jonathan Bender – #5 pick in 1999 by Toronto – Toronto wisely traded the straight from high school Bender to Indiana on draft night. Touted as the next Garnett, he played in only 237 games over 7 injury plagued seasons averaging 5.6 points. Toronto passed on drafting Rip Hamilton, Andre Miller, and Ron Artest
#7 – Kent Benson – #1 pick in 1977 by Milwaukee – While he is probably best known as the player who forced Larry Bird to transfer from Indiana to Indiana St, Benson led the Hoosiers to the last perfect season in college and winning the NCAA title in college. He was never quite the same in the professional ranks averaging only 9.1 points over 11 unremarkable seasons. Milwaukee passed on drafting Bernard King, Norm Nixon, and Jack Sikma
#6 – Stromile Swift – #2 pick in 2000 by Grizzlies – The 6'10 player could run the floor with the best of them but not much else. Has the distinction of being the only active player to have been on the Grizzlies roster in both Vancouver and Memphis. His current career averages of 8.4 points and 4.6 rebounds means he can only move up the list and not down. Vancouver passed on drafting Hedo Turkoglu, Quentin Richardson, and Mike Miller
#5 – Sharone Wright – #6 pick in 1994 by Philadelphia – After starring at Clemson, the Sixers drafted the big bodied Wright to replace the departed Charles Barkley. After teasing the Philadelphia fans by being picked for the All Rookie 2nd team, he only averaged 9 points and 5 rebounds over 4 seasons which were cut short by numerous injuries sustained from a severe car accident. He went on to become a well known coach in Europe. The Sixers passed on drafting Brian Grant, Jalen Rose, and Eddie Jones.
#4 – Robert "Tractor" Traylor – #6 pick in 1998 by Dallas – The Mavericks must have been psychic when they traded the next Chris Webber to Milwaukee for Dirk Nowitzki and what would become Steve Nash in one of the most lopsided draft day trades in history. Dallas eventually got a trip to the NBA Finals and one of the decade's best players, while Traylor battled weight issues averaging 4.8 points and 3.8 rebounds in 7 seasons. Other players drafted after Traylor included Paul Pierce, Al Harrington, and Rashard Lewis.
#3 – Michael Olowokandi – #1 pick in 1998 by LA Clippers – The original "Kandi Man" never should have been the number one pick in the great draft class of 98′ since he averaged 9.5 points and 7.7 rebounds over 9 unremarkable seasons for 3 teams. Despite his average numbers, he was always among the leagues highest paid players because of his potential as a number one pick. The Clippers passed on drafting Vince Carter, Antawn Jamison, and Mike Bibby.
#2 – Greg Oden – #1 pick in 2007 by Portland – I know it may be early but it appears that the Blazers made the wrong choice between Durant and Oden in the 07′ draft. They should have seen it coming in college at Ohio State where Oden missed almost half of his freshman year with injuries in leading his team to runner up status in the NCAA Championship Game. He missed his entire rookie season by injuring his knee so severely before his first NBA game that it required the dreaded micro fracture surgery. In his first year he suffered through numerous injuries averaging only 8.9 points and 7.0 rebounds in 61 games. Of course the jury is still out but this is a very similar start to a few other players on this list. The Trailblazers passed on drafting Kevin Durant, Al Horford, and Thaddeus Young.
#1 – Kwame Brown – #1 pick in 2001 by Washington – Michael Jordan may be the greatest player of all time but not the best Team President. Jordan in 01′ was responsible for drafting Brown as the first high school player #1 overall in NBA history. In his 9 year NBA career, he has averaged 7 points and 5.6 rebounds. Brown has played for 4 teams partly because of poor play, but also for not getting along with teammates, noticeably Gilbert Arenas and Kobe Bryant. His career to date has also been marred by numerous controversial incidents including rape accusation in 06′, disorderly conduct for being in a car driven on the wrong side of the road, and unbelievably throwing birthday cake at a pedestrian by accident, both in 07′.