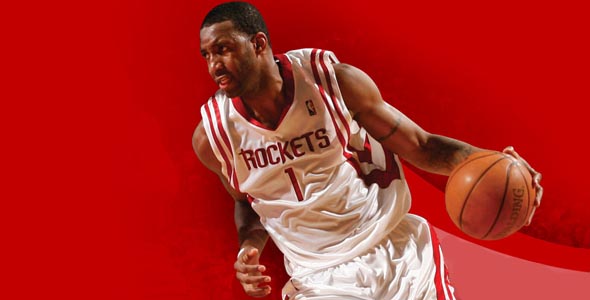 July 15, 2009 – Allen Moll
Allen Moll is an avid NBA and College Basketball fan who watches and studies games religiously and coaches youth basketball in his native Lehigh Valley region of Pennsylvania.
Tracy McGrady used to make the headlines for amazing dunks, 50 point games, or to promote his new basketball shoes. News about the superstar in recent seasons has been mostly bad reporting on his numerous injuries. Yesterday, McGrady made some good headlines once again but for a much different reason, He has filed the necessary paperwork with the NBA to officially change his uniform number from #1, which he has worn for 11 seasons, to #3. This move coincides with his Darfur Dream Team relief efforts to raise money for the country of Darfur in Africa and to promote his upcoming self documentary entitled "3 Points" which he filmed in 2007.
Tracy has been raising money for relief efforts for the past 2 years since filming his documentary about his voyage to Chad and Darfur in the summer of 2007. His Darfur Dream Team encourages other wealthy athletes to raise funds or donate their own money for schools in the African nations and their refugees by donating funds to sister schools in the United States.
McGrady has been a positive influence to many people young and old for his work on and off the court. He donates much of his time and money to the local Houston community as well as worldwide. Even today, many children and young basketball players all over the world have worn the number 1 on their jerseys to idolize Tracy McGrady. Surely, now followers will also change to number 3 in his honor. I'm sure newly acquired Trevor Ariza received a nice chunk of change from his new Captain to encourage him to give up his customary number 3 that he wears. Ariza promptly changed his number to 1.
Mcgrady has been the subject of some discussion this offseason since the current state of the Houston Rockets is up in the air. With news of Yao Ming's foot issues becoming career threatening, one has to wonder if the Rockets will shift into a rebuilding mode by acquiring the younger Ariza. McGrady's constant injury woes must have the Rocket brass considering cutting ties with their fragile star in an effort to start over in next season's draft or free up cash to make a run at one of the prized free agents of 2010. Although changing to #3 seems like the noblest of causes, I hope it doesn't refer to the number of games fans will get to see him on the court next season.