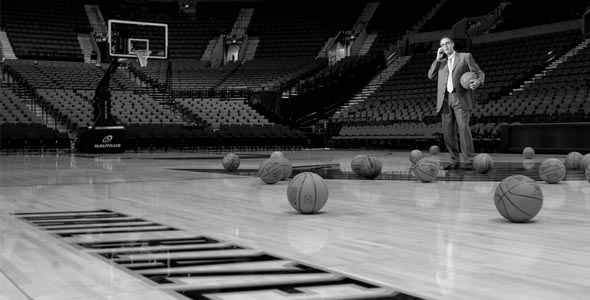 July 13, 2009 – Allen Moll
Allen Moll is an avid NBA and College Basketball fan who watches and studies games religiously and coaches youth basketball in his native Lehigh Valley region of Pennsylvania.
First Place – Portland Trailblazers
It's still early, but the NBA's version of the famous TV show, "The Biggest Loser" this off season has to be the Portland Trail Blazers. Although Portland features an exciting young lineup of young NBA superstars like Brandon Roy, Greg Oden, and LaMarcus Aldridge, the Blazers are in need of another good player, or two, to give them a chance to compete against the elite teams of the Western Conference, namely the Lakers, Nuggets, and Spurs. Their pursuit of that missing piece to their championship puzzle has been like a roulette wheel, round and round it goes, where it stops nobody knows.
First, Portland's GM Kevin Pritchard thought he had the #1 player on his wish list, Hedo Turkoglu, locked up but in a stunning reversal fled the Pacific Northwest and decided to play north of the border for Toronto. At that point another target, Trevor Ariza, had already taken the Rockets money to play in Houston. They also could not convince Bulls guard Kirk Hinrich or Detroit's Tayshaun Prince to come to Portland either. The offer made to Sixers Andre Miller turned sour as well. With maybe the most free agent money to spend of any team, the Blazers lone catch so far appears to be signing Utah's Paul Millsap to an offer sheet for $34 million to back up LaMarcus Aldridge. That money could have been more well spent on the versatile, playoff experienced Lamar Odom. Now rumors have it that coach Nate McMillan won't re-sign past 2010 and GM Pritchard can't convince owner Paul Allen to give star guard Brandon Roy a long term deal. The next acquisition on the Blazer's wish list could be a competent General Manager.
(Un) Honorable Mention – Tie – New York Knicks and Philadelphia 76ers
Even though both teams are heading in opposite directions, both teams had high hopes of improving in free agency. The Sixers needed a veteran point guard to mentor 19 year old first round pick, Jrue Holiday. GM Ed Stefanski refused to look within his own roster for that player by shunning Andre Miller's desire for a new contract. After courting and being rejected by Atlanta's Mike Bibby and Chicago's Hinrich, the Sixers made an announcement that their own 5th year player under contract, last season's 6th man and backup to Miller, Lou Williams, will share time with Holiday. Unless they swing a miracle and bring back A.I. to Philly, the Sixers will have a glaring void at point guard. I thought highly respected new Coach Mike D'Antoni would have players lining up to play in the Big Apple? How's that working out? Even though he still lives there in the off season, Jason Kidd turned down the bright lights of NY and returned for 3 years to Dallas. Even aging and injury plagued Grant Hill decided to diss NY to stay in Phoenix. Also, Mr. double double, David Lee and 2009 Dunk Champion, Nate Robinson want out, and they passed on drafting Stephen Curry. It looks like they are closer to next season's draft lottery rather than constructing a contending team to increase their chances of winning the 2010 Lebron James lottery.