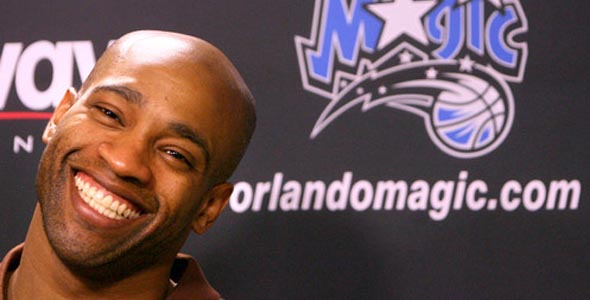 July 28, 2009 – Allen Moll
Allen Moll is an avid NBA and College Basketball fan who watches and studies games religiously and coaches youth basketball in his native Lehigh Valley region of Pennsylvania. Allen is a regular columnist for TheHoopDoctors.com, Bleacherreport.com, Fanhuddle.com as a NY Knicks correspondent, hoopsworld4.wordpress.com, and Helium.com.
If the Orlando Magic were in a high stakes game of poker this offseason, they have thrown all of their chips into the pot, because they have done everything from blockbuster trades to signing free agents in an effort to get back to the Finals and win the franchise it's first NBA title.
Only a handful of NBA teams realistically have a chance at winning the NBA Championship. The rest are either stuck in mediocrity or are drastically trying to dump salaries to have a chance in the Lebron/Wade/Bosh sweepstakes in 2010. After a truly magical '09 season, the Magic have proven to have what it takes to make it to the final round of the NBA Playoffs. Their offseason is definitely sending a message to the rest of the league that they want to win.
In one of the biggest moves this offseason, the Magic made a bold statement and brought some "Vinsanity" to the Sunshine State. Orlando traded the original "Skip to My Lou", Rafer Alston, impressive swingman Courtney Lee, and forward Tony "Bat Man" Battie to New Jersey for Vince Carter and improving 2nd year player Ryan Anderson from Cal. While injuries have undoubtedly hampered his career and many members of the media have made jokes about Carter's aging body by calling him "Half Man, Quarter Amazing", he remains one of the greatest players in the last decade. He is an 8 time All Star, 2 time All NBA selection, Olympic gold medalist and Slam Dunk champion in 2000, 1999 Rookie of the Year, and has a career 24 point per game scoring average. He holds many single season and career records for both the Toronto Raptors and New Jersey Nets. In addition to a great resume, he also possesses the necessary playoff experience and veteran leadership to help lead a relatively young squad. Carter has been relatively injury free the past 4 seasons while averaging 23.5 points, 5 rebounds, and 5 assists while shooting 80% from the foul line and 37% from 3 point land. Orlando gets a much more athletic and dynamic player by replacing the departed Hedo Turkoglu with Carter.
The Magic also decided to match the Rockets offer sheet to Martin "The Polish Hammer" Gortat who proved to be a valuable backup to Dwight Howard, who is rapidly becoming the NBA's best big man. In free agency they also added the underrated, 4th year forward Brandon Bass(8 points, 5 rebounds) from Dallas and defensive specialist Matt Barnes(10 points, 5 rebounds, and 3 assists) who had a breakout season offensively playing for Phoenix in '09.
Orlando also gets back from injury their All Star point guard Jameer Nelson who averaged an impressive 16.7 points, 5.6 assists, 50% from the field, 88% from the line, and 45% from 3pt land.
If all this spending doesn't work, you at least have to admire the Magic management for trying to win now. On paper, adding a dynamic player of Carter's immense talents, even if he has lost a half of a step, appears to be an upgrade over Turkoglu. From top to bottom, Orlando may have the best lineup in the league. In my opinion, the race in the improving Eastern Conference will be a three team race between Orlando, Boston, and Cleveland. Bringing "Vinsanity" back to his home state just might inspire him to be the piece that makes Orlando the favorite to win their first title.
Here is a little reminder of the type of player Orlando is getting (Thanks to Maxamillion711):