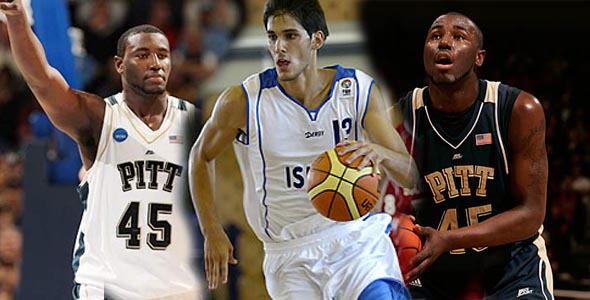 July 2, 2009 – Allen Moll
Allen Moll is an avid NBA and College Basketball fan who watches and studies games religiously and coaches youth basketball in his native Lehigh Valley region of Pennsylvania.
I have a puzzling question. Every year, why are more International players getting the call from NBA teams over some of our proven collegiate players? This year 20% or 12 players out of the 60 players drafted, if you include Brandon Jennings and Patrick Beverley, were of the International flavor. Many of which have questional ability or potential. Six of these players were selected in the first round, essentially getting guaranteed money while many NCAA tested players such as Dionte Christmas of Temple and Jerel McNeal of Marquette went undrafted.
I'll concede Ricky Rubio and Brandon Jennings as possible future stars, and even Victor Claver and Omri Casspi as servicable NBA role players, but Rodrigue Beaubois and Nando de Calo? Most casual hardwood fans would believe these were a hip hop artist's newest clothing line rather than an NBA team's hope for the future. While they may have a colorful and interesting name, their game is much more, dare I say … lame! Beaubois and de Calo have career scoring averages against average competition of 7.5ppg and 12.3ppg respectfully in the FRENCH PRO LEAGUE!
Here are two comparisons. Why draft Omri Casspi at #23, who averaged 8 points and 3 rebounds in Europe over DeJuan Blair of Pitt who averaged 15 points and 12 rebounds? With all the shaky knee rumors aside, Blair did this against better competition in the Big East Conference, is a year younger, and can play now. Why draft Christian Eyenga at #30, at 8 ppg in Europe over Dionte Christmas of Temple who led his conference in scoring, averaging around 20 ppg, three straight years in the A-10, and is widely regarded by scouts as one of the best perimeter shooters the past 4 seasons in the NCAA?
It seems that NBA teams point out collegiate players weaknesses in spite of their obvious talents while grasping at some International players' future potential and overlooking their obvious weaker competition and weaknesses. Also, many of these International players will be stashed in Europe for a few years to "develop their skills" or for the terms of the buyout of their existing European contracts are worked out while our college players are ready now and must again prove themselves in the upcoming NBA Summer Leagues for a shot at making a NBA team.
NBA teams, this is an obvious question. It appears that only a handful of teams are trying to improve and challenge for an NBA title with players who can help now, while two thirds of the league seem to waste their picks on a future that may never come.