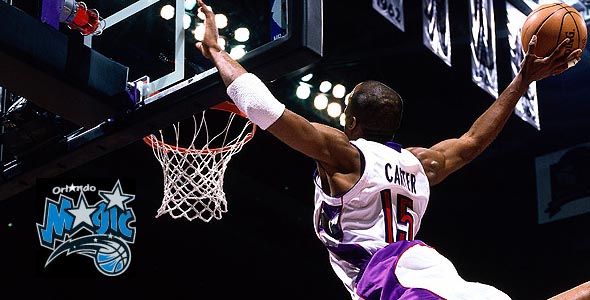 June 26, 2009 – Dr. Dino
'Dr. Dino' a.k.a. James Borbath from Dino Nation Blog, is a Broadcast Journalism Grad turned basketball blogger. He has worked as the publisher and writer of the Dino Nation Blog for almost 2 years. Dino Nation Blog is part of the sports federation of theScore.com. James also live blogs many NBA games for The Score.
I want to say right off the top I am not one of those people that hates Vince Carter. Have I ever chanted V.C Sucks? What Raptor fan hasn't? But I never did hate Vince, and in all honesty the reasons for Vince leaving Toronto I agree with. If you do not remember, or did not know, here is the basic story. The Toronto Raptors were searching for a new G.M to replace Glen Grunwald. Carter very much wanted Dr. J to be considered for the job. The Raptors did not agree and really never gave Erving a good look as a candidate. This was the final straw for Vince and he demanded a trade. Given who the Raptors ended up hiring, V.C.'s demands to leave could not have been worse for the Raps . Rob Babcock was the pick of the Raptors and he would be the man who would trade Carter, in on of the worst trades in NBA history. It was certainly THE worst in Raptors history. I mention all of this because I do not want you to think the rest of what you read has anything to do with hating on V.C. It really doesn't.
A draft day trade yesterday of Vince Carter to return to his home state of Florida went down. V.C and Ryan Anderson were dealt from the Nets to Orlando in exchange for Rafer Alston, Courtney Lee and Tony Battie. Many are praising this move by the Magic but not so fast. For starters the Magic now have no back-up point guard to speak of. They also gave up a rising talent in Courtney Lee. It also sends a message that it would seem unlikely the Magic will be able to resign Hedo Turkoglu. He has officially opted out of his contract and will be a free agent. Now you can say that V.C is better than Hedo and no one would argue that point. He also gets paid like it, to the tune of 14 million dollars.
But at the heart of the concern for me is this idea of Vince returning home. Carter in his time in Toronto never seemed to be able to focus in for long stretches of time. You can argue that did not change with the Nets. Sure for games that mattered to Vince like games vs the Raptors he would show you the full level of his talent. But when Vince came to Jersey they had both Jason Kidd and Richard Jefferson and he failed to make that big 3 into a success. Kidd and Jefferson had much more success pre V.C than they did after getting him. Carter has always talked more about all-star games and slam dunk contests than he ever has about winning championships. In some strange way I think that the Slam Dunk Trophy that Vince won is his NBA title. That does sound odd but I think in some ways it is the truth.
Carter only has a slightly more successful playoff record than his cousin Tracy McGrady. What might have been with those two in Toronto is one of the great questions that some Rap fans to this day wonder about. Instead they both became the most hated players in Raptors history. While T-Mac has always embraced the role of the bad guy in T.O. Vince Carter would sometimes cave to the pressure of the massive amount of hate that would fill the A.C.C. Why does this matter? How much pressure is there going to be on V.C to come home to be the hero to take the Magic over the top? Sure he might not be the main guy in Orlando so it won't be all on him. However to have all the friends and family and built in distractions of being back in Florida may be too much for a guy that has never handled adversity well.
So Magic fans may indeed be thrilled to have V.C, but just ask any Raptor fan or Net fan and you may just get a needed reality check. A couple final points, one good and one bad in terms of V.C on Orlando. We have focused on the bad so let's start with the good. Vince Carter in his entire career has been a very under rated passer. Despite his huge ego off the floor Vince on the floor has always shared the ball and played a team game. This could help a guy like Dwight Howard who at times gets lost without touches. Vince driving and dumping off to Dwight would be a very easy 2 points. The bad side is the Magic being a team that like to jack up 3's plays right into a bad habit of Vince choosing to settle for shots from the outside. He has just amazing range and can make a 3 pointer with ease and from incredible distance. But if he is not hitting it can get ugly fast. He also tends to fade away on seemingly open jumpers, a habit that Stan Van Gundy will quickly resent.
I also thought of one last thing. Vince is a guy that sometimes can have a questionable work ethic. How will that play with a guy like Stan Van Gundy? Somehow V.C vs. Stan seems like drama just waiting to happen. If Stan Van loses Vince it is awful hard to bring him back. So this is a real buyer beware message for any Orlando Magic fans out there. I see Shaq fitting in with Cleveland a lot better than I see V.C making his homecoming a successful one. Just my 2 cents.