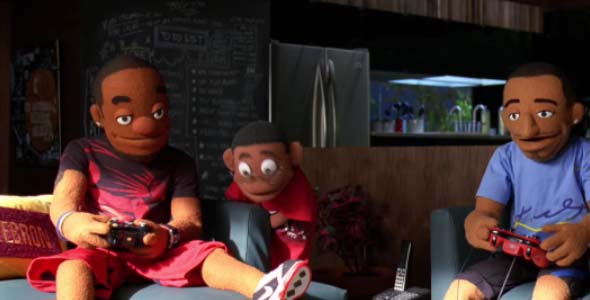 June 1, 2009 – Dr. J-Water
If you've ever had a little brother that looks up to you, then you are going to get a laugh out of the latest Kobe vs. Lebron Nike Commercial. Heck, pretty much everyone will get a laugh out of this one, it's by far the funniest one yet. After Lebron's Cleveland Cavaliers lost to the Orlando Magic this weekend in the Eastern Conference Finals this could possibly be the last Kobe vs. Lebron commercial we see this season from Nike. Or maybe the next one will be of Lebron refusing to shake hands with Kobe?
Ah well, in this latest spot Kobe and Lebron get a call from Mrs. Lewis asking a favor of them. Kobe and Lebron agree to babysit her son 'Lil' Dez'. They quickly realize what a mistake it was agreeing to babysit their little fast talking admirer. His mouth is going a mile a minute, but you should be able to catch a few gem's. I laughed at his question to Lebron about the 'crab dribble'.