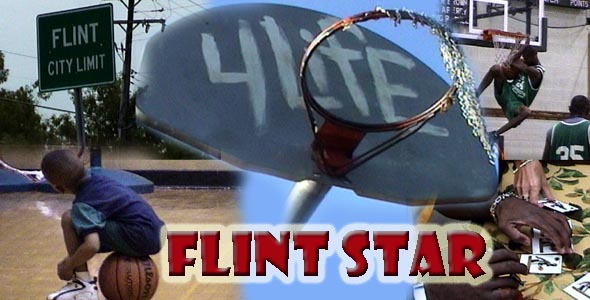 June 8, 2009 – Ryan Richman
Ryan Richman lives and dies with NBA Basketball. His biases include: all former and current UConn Men's basketball players, and any player past or present on the Golden State Warriors roster.
Flint Star "The Motion Picture" (Uncut Street Version) is the most raw and uncut basketball documentary movie ever created. Featuring interviews and exclusive footage of the best athletes in the entire state of Michigan and throughout the country. Flint Star "The Motion Picture features interviews with former and current NBA players such as Mateen Cleaves (2000 National Champion MSU), Eddie Robinson Small Forward Chicago Bulls, Jeff Grayer 1984 Olympic Basketball Team – 10 year NBA veteran, Justus Thigpen Sr. ABA & NBA veteran and many more indepth and revealing interviews. Also, Flint Star captures the struggle of inner-city life.
The high-flying dunks, the no-look passes, the defensive pride and the fiery passion leads me to one conclusion – in Flint, Michigan, basketball is not a sport. The game of basketball in Flint, Michigan is a lifestyle.
"Flint Star," the inspiring documentary created by a Flint, Michigan teacher Marcus Davenport and produced by Big Thangs Production, literally takes the viewer through the streets and gyms of Flint to discover the vast effect that basketball has on the fifth largest city in Michigan. While Flint is notorious worldwide as the birthplace of the American auto industry in General Motors, according to a resident, "Without basketball, Flint would be a ghost-town."
Basketball in Flint proves to be an outlet for youth looking to escape the ruthless truths that the impoverished and dangerous city brings every day. As one local player explains, "If I ain't hoopin', then I'm doin the wrong thing. I'd rather have a basketball in my hand than a gun." Former 2000 first-round pick and Flint native Mateen Cleaves further explains this way of thought. Cleaves, "always dreamed about getting out of the neighborhood." Everything he did was inevitably for basketball. Cleaves explained that he went to school and got acceptable grades so he could put food on the table for him and his family.
Listening to Flint Basketball Experts talk basketball further indicates the cities' obsession with not only the game, but more importantly, with the tradition the game holds. Older Flint basketball generations of Justus Thigpen Sr., Eric "ET" Turner, Jeff Grayer, Trent Tucker and Glen Rice paved the way for more recent generations of Mateen Cleaves, Eddie Robinson, Charlie Bell, Latrell Sprewell and Morris Peterson. With these newer generations paving the way for future stars of collegiate and NBA basketball. The never-ending cycle of success builds talent and in turn, tradition.
From birth, growing up in this Mecca of basketball tradition sets the bar high and promotes hard work and determination; nothing different from the ideals in which the blue-collar city of Flint was built on. Local sports broadcaster William McNeal explains, "It is not uncommon to see some of the top players in this city at the YMCA at two o'clock in the morning for pick-up basketball games." Everyone in Flint plays basketball and everyone strives to be even better than past legends.
As the recently coined "3rd most dangerous place to live in the country," the struggle to just survive in Flint is a daunting task in itself. This tough, hard-nosed atmosphere of Flint has a dramatic influence on the players the city produces and gives the viewer an appreciation for just how hard these kids work. Just as a "New York point guard" is branded, Flint players carry their struggle and their cities struggle right on their sleeve. The city molds the players just as the players mold the city. As a local resident explains, "See, Flint athletes come with attitude. We all think we the shit, everyone in the city in Flint think they the shit. That's why them boys play like that."
The swagger that Flint natives bring to the court is unique. And while it seems as if everyone in "Flint Star" has that attitude, let it be known that "Flint Swagger" is earned, not given. The hard-nosed mindset of Flint, Michigan and its history positively permeates into its residents' true religion – basketball.
If you want to see this raw and gripping basketball documentary, you can order it here.