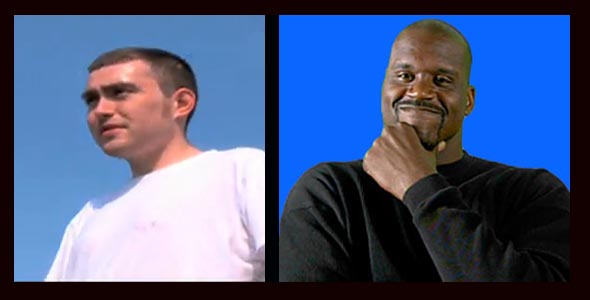 June 26, 2009 – Dr. J-Water
The video we posted earlier this week of the "King of H.O.R.S.E. Trick Shots", aka Bruce Manley, really blew up. It wasn't long after Shaquille O'Neal himself saw the video that he twittered a challenge to Manley. Shaq wants to play Manley in a game of horse for $1000. We love Shaq for his twittering, and we love the concept of this challenge even more.
We have just heard from Bruce Manley's rep, Thomas Litteer (who also happens to be the guy that shot and edited the videos), and Manley has decided to accept Shaq's challenge to a game of H.O.R.S.E. The two are currently in discussions about the where and when of the event, but its looking like they will for sure be having the game in July.
And for your viewing pleasure, Manley and Litteer have made a newer video which they were kind enough to send along to The Hoop Doctors. Check out "Alley-oops a la Bruce":