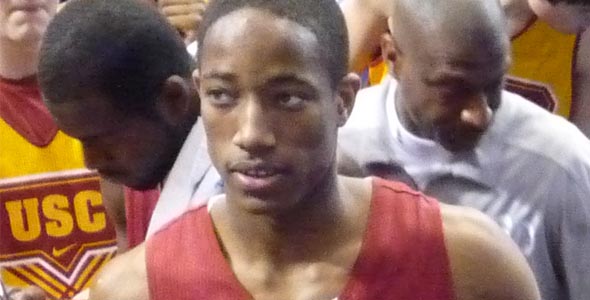 June 24, 2009 – Dr. Dino
'Dr. Dino' a.k.a. James Borbath from Dino Nation Blog, is a Broadcast Journalism Grad turned basketball blogger. He has worked as the publisher and writer of the Dino Nation Blog for almost 2 years. Dino Nation Blog is part of the sports federation of theScore.com. James also live blogs many NBA games for The Score.
All of the recent hoops talk in Canada is about the draft. What will the Raptors do? As I have said in my Dino Nation Blog for awhile now it seems the Raptor wish list is down to 2. Demar DeRozan and Jonny Flynn. DeRozan out of USC, the school which hired ex-Raptor head coach Kevin O'Neil. Which by the way, has stunned many in the Raptors media that K.O got that job. Can't say I am any less surprised. But O'Neil rules with an iron fist and that can work in college, better than it does in the pros. O'Neil had a very short run as head coach of the Raptors.
But I doubt Demar DeRozan has given much thought to his soon to be former school. He is focused on where he will end up in the draft. There was a lot of internet speculation that DeRozan wanted no part of the Raptors or Canada. DeRozan had a private workout in Toronto and said the complete opposite. He compared T.O to a mini N.Y.C. Holly Mackenzie wrote a great article on it for The Score Court Surfing Blog. My concern is not whether or not DeRozan likes T.O or Canada. The fact that the workout was a solo flight to me draws some red flags. If you are the next coming of Vince Carter which some have compared him too, then why would you not do a workout with others and show off your stuff?
Jonny Flynn is a nice replacement to what the Raptors gave away in T.J Ford. He is likely a better defender, despite the fact he played mostly zone at Syracuse. Flynn also does not have to answer the questions about his willingness to live in Canada. He comes from Niagara Falls NY and grew up looking at Canada out the front window of his house almost. Flynn is gaining steam with some Rap fans but DeRozan is the clear choice of the people. But regardless of who the Raptors take you can expect them to be shopping for another pick in round 1. They have about 3 million in cash considerations that they can use to purchase a pick. So from about the 17th spot on down the Raptors will be looking to find another pick.
Which as we shift gears to the rest of the league may not be that hard to do. You combine a bad economy, a salary cap on the decline and a draft class with more question marks than answers in terms of talent. It may just mean that teams may be looking to get out of the draft and the first round most of all because of the guaranteed contract that goes along with it. Cap Space is going to become a vital issue moving forward in the NBA, for as long as the economy is in decline. 17 teams took an emergency type bailout from the league. That tells you how bad things are. So for teams that are not drawing fans and in bad shape in terms of the books it might make sense to avoid taking chances with contracts on rookies unless they are convinced beyond a shadow of a doubt in a player.
Not many of those players are in this draft by all accounts. Even people on the top of the Draft Board have stuff to prove. I think about the only thing people agree on is that Blake Griffin is the number 1 choice. Even regarding him, I have talked to people that question truly how good he will be. With Thabeet, people are concerned with his lack of an offensive game. How much of one did Dwight Howard have and really how much does he even have now? James Harden was a total bust in the NCAA Tournament why should we think he would not blow up like that in the NBA? Basically you come up with a name and I can find a solid question that needs to be answered about that player.
What all this means in reality is some great T.V in terms of the NBA Draft. In talking with Raptors broadcaster Jack Armstrong he said to me anyone can see that a D-Wade or a Lebron is talented. But these are the drafts where your scouting people have to do good work. It is true and a lot of scouting staffs are as we speak trying to get their personal draft boards in order. I am thinking that if we got to look at everyone's board we would find 30 very different looking boards. It is going to be a very interesting night and I am going to be live blogging somewhere, just not sure where yet. Follow me on Twitter @dinonationblog and then when I know you will know too. It is hard to find a good draft party up here in the land of hockey, so why not have one online. No food to make, no clean up afterwards it really is a solid way to have a party feel, minus the fuss and mess.
Be back next week with thoughts on the draft and all things connected to it. I tried the nice Canadian version to get some of you to include your questions or comments to be part of this weekly piece. Didn't net any results. SO COMMENT AND QUESTIONS OR DIE!!! I am kidding we Canadians are suppose to be funny as well. But you comments and or question are welcome now you can even Tweet me one as well as the old fashion e-mail method at [email protected] or contact me through this fine site The Hoops Doctors.