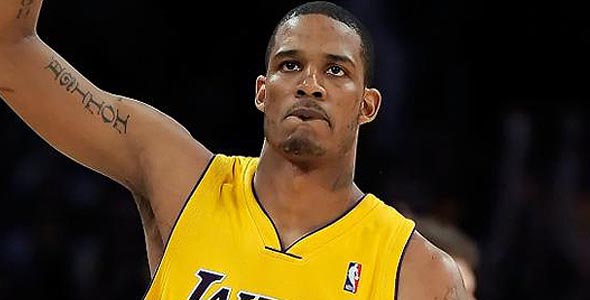 June 9, 2009 – Dr. Dino
'Dr. Dino' a.k.a. James Borbath from Dino Nation Blog, is a Broadcast Journalism Grad turned basketball blogger. He has worked as the publisher and writer of the Dino Nation Blog for almost 2 years. Dino Nation Blog is part of the sports federation of theScore.com. James also live blogs many NBA games for The Score.
So what is this? Well I am going to start writing something weekly for The Hoops Doctors on the week that was in the NBA. It will include maybe the odd news item, some random thoughts and even mailbag items from you the readers as we go along. Sometimes I have noticed in my life that up here in Canada we have a different view on things. Hopefully this will grow into something that both I enjoy writing and you enjoy reading. So with that said let's get rolling.
For the first topic, I ask myself a question. Which baller has done the most in terms of increasing his value and ensuring he is getting paid after the playoffs for this off-season? Trevor Ariza tops my list. He has been a key X-Factor in the Lakers run to the finals. Others that deserve some love in this regard are Hedo Turkoglu and Marcin Gortat. In fact the New York Knicks are interested in the most famous Polish athlete since Ivan "Polish Power" Putski from old school WWF days. Check out the story in the New York Post.
Lamar Odom also could have improved his stock if he shows up the rest of the finals as well. Ben Gordon needed that great series with the Celtics for people to remember how good he was. Heels on Hardwood had a great article on this topic of players on the rise in the free agent market
Moving on…the NBA Draft will be here before you know it. Here are 5 guys that I am pulling for to have solid NBA careers and I think they will:
Hasseem Thabeet (UConn) – He is going to be the steal of the draft if he ends up being as good as I think he will. What is that old expression, that you can't teach size? He has that in bunches. But he is also a solid defender and yes I have heard all the knocks on his offensive game. But give me a guy that can defend and I think NBA Level (Good) coaching can make him a solid offensive player. So do not sleep on this big man as the Big East has produced some of the best big men in the NBA over the years, and this could be another one.
Brandon Jennings – The fact this kid had the guts to buck the system and head to Europe speaks to his character to me. He did not want to fool around and pretend to be a student athlete. He was not going to be a Kevin Durant or a Greg Oden on a one year scholarship. In playing in Europe he no doubt has grown from that experience and as a person. Listen to the stories of any American born players that have gone to Europe to play ball. They will tell stories of learning and crazy fans that as a whole helped them grow. Fans throwing heated up pennies and in some cases barely making out of arenas in one piece. Jennings if he was allowed to come out from high school likely was a top 10 maybe even a top 5 pick? So by gaining all of this life experience and basketball experience is he not still that? I think he might be the steal of this draft.
Jonny Flynn (Syracuse) – 6 O.T Classic and a performance in the final game of the season in the NCAA Tournament told me all I need to know about him. He is a tough and gritty competitor. I recently spoke with Raptor broadcaster Jack Armstrong and Bulls Radio announcer Chuck Swirsky and they both had positive things to say about Flynn. He recently was up here for his workout with the Raptors on this past Friday. Here is what he had to say for himself as Hoops Addict.com was at the workouts.
Ty Lawson (UNC) – Led UNC to the NCAA title while playing through an injury. He is tough and a good competitor. Much like Flynn he showed incredible toughness. Jack Armstrong in that interview I mentioned talked about the emergence of a Rajon Rondo as a player as being something that could help both Flynn and Lawson in terms of their draft stock. If Ty Lawson turns out to be anything close to a Rondo in the NBA he would be one of the better point guards in the league. I think you have no Lawson you do not have a UNC Championship team and that says a lot. I think he will be much more of a Carmelo Anthony than a Mateen Cleaves in terms of NBA Success.
Stephen Curry (Davidson) – I question his size and his defense at the next level. However I was a huge fan of his father Dell's game. Having that kind of experience only a phone call away could go a long way when coupled with the talent he has. That should serve him well in the NBA. He needs to find a team with a system that allows him to be a shooter and can hide him on the defensive end. I watched little Pat Mills from Australia on St. Mary's, and last I checked in this draft as well, he took Curry off the bounce all night long in the NIT. But I did say these are guys I am pulling for. Mills deserves an honorable mention as well. He gained lots of praise last summer for his play with the Aussie Olympic team. He drew praise on his play from scouts and even NBA star Chris Paul.
Finals Thoughts
One last thing I did this week prior to finals getting started was pick my all time 5 favorite series that I have been alive for. Drum roll…
#5- 1987-88- Pistons and Lakers
#4- 1982-83- Sixers and Lakers
#3- 1990-91- Bulls and Lakers
#2- 1999-2000- Lakers vs Pacers
#1- 1983-1984- Lakers and Celtics
Notice the one thing in common? The Los Angeles Lakers. Like it or not those who love the Lakers love them a lot and those who don't hate them a lot. It leads to some pretty entertaining stuff as this list is evidence of. For this Lakers and Magic Finals to make the list it will take some more of what we saw in Game 2 and the Magic have to hold home court. That will not be
easy to do.
So as this weekly thing grows you can be a part of it with your comments and or questions that I will include in this each week and try to make you a part of this. If you have something send it to [email protected]. Or drop a line to The Hoop Doctors and they will make sure I get it. So that is all from north of the border this week. Look for 'An NBA View From Up North' again next Tuesday, right here.