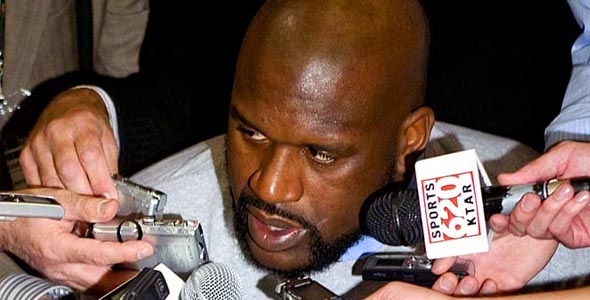 June 25, 2009 – Dr. Browntorious
You are going to read a TON of articles over the summer speculating on whether or not the Cavaliers are a better team having acquired Shaquille O'Neal from the Phoenix Suns for Sasha Pavlovic, Ben Wallace, and a second round draft pick. My first thought regarding most of the articles i've already read is: "Are you F$%*ing kidding me?"
I'm not talking about who is getting the better end of the trade though. That would require you to consider a million variables, such as; Will Shaq play more than one year?, Will the Cavs have to pay the penalty?, Do the Suns blow it up and rebuild?, Do the Cavaliers win the title?, Do the Suns make the playoffs?, Does Ben Wallace retire giving the Suns more financial relief?, etc. etc. I'm straight up talking about the Cavaliers being a better team in 2009-10 on the basketball floor. As tough as it is to do, given they had the best record in the league come playoff time this season, the answer is a resounding YES, they are much better! Here are some initial thoughts to consider:
1. Second Line of Defense
You are going to be bombarded by people comparing the statistical output of Shaq to that of Zydrunas Ilgauskas. They will look at the numbers and productivity per minute played, and say that Shaq is barely an upgrade over Big Z. Those are the people 'pretending' to be paying attention. You know the types. The guy that reads to box score after the game and thinks he knows as much about what happened during the game as the guy that actually watched the game. I've had to say this countless times, what Shaq brings to the table defensively can't be measured statistically. And if it can, maybe you should look at things like the percentage of opposing shots that come from outside the paint. Maybe take a look at percentage of shots that come late in the shot clock. Sure Shaq has respectable numbers of blocks and good defensive rebound numbers, but where he really helps you defensively is just in his presence. The guy's size and strength, even as he ages, is unparalleled. He makes Dwight Howard look like a skinny kid trying to play with the grown-ups. The number of times I see great opposing scoring guards drive the ball past their man, only to see Shaq waiting for them, then either throw up a bad shot, kick the ball out, or dribble out to the corner is astounding. In those cases Shaq doesn't always even get the opportunity to attempt a help-side block to pad his numbers, but has dramatically affected the offense with his presence.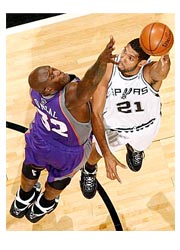 2. On the Ball Defense
Phoenix traded for Shaq to stop Tim Duncan and the San Antonio Spurs, as up until that point the Spurs were the only team that stood in the way of them and the Championship. Did Shaq succeed? You are damn right he did. Every single time the Suns met the Spurs, Shaq played great. Every time Shaq was on the floor, Duncan played very poorly offensively and the Suns were consistently outplaying the Spurs. One small glitch. Shaq's brand of physical defense these days is nit picked by referees to the point where he is in foul trouble in almost ever game his team plays against a team with a highly talented offensive Center. The Suns forgot something in putting that roster together. The back up center. Instead of putting in a quality back up center to defend Duncan, the Suns most times slid Amar'e Stoudemire over to the Center position. Memo to Suns staff incase you haven't figured it out yet. Amar'e Stoudemire is probably the single worst on-the-ball defending big man in the league. He just can't stop anyone, let alone an all-time great like Tim Duncan. Shaq goes out with foul trouble = Duncan goes on tear and kills the Suns. So is Cleveland similarly bringing in Shaq to stop Dwight Howard? Most definitely. How is it different for Cleveland's success then? Um, a little fella off the bench by the name of Zydrunas Ilgauskas. People rode the Big Z pretty hard in the Orlando series this year for being weak defensively. And that he was. But let's be clear about something, the Big Z is a more than adequate defender in this league, and is a many octave improvement over Amar'e Stoudemire for when Shaq needs rest or is in foul trouble. Take one of the best 'team defenses' in the league, and add Shaquille O'Neal to improve their on the ball defending of big men. You have a very credible and potent defense.
3. Consistency
When Shaq was traded to Phoenix, everyone was questioning his consistency. They probably had every right to do so at that time given how he finished out his days in Miami with lackluster effort after lackluster effort. But sometimes when people repeat themselves too often, they start to believe their own words to be insurmountable fact. Let's look at the big picture here, when it comes to winning, Shaquille O'Neal is one of the most consistent players this league has ever seen. And during his time in Phoenix, specifically this past season, Shaq was by far the most consistent player on that ball club. Shaq brought it every time he stepped on the floor. He was far and away better than Stoudemire, Nash, Hill, or J-Rich. He was the vocal and physical leader of that ball club. Sure they missed the playoffs, but there are two things to consider. The first is they barely missed the playoffs in another one of the tightest races in league history out West. The Suns had 46 wins and a 56% win percentage and still didn't make the playoffs! The second factor to consider is that if anyone was to blame it certainly wasn't Shaq. He had a solid season on both ends of the floor, and even brought his notoriously bad free throw shooting percentage up to a personal career high, 60%. If Shaq plays anything for the Cavs next year, like he did for the Suns this past year, Cleveland will be extremely tough to beat by anyone. He's built to dominate in a slow half court game. And Mike Brown's whole system is built around a grind-it-out style that Shaq may flourish in more than any other system he's been a part of. Think about spacing. With Lebron James breaking down defenses with ease, and the litany of shooters that Cleveland has, think about how much room the Big Diesel will have to operate in the low-post.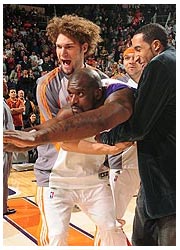 4. Team Chemistry
The Cleveland Cavaliers this year had the best team chemistry in the entire league. They were having fun, joking around, and winning ball games. Remember the Lebron's Cavs vs. Shaq's Suns competitions with the pre-game intro's? C'mon, if there is a common thread among Lebron and Shaq team's it's having fun and building a team chemistry that comes from their leadership abilities and general likeability. You put two great leader's with fun loving personalities like Lebron and Shaq on the same team. How can you go wrong with team chemistry? If i'm a free agent this summer, i'm begging to play for the Cavaliers next year. Heck, if I am well off enough, I may just do it for the good times and fun atmosphere. No one wants to go to work under such tense and serious conditions that they perpetuate poor play. Shaq is a guy's guy. He's already got a great relationship with Lebron. I'm excited already to see what sort of fun they bring to the pre-game's. And before long I have a feeling Shaq will have convinced Lebron to get on Twitter to interact a little more with joe public.
My prediction, the Cleveland Cavaliers next year walk away with the league's best record. Dominate the East in the post-season. And then we'll see who wants that fifth title more. Kobe or Shaq?