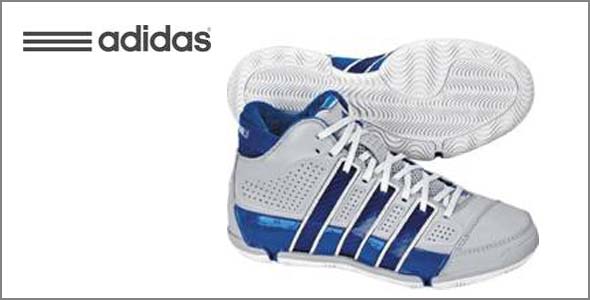 May 6, 2009
Any other sneaker heads besides us notice that Dwight Howard has been wearing some peculiar looking sneaks in the 2009 playoffs. By peculiar, I mean not his normal Commander's he wore all year, and also pretty damn slick. We showed you the 'Superman' sneaks by adidas that he wore during the Dunk Contest, but aside from those he has been wearing his Commander's all year. So when we noticed we started digging for info. and called our contact at adidas to see what they had to say. What we found out is that Dwight (being the special sort of client that he is…) has been wearing the 2009-10 version of the adidas Commander's called the TS Commander LT.
Dwight Howard is the first to wear the new on-court hoops shoe for the upcoming 09/10 NBA Season. And throughout the Playoffs he'll be wearing customized versions of this shoe, in home and away colorways. Starting in October, the public will be able to get the same player edition style in new colorways. Here is the technical info. on them that our adidas rep sent us:
Designed for the big men under the basket with evolved cushioning, support at the heel counter, breathable materials for ventilation and enhanced performance, and an EVA-mid-sole and new fat-stripe design concept.

SRP: $100.00

AVAILABLE AT RETAIL: 10/1/09
Although there are not an abundance of photos of these available yet, we didn't want to leave you hanging or squinting at your TV tonight so we put together this photo of Dwight Howard in both the home and away versions of the shoe so far this post-season:
For a listing of shoe release information on the latest kicks check out our "KICKS" section.