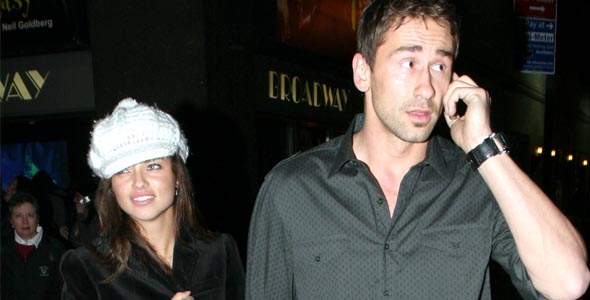 May 26, 2009 – Dr. Dime
It was announced today that NBA point guard Marko Jaric of the Memphis Grizzlies and his famous supermodel wife Adriana Lima are expecting their first child together. People is reporting that:
"Adriana and Marko are overjoyed that they are expecting their first child together and are excited to share the happy news and start their family together," say reps.
It seems Marko Jaric has really turned his life back around in a positive way. After all it was only 2-3 months ago that Jaric was facing charges of sexual assault in Philadelphia stemming from an incident on a Grizzlies road trip to Philly to play the Sixers. After the investigation was completed the Philadelphia District Attorney decided not to file the sexual assault charges due to lack of evidence to make the case.
Jaric married Brazilian Adriana Lima in February of this year. The Hoop Doctors also featured Lima prominently in our hottest NBA wives and girlfriends post last year. Now that Jaric has improved his home life, let's hope he can somehow translate that success to his life on the court as he only averaged 2.6 points and 1.4 assists per game this past season.
And we wouldn't be doing you justice if we did a story about Adriana Lima without including a photo for your enjoyment. YOUR WELCOME…