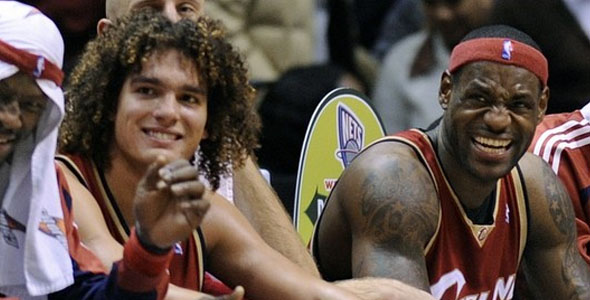 April 9, 2009 – Dr. J-Water
I saw this picture this morning on Shaver Sports Blog and thought it was far too funny not to pass on to you guys. Every King has to have a Joker right? Or at least a right hand man. Well in Lebron "King" James case, that joker seems to be teammate Anderson Varejao. He is well known for his wild and crazy hair, right? Well now for his tattoo's as well.
Apparently Varejao has a pretty good sense of humor as he showed up at practice with this fake tattoo on his back to tease Lebron. King James has a big tattoo across his upper back that says "Chosen 1", so Andy takes off his shirt at practice to reveal his 'new' tattoo on his upper back, similar to Lebron's that says "Chosen 2".
Well done, Varejao, well done. Here's the photo's: