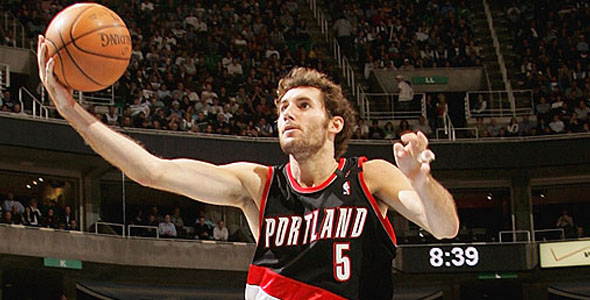 March 27, 2009 – Dr. Dime
There was a lot of hype heading into last night's game between the Phoenix Suns and the Portland Blazers, as the playoff hunt in the tight Western Conference has hit it's most critical point. The Suns are battling hard coming off a 6-game winning streak to knock either the Dallas Mavericks or Portland Blazers out of the 7th or 8th spot in the West. After last night's very important win for Portland, the team gave themselves a little more breathing room.
If any of you tuned in to the game last night in the 4th quarter you would have interpreted the game as blowout. Phoenix was getting spanked. But if you tuned in during the first, second, or most of the third quarter it was a different story. While the Blazers still led for the majority of the game, it was more of a slug fest back and forth with very little defense, lots of run and gun, and high percentage shooting from both teams. So what happened to the Suns then in the fourth?
Rudy Fernandez happened. The Spaniard is good, damn good.
But the critical sequence that led the game to become an easy blowout for the Blazers wasn't actually in the fourth quarter, it was in the final seconds of the third quarter. Coming off a series of games where the Blazers have been criticized for not closing out quarter's well, Rudy Fernandez made sure that didn't happen last night. In the final seconds of the third period he scored 5 points in 3 seconds! That's right, 3 seconds.
It wasn't just the fact that he scored them though, it was HOW he scored them. The first was an inside score on a sweet no look back door pass from fellow Spaniard and teammate Sergio Rodriguez who delighted the crowd with the nifty pass. Immediately after that bucket, Rudy anticipated the inbounds pass perfectly and stole the ball launching a three pointer at the buzzer to break the game wide open heading into the fourth. The crowd went nuts.
I'm pretty sure the inbound passer, Jason Richardson, layed into the rookie Goran Dragic in the intermission for not 'coming to the ball' on the inbounds play. But regardless of who was at fault, Rudy Fernandez is everywhere, and was stroking the outside shot last night on every critical play. Every time he scored, Blazers GM Kevin Pritchard smiled more and more. Happy with himself for landing arguably the most cost-effective player in the league in Rudy Fernandez. What a gem: