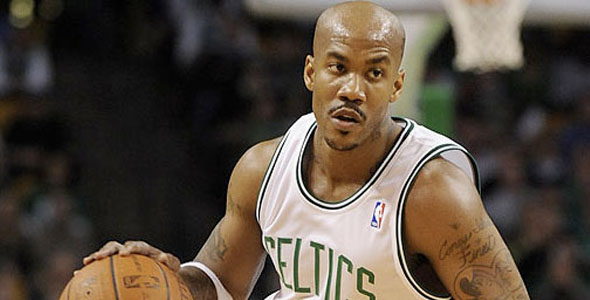 March 28, 2009 – Dr. J-Water
I'm a hater. That's right y'all, anyone close to me knows that i've been completely OFF the Stephon Marbury bandwagon (if there ever was one) for quite some time. The odd time I may still rock a pair of retro And 1's playing some streetball, but that's about as close as I get to anything Marbury related. Let's face it, he's never been a winner, he's always been selfish, and he's left a sour taste in the mouths of fans in each city of Minnesota, New Jersey, Phoenix, and New York, after leaving town.
So what about his new home in Boston? What's different this time?
While watching the Boston Celtics @ Atlanta Hawks last night, I started to see some strange things out of Marbury. He was hustling on defense. He was moving without the ball. He was playing the team game. Making the rotation. Moving the rock. He even seemed to be communicating with teammates on defense. I must be seeing things, right? Wrong.
On one specific play I even saw Stephon Marbury pass up an open look from three-point range in order to swing the ball one more rotation to Ray Allen who was open for three in the corner. Ray put it up clean, and bam! The pass wasn't anything out of the ordinary or impressive. However, it was what the pass represented to me that had me thinking Marbury may have finally changed for the better. It was seeing him pass up an open look for himself, recognizing that Ray Allen is a much better outside shooter, and kicking the ball for the betterment of the team that surprised me.
There are many differences in Marbury's situation in Boston in comparison to his situation with the other NBA teams he has played for. But I think the most glaring difference is Marbury seems to be trying hard to fit in because the Celtics don't rely on him whatsoever to succeed. They are championship team, chalk full of veterans and talent. In Minnesota, New Jersey, Phoenix, and New York, Marbury was the focal point of the team's offense with a lot of expectations for him to somehow turn around the team's fortunes and success rate. For a guy like Stephon Marbury, that kind of pressure and praise proved to only further inflate his ego to the point where he would alienate teammates, coaches, and fans with this 'me-first' attitude and style of play.
But if Marbury continues to gel with these Boston Celtics and play the 'team game' he may just be able to salvage some small part of his legacy to appropriately reflect a guy who had loads of talent but was ill equipped to handle the pressures that come along with being an NBA franchise player. A few more games like last night against the Atlanta Hawks, where Stephon puts up 11 points on 4-5 shooting, and 2 assists in only 17 minutes of action and people may even start to consider Marbury to be a welcome edition to the Celtics.
Knowing the 'pack mentality' of most NBA Fans, I would predict that Celtics fans are probably starting to warm up to Marbury already. It will be more telling though to watch in the weeks ahead how the veterans like Paul Pierce, Ray Allen, and Kevin Garnett approach their relationship with Marbury on the court. When the Celtics hit their first real playoff adversity they will need to have a united front with all players in the rotation, and they will need to have faith in Marbury's ability to play the 'team game' when it counts.
There is a first time for everything though right? And people can change? I'm sure there are some more cliche's we can believe in when it comes to Starbury…