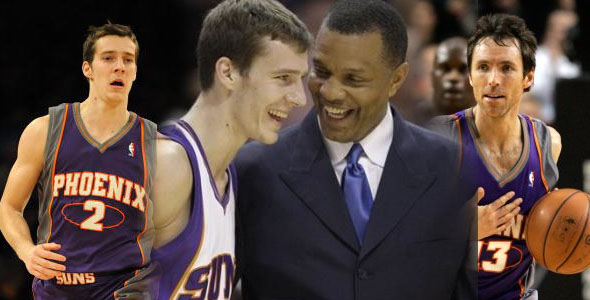 March 25, 2009 – Dr. Casper
This is the first post on The Hoop Doctors by 'Dr. Casper' a.k.a. Ben York from Phoenix's Fanster.com fame, who also was the founder of Ben's Suns Blog. Ben will be bringing you analysis of league wide issues for The Hoop Doctors, but fittingly in his first post with us, he will be covering an issue that hits close to home for him:
Suns fans, and to some extent NBA fans, had it made for the past 5 years. They've been lucky enough to see Steve Nash, one of the greatest point guards ever to play the game, on a consistent basis. We've seen what Nash can do to defenses and game plans virtually shredding any hope of containment. Unfortunately for all of us, the Steve Nash era will inevitably come to an end at some point, and the new future point guard for the Suns is a rookie from Slovenia named Goran Dragic.
After the 2007-2008 season, Suns GM Steve Kerr understood that in order for the Suns to go anywhere in the post-season, they couldn't rely on Nash to do everything for an entire season only to have him wear down in the playoffs along with the entire team. This was Kerr's main objective during the past off-season – get Nash a respectable backup point guard whom the players, coaches, and fans trust. Their immediate target during the draft (at their position) was Goran Dragic. In short, Kerr & co. were able to obtain Dragic's rights from the Spurs and worked out a deal with Tau Ceramica (Dragic's team in Europe) to get Goran here. With the work put in to get Dragic on the team for 2008-2009, expectations were immediately raised.
Needless to say, following a two-time MVP is certainly no easy task. Under former head coach Terry Porter, Goran lacked confidence and tenacity which translated into an extremely rough start to his rookie season. Porter was more of a disciplinarian and would pull Dragic out the game quickly after a mistake, turnover, or ill-advised shot. Those mistakes began to become more frequent as Goran would play not to lose, instead of playing to win. Fans were left wondering what the Suns front office saw in Dragic and questioned his future in the NBA.
However, under new Suns coach Alvin Gentry, Goran is finding a rhythm and slowly blossoming as a capable back-up. Gentry has helped Goran relax, have fun, and trust his abilities. Under Porter, Dragic didn't have a single game where he scored in double digits. There were many games where Goran saw no minutes at all. Now, with the support and encouragement of Alvin Gentry, Goran has managed to put together several games of double digit scoring while limiting his turnovers (the most he's ever had in a single game since early February was 4). He is also shooting a solid 50% from the floor in February and March while averaging a very low 1.5 turnovers per game. More importantly for the Suns, the staff is comfortable playing him when Nash needs to rest and players are starting to trust him.
There is no doubt that Goran Dragic has an extremely long way to go before being remotely compared to Nash. But in his first season away from Europe when all players typically struggle in their first year, Goran is beginning to find his stride and regain the confidence he once lost under Terry Porter.
You can believe with Nash's leadership, coupled with Alvin Gentry's support, guidance, and encouragement, Dragic will continue to improve and get better and better each game.