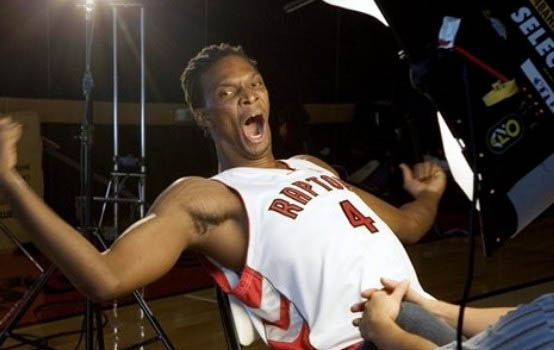 February 6, 2009 – Dr. J-Water
A lot of fuss has been raised in the media and in the blogosphere over the last couple of weeks over Stephen A. Smith's comments that he has a "source" that says Chris Bosh wants out of Toronto and that Bosh told Raptors GM Bryan Colangelo to trade him. As much as I love the s#*t storm that follows a good 'source' quote from Stephen A. Smith, I am glad that Chris Bosh has come out publicly to set the record straight. It's one thing to hear in the newspaper or in a second hand quote that Chris Bosh is denying the rumors, but it's a totally different thing to hear it right from the horses mouth in a TV or radio spot.
Here is that TV spot folks, for all you Raptors fans out there you can rest easier after watching this bit. At least for now. Bosh says he doesn't know why someone started that rumor, and also says he is undecided what he will do in 2010 when he becomes a free agent. After the Vince Carter fiasco of betrayal that the Raptors fans faced a few years back, and ultimately getting the short end of the stick on a completely lopsided trade, it's no wonder the Raptors fans were up in arms about the latest Stephen A. Smith statements.
Here are the Bosh thoughts on the trade rumor and his 2010 free agency: