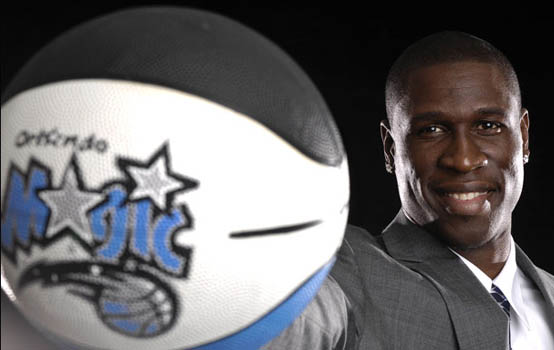 December 30, 2008 – Dr. J-Water
I realize there are a lot of people today talking about the in's and out's of whether or not Reggie Evans deserved the technical foul he got for ass slapping Kyle Korver (notice in the video Korver doesn't even seem to react, as it's not big deal). But there was an even bigger play from last night that had me reeling. I don't know how many times i've watched the replay of it so far, but it never gets old.
I'm talking about the disgusting left-handed dunk Mickael Pietrus of the Orlando Magic had on Jason Maxiell of the Detroit Pistons. We've known for some time since his high flying reserve minutes in Golden State that Pietrus had serious hops, but last night this cat was so high he got injured on the way down.
When you jump that high you really are prone to injury as you have to plan your landing or be prepared to grab the rim to steady yourself. Pietrus clearly had no regard or respect last night for gravity. Personally, i'm thinkin' that is one dunk Maxiell won't soon forget. Poster time….