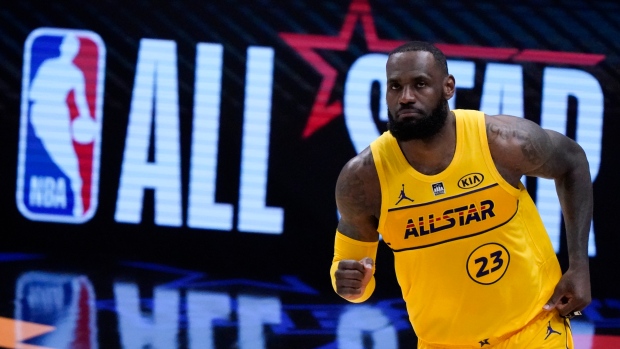 The NBA All-Star Game is an annual exhibition game played by the best players in the league. Since its inception in 1951, it has been a showcase of some of the greatest talent in basketball. Every year, fans watch eagerly as their favorite players go head-to-head in what is always an exciting and highly competitive event.
In this blog post, we'll take a look at some of the greatest NBA All-Stars of all time. We'll explore their careers, achievements, and even some of the awards they've won. So sit back, relax, and enjoy as we take a trip down memory lane and relive some of the greatest moments in NBA history!
LeBron James
LeBron James, who is widely considered to be one of the greatest players in basketball history, has had an impressive career spanning over two decades. He started out as a high school phenom in Ohio and was drafted by the Cleveland Cavaliers at only eighteen years of age.
Since then, he has won four NBA Championships with three different teams and racked up numerous individual awards, such as being commonly named NBA All-Star and Most Valuable Player multiple times.
When not competing on the court, LeBron also serves as an ambassador for his hometown Akron youth, through his foundation and social activism. Whatever James does on or off the court, he achieves his goals with grace and dignity, which makes him a role model for kids everywhere.
Kobe Bryant
The late Kobe Bryant captivated basketball fans around the world with his athleticism, vast achievements, and a resume loaded with accolades. From an astounding twenty-year career in the NBA, Kobe earned notable recognitions such as being an eighteen-time NBA All-Star, five-time NBA Champion, two-time Olympic gold medalist, two Finals MVP Awards, and the 2008 NBA MVP Award.
Additionally, he was first-team All-NBA fifteen times and was named the 1997 NBA Rookie of the Year. With a commitment to excellence on the court and inspiring people off it, his legacy will live on forever.
Kevin Durant
Kevin Durant is an incredible, multi-talented athlete who has achieved remarkable success in his basketball career. He first gained notoriety during his two seasons of college basketball before being drafted by the Seattle Supersonics in 2007.
Throughout his dominant 12-year professional career, Durant has accomplished more than most could have dared to imagine; the record-breaking, four-time NBA scoring champion has won two championships and been named the league's Most Valuable Player on multiple occasions.
His hard work and dedication have yielded a bevy of awards and honors, including 11 All-Star game selections, four All-NBA First Team selections, as well as other prestigious accolades. Kevin Durant is truly living out his dreams, inspiring others along the way with his unparalleled effort and impressive achievements.
Steph Curry
The incredible career, achievements, and accolades of Steph Curry are well-known among basketball fans. Since being drafted to the Golden State Warriors in 2009, he has gone on to become a 3-time NBA champion, two-time MVP, 5-time All-Star, 6-time NBA All-Star Game selection, and has set the record for most three-pointers made in an NBA season.
His team achieved a 73–9 regular season record in 2016 – one of the greatest seasons by any team in NBA history! In addition to his basketball feats, Curry is also recognized for his humanitarian efforts.
He established the Eat. Learn. Play foundation to support low-income children's access to healthy food and education opportunities as well as promote physical activity among youth. Steph Curry continues to be an inspiration with his dynamic talents on and off the court!
Magic Johnson
Magic Johnson is an iconic American sports legend known for his illustrious career with the Los Angeles Lakers. After being drafted in 1979, Johnson won five NBA Championships, was named MVP of three finals, and won two All-Star Game MVP awards. This basketball wizard was also a 1992 Olympic Champion and is considered one of the greatest basketball players ever.
Through NBA's Community Assist Award, specially set up in recognition of his outstanding contribution to the community, Magic has been inducted into several Halls of Fame as a testament to his exemplary achievements.
Larry Bird
Larry Bird was one of the most successful basketball players in history. He had a spectacular professional career that spanned nearly two decades and included three NBA Championships, two MVP awards, 12 appearances in the All-Star game, and nine selections to the All-NBA first team.
His collegiate accomplishments are just as noteworthy as he was awarded several accolades, including an induction into both the Naismith Memorial Basketball Hall of Fame and the College Basketball Hall of Fame.
Aside from his well-known talents on the court, he also made an impact on it as he coached multiple teams to success during his coaching career. Larry Bird became a beloved basketball icon due to his impressive achievements both on and off the court.
Bottom Line
These six basketball legends have all left their mark on the game and inspired countless people around the world. They've achieved so much throughout their careers by showing what is possible when you dedicate yourself to becoming great. Their inspirational stories continue to motivate us and remind us that there are no limits to our potential.
Now that you know more about these legends, why don't you try betting on NBA games? It can become even more exciting for you. NBA odds can help guide your decisions, but never forget to trust your gut and make the most out of every opportunity that comes your way.
Who knows, maybe your predictions will turn into something great!