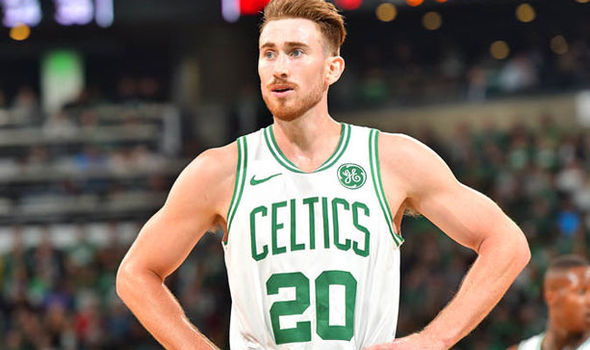 Regardless of the way this postseason has played out, seeing Gordon Hayward play again for the Boston Celtics will have to be one of this season's feel-good stories. Two years ago, he suffered a horrific injury that sidelined him for all of last season. He received plenty of support from the NBA community, led by LeBron James and Isaiah Thomas. The 6-8 forward underwent surgery a few days after his injury, and then began rehab almost immediately.
An Assist from Video Games
During his road to recovery, Hayward reconnected with his other lifelong love – playing video games. Hayward had been a voracious gamer, as reported by Hartford Courant in their feature with Hayward. He played Nintendo, Super Nintendo, Nintendo 64, and Xbox, and now plays on his PC. With his basketball activities limited, Hayward was able to play more video games than ever before. It turns out that by playing games it was the perfect way to divert his attention away from his injury. For Hayward, playing video games proved therapeutic.
"When you're hurt like that, it can be pretty lonely and you can isolate yourself, and video games helped with that," Hayward admitted. "Initially it helped me stop thinking about [the injury] too much, and I could get lost playing video games. In this day and age, you can still hang out with your friends across the country and play video games. I wasn't around the team as much, but I was still able to be in contact with people and have fun."
Some 18 months later, Hayward is back to playing basketball. Although, he manages to play video games "a little bit every day." He has been known to play both League of Legends and Fortnite, with the latter topping Sandlot Games' 'Bestselling Online Games for 2018' list. Its rise has been meteoric, as it is now being played by 3.4 million users across all platforms. The C's Hayward is part of that 3.4 million, along with several NBA players who are into gaming. Like Hayward, Paul George (Oklahoma City Thunder), Karl-Anthony Towns and Andrew Wiggins (both Minnesota Timberwolves), and Reggie Jackson (Detroit Pistons) are hardcore gamers, and Fortnite is one of their favorite games.
A Gaming Culture
There is now a video game culture in the NBA, and Hayward is at the forefront. Along with the aforementioned players, Steven Adams of the Thunder, Terrence Ross of the Orlando Magic, and Josh Hart of the Lost Angeles Lakers are some of the other players into this Epic Games-developed multiplayer game. Players who are also into gaming but not necessarily Fortnite, include Jeremy Lin, who regularly plays Defense of the Ancients 2; Damian Lillard and Anthony Davis, who are both fans of NBA Live; and Russell Westbrook, who loves playing online poker.
Then again, Hayward is likely gaming's biggest fan in the NBA, a fact underscored by 'The Case for Gaming,' an essay Hayward penned for The Players' Tribune back in 2016. In it, the former All-Star shared his wealth of knowledge about gaming, and professed how "video games have always been an escape" and a form of fun as well as relaxation. That was the year before Hayward got injured. Now, after using video games as therapy, the two-year Celtic will likely have an even greater appreciation for his favorite pastime.