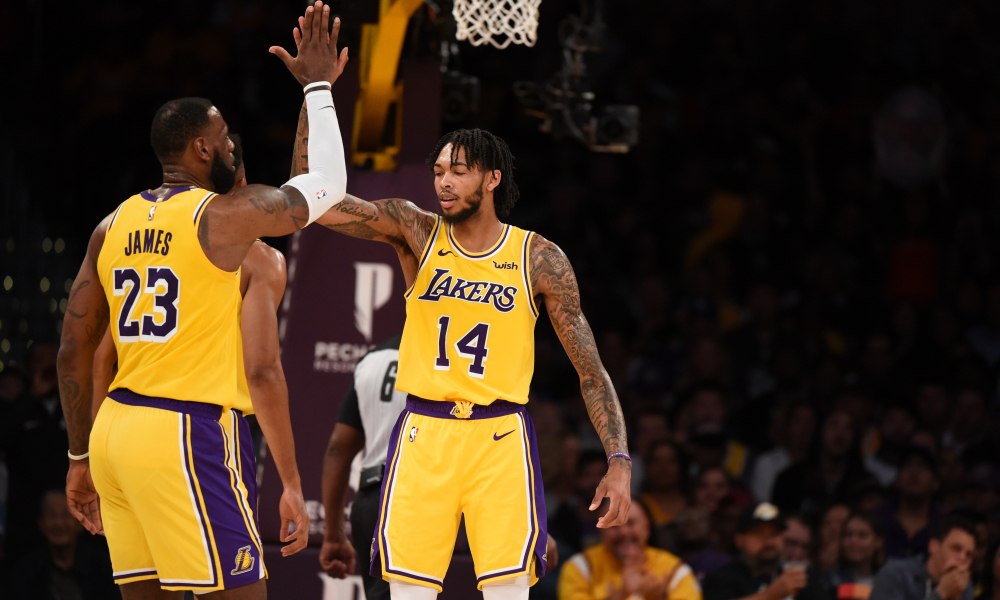 LeBron James is so excited to get Brandon Ingram back from his four-game suspension that he compared him to Giannis Antetokounmpo and Kevin Durant.
True story.
Here's what LeBron said of Ingram's return, per Mike Trudell of Lakers.com (h/t Silver Screen & Roll's Anthony Irwin):
"There's not that many guys with that length. You look at KD, Giannis, himself, those guys with those long arms (that) guard multiple positions. Handle the ball. Rebound, pass, shoot. So it's good to have him back."
Okay, this quote reads more innocently than the footnotes version of it. And LeBron isn't entirely off-base. The new NBA involves maximizing versatility without completely punting on size. Ingram isn't quite as tall as Antetokounmpo or the 6'9″-going-on-7'3″ Durant, but his functional use serves a similar purpose. He has the height and length to switch across up to four positions, and he's used in the half-court like a guard and wing.
But, like, jeez. I'm high on Ingram too. I think he's still in line to be one of this year's great breakout players. If you told me to guess whether he'd make more or less than 3.5 All-Star appearances over the course of his career, I'd likely take the over.
Still, this is some wild company for LeBron to mention Ingram in. He doesn't yet have the off-the-bounce juice of either Antetokounmpo or Durant, and while he's disruptive at the less glamorous end, he's far from dependable when chasing around All-NBA assignments.
Maybe he gets there. Perhaps he comes pretty close to sniffing Antetokounmpo and Durant. He probably won't. But he could. He's still young. One thing's for sure, though: Beyond sheer physical-profile comps, it's too soon to mention him in the same breath as two all-time greats in the heart of their primes.